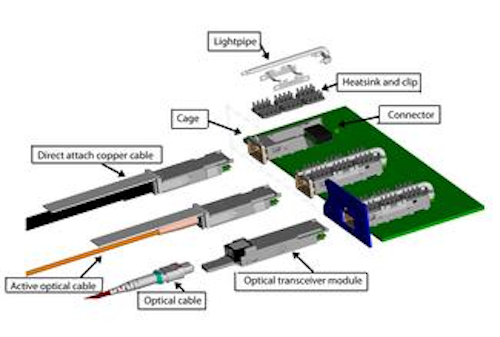 APRIL 28, 2009 -- Tyco Electronics (search Lightwave for Tyco Electronics) offers a complete small-form-factor pluggable (SFP) product line, including single-port and higher density multiport SFP cages in single row and stacked configurations. Tyco Electronics has introduced new options, including integrated lightpipes for port indicators, connectors with improved signal integrity, enhanced EMI springs for increased EMI suppression, and riding heatsink technology for thermal management.

The pluggable I/O interface includes a standard equipment I/O interface; with the flexibility of pluggable modules and cabling come options of fiber and copper links. It also supports various data rates and protocols including Ethernet, Fibre Channel, and InfiniBand standards. As a result, the integrator can design the cabling structure based on the application needs.
To address market needs for greater density in high-speed pluggable devices, the quad small-form-factor pluggable (QSFP) interface was developed, providing a four-channel, 40-Gbps pluggable interface. As data rates reached 10 Gbps, Tyco Electronics played a role in developing the 10-Gigabit Serial (XFP) standard and the X2 MSA, the XAUI-based 10-Gigabit standards solution. Key proven technologies from XFP were adopted in this design.
Direct-attach cable assemblies are engineered with these pluggable interfaces. Copper cables are cost effective for short-reach applications and are available with passive and active equalization. Active optical PARALIGHT cables are available for QSFP, which eliminate the need for a transceiver/cable interface.
Components of a pluggable I/O interface include:

a host board connector

a cage or guide rail, which provides EMI containment and guidance for the mating plug

a mating plug, which may be in the form of a pluggable transceiver or direct-attach cable assembly. A transceiver requires a mating cable assembly

accessories include heatsinks, lightpipes, dust plugs, and EMI plugs

Visit Tyco Electronics

For more optical equipment design information, visit the Optical Equipment Design Center