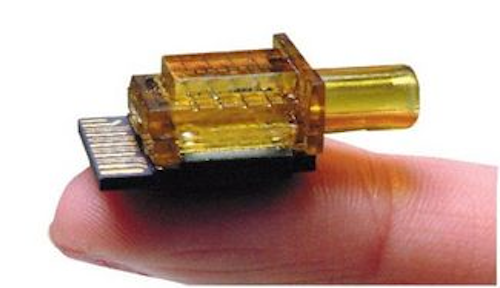 April 4, 2006 Schaumburg, IL -- Omron Electronic Components recently announced the availability of its P1RX-LX4TL receiver optical sub-assembly (ROSA), which features a transimpedance amplifier (TIA) and limiting amplifier integrated into a very small package measuring 10.8(w) x 15.6(d) x 6.8(h)-mm. The company says the ROSAs are ideal for applications where space is limited, such as within X2 form-factor LX4 transceiver modules.
Dubbed the "Afterburner LX4TL," the company calls the component a CWDM-based, long wavelength optical sub-assembly (OSA) capable of receiving 4 channels from one singlemode or multimode fiber. Each channel of the device is capable of receiving at a bit rate between 155 Mbit/sec and 3.125 Gbit/sec per channel, with a run length of 80 bits. The LX4TL ROSA also incorporates a built-in SC ferrule, making it an "attractive" choice for X2 designs, according to the company.
The company says its patented Afterburner architecture enables the extremely small form factor ROSA to include built-in TIAs and limiters inside its hermetically sealed configuration, reducing power consumption by over 250 mW. Also, the company notes that despite lowering overall power, the LX4TL still supports RSSI and signal-detect capabilities.
"The P1RX family of ROSAs, and the version with the built-in TIA and limiter in particular, allows for LX4 transceiver designs seeking lower power and less space than alternative solutions," comments Brian Peters, president of Omron Network Products LLC.
Omron says its Afterburner ROSAs are designed to meet the LX4 standard, including for transmissions greater than 300 m over multimode fiber and greater than 10 km over singlemode fiber, according to the IEEE 802.3ae 10G standard. The devices also meet Telcordia GR468 criteria. Engineering samples, an evaluation board, and technical data are available.