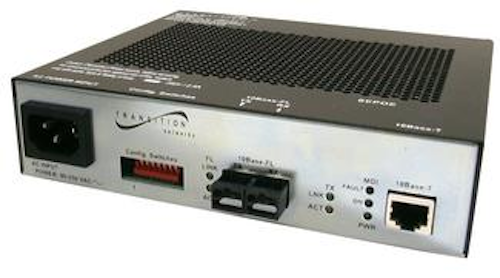 May 17, 2004 Minneapolis, MN--Transition Networks is introducing Power over Ethernet (PoE) 100-Base copper to fiber family of media converters. The PoE family of media converters is designed for applications where the electrical current to power each device needs to be carried by data cables rather than by power cords. It is already widely used to power wireless access points, Internet/promo Kiosks, voice over IP phones and remote network cameras. With this announcement, two major products are available - AC powered PoE media converter and Power Splitter.
The AC powered PoE media converters combine data received over a fiber-optic link with -48VDC power, providing power to data terminal equipment (DTE) power devices (PD) over unshielded twisted pair cable. The PoE converters are power sourcing equipment (PSE) and are fully compatible with powered devices (PDs) that comply with the EEE802.3af: 2003 standard. The converters also include a PD signature sensing and power monitoring features per the IEEE 802.3af standard. Such features include over-current protection, under-current detection and fault protection input.
The Power Splitter is another addition to the family of PoE products. This device allows any regular, non-PoE, Transition Networks media converter to be powered by PoE PSE, essentially turning any device into an IEEE 802.3af compatible PD.
"Transition Networks has a rich history for delivering high quality, reliable media converters to its customers," said Bill Schultz, vice president of marketing for Transition Networks. "With the introduction of our Power over Ethernet converters, we are filling a major gap in our customers' networks. The PoE converters make it easy to manage and control wireless access points because they eliminate the need to run separate power to remote and wireless devices."
The PoE converters are powered by universal 100-240 Volts. These products can operate in two modes: IEEE 802.3af mode as well as "legacy mode." In the IEEE 802.3AF mode the PoE is fully compatible with devices that comply with the IEEE802.3AF standard. The PoE converter is capable of inserting power on either the spare pairs or data pairs of the MDI. In the "legacy mode" PoE can be configured for reverse polarity, 12 VDC, 24 VDC, or 48 VDC power insertion, as well as for other non-IEEE 802.3AF compatible PDs. These products also include Transition's premium selectable features such as Autonegotiation, Autocross, Link Pass Through, Far End Fault1 and Pause1.
Transition's PoE media converters are available immediately. The 10-Mbit/sec PoE converters start at $350.00 and the 100-Mbit/sec converters starts at $695.00. Please contact Transition Networks at (800) 526-9267 for additional information.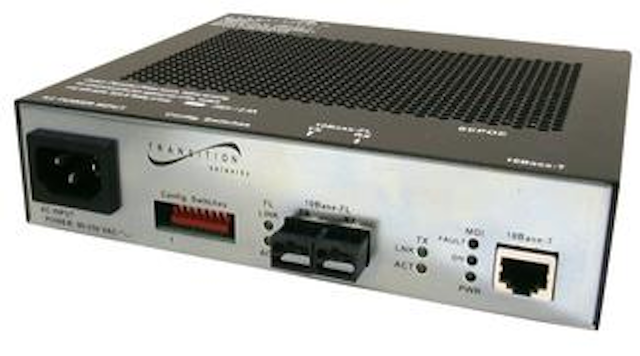 Transition Networks' Power over Ethernet media converter is fully compatible with devices that support the IEEE 802.3af standard.