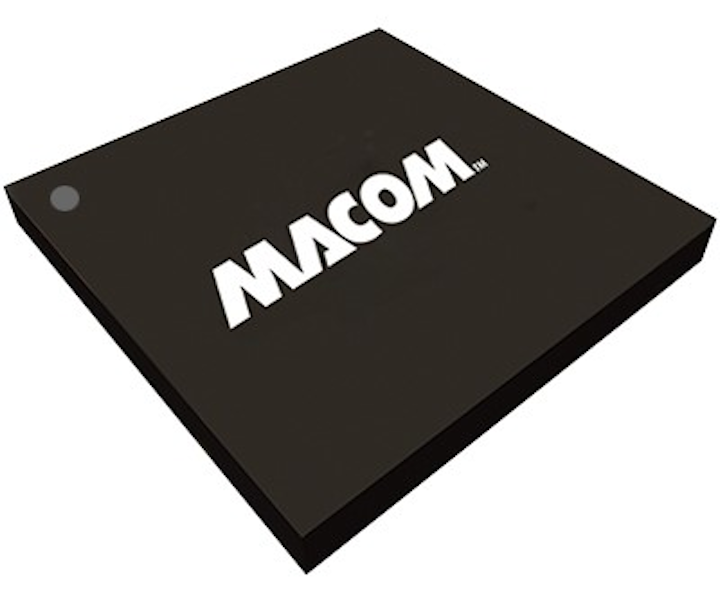 MACOM Technology Solutions Inc. has introduced its MAOM-005311 and MAOM-005411, single- and quad-channel linear externally modulated laser (EML) drivers with 1.8 peak-to-peak voltage (VPp) output. MACOM's EML driver family enables 100 Gbps per lambda with low power and high bandwidth for 100G and 400G data center applications, the company says.
With the demand for lower cost-per-bit module solutions growing, sending 100 Gbps on a single wavelength using PAM4 modulation at 53 GBaud reduces cost for module vendors by decreasing the number of optical components by a factor of four. MACOM says its surface mount driver family is the industry's first portfolio to use advanced design and enhanced semiconductor and packaging technology to offer customers a high-performance, integrated device.
According to the company, the driver family features a small form-factor surface-mount packaging to enable 100G and 400G DR and FR modules. MACOM's MAOM-005311 and MAOM-005411 have differential inputs to deliver common-mode rejection, and the single-ended output voltage can be adjusted up to 1.8-VPp. The devices provide 6 dB of gain control range with integrated peak detector on each channel for closed-loop control. This platform integrates the high-frequency chokes and coupling capacitors for bias of the driver and EML, and is viable as a surface mount package.
"MACOM's 53-G EML drivers have achieved excellent performance to date," said Ray Moroney, MACOM vice president and business line manager. "We believe that these devices, coupled with the MATA-005817 and MATA-003819 TIAs, are key to enabling the next generation of PAM4 optical connectivity for data center applications."
The MATA-003819 was a finalist in the 2018 Lightwave Innovation Reviews.
For related articles, visit the Optical Technologies Topic Center.
For more information on communications semiconductors and suppliers, visit the Lightwave Buyer's Guide.