Long-wave VCSELs target datacom first
Jun 1st, 2004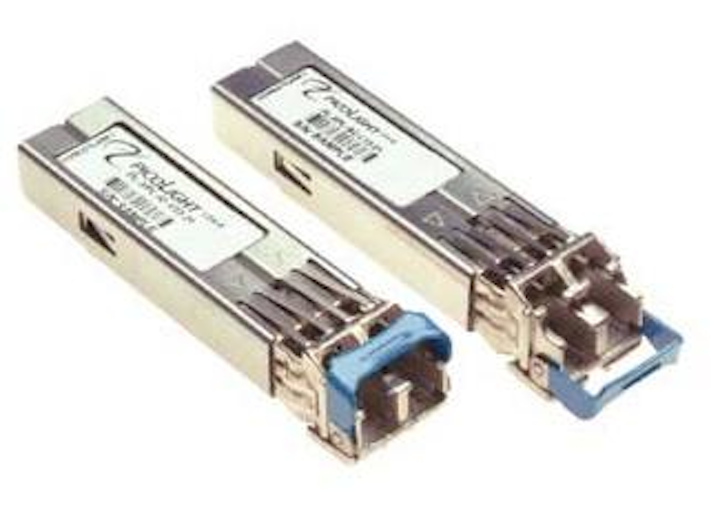 While long-wavelength (LW) VCSELs have been in development for a while, manufacturers report that the devices are finally reaching the product stage. It may be another year or so before the devices are designed into systems and deployed in the field, but VCSEL manufacturers are nonetheless busy proving the reliability and manufacturability of their devices.
Now ubiquitous at 850 nm, VCSELs should challenge the dominance of Fabry-Perot and DFB lasers in the 1310-nm window as well. LW VCSELs transmit at a longer distance than their 850-nm counterparts—in the tens of kilometers, say developers—and support speeds up to 10 Gbits/sec without amplification.
What makes the VCSEL attractive are its cost-cutting capabilities—thanks to on-wafer testing and efficient coupling (up to 80%) with the optical fiber—making the device ideal for low-cost data communications applications, including enterprise, access, and storage networks.
That said, the true advantage of VCSELs really comes into play for high-density applications, notes Mike Fukatsu, product-line manager for the LW VCSEL line at Optical Communications Products (OCP—Woodlawn Hills, CA). When OCP acquired Cielo Communications in 2002, it inherited a VCSEL array-based product. "But the market need for a product like that dried up when the development of 40-gig systems and these high-bandwidth, high-backplane-density systems went away," admits Fukatsu. "Customers told us that they didn't need that many ports per blade anymore. Our first product to market will be single-channel—but where VCSELs show their true advantages is when you start putting them into high-density applications based on arrays. That's the direction that we're looking at."
Warner Andrews, vice president of marketing at Picolight (Boulder, CO), agrees with Fukatsu's assessment. "With the emergence of 1310-nm VCSELs, the whole form factor of access systems is going to be reexamined," he contends. "You can get more ports per front panel edge per power budget or cooling budget in a system. Today, they aren't as dense because they can't dissipate enough power, and they are therefore more expensive on a price-per-port basis."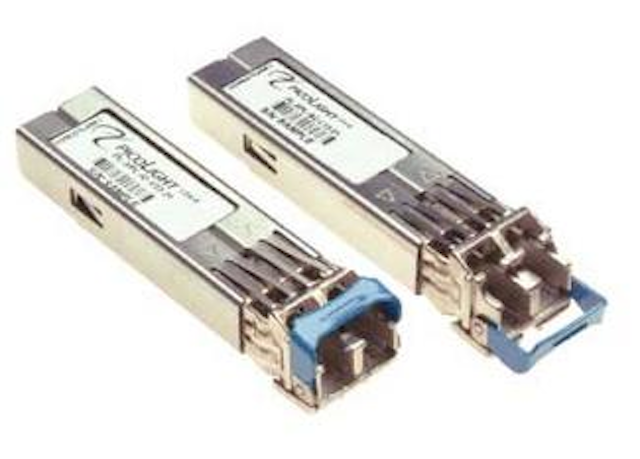 Picolight will unveil its 1310-nm VCSEL-based transceiver for Ethernet and SONET applications this month at SuperComm. Samples are shipping to customer labs.
In the interim, VCSEL manufacturers are looking to lower-density applications to develop market volume, says Wenbin Jiang, vice president of advanced technology at E2O Communications (Calabasas, CA). His company is currently readying for market a 10GBase-LX4 module—in both X2 and XENPAK form factors—to support 10-Gigabit Ethernet (10-GbE) over legacy multimode fiber. While he believes this market "is going to take off rapidly," Jiang also admits "you can't just make a long-wavelength VCSEL for one particular market. If you want to make it truly low-cost, you also need to attack other high-volume markets. You need to build-up your volume base to reduce the overall cost for the 10-gig."
Like their counterparts at E2O Communications, the folks at OCP also plan to target higher-density, higher-speed applications when the market evolves. In the meantime, they have begun alpha sampling of a GbE module that will enable network engineers to leverage fiber from FDDI/Fast Ethernet installations. "When that was set up, you could go 2 km over multimode fiber," explains OCP marketing director Kirk Bovill. The use of 850 nm enabled network engineers to upgrade to GbE but limited the transmission distance to 220 m. "Our 1.3-µm VCSEL-based products—those are going 2 km again," he asserts.
OCP's plans do not stop there. Its VCSEL foundry is currently in production mode for both Ethernet and SONET devices, discloses Fukatsu. "But for us to 'productize' and target SONET, we knew that we had to put together a very solid reliability story. We've done quite extensive reliability testing. From an optical perspective, the performance is as good if not slightly better than some of the different SONET applications. At one 1.3 µm, when you look at OC-3, OC-12, OC-48, some of that can be done with a Fabry-Perot or a DFB, but the VCSEL can address all of those applications from a power, output power, and spectral-width perspective. We don't see anything that stands in the way of these LW VCSELs being used for SONET applications," he observes. "There's basically no tradeoff."
For its part, Picolight plans to announce a 1310-nm VCSEL-based transceiver for Ethernet and SONET applications at SuperComm this month. The PL-XPL-IC-VB3 triple-rate, triple-reach small-form-factor-pluggable transceiver, part of the company's Extensus family, achieves distances of 42 and 50 km at OC-12 and OC-3 rates, respectively.
"There's about two million ports installed on a yearly basis for OC-3/12 between short-reach, intermediate-reach, and long-reach," says Andrews. "Our VCSEL product meets the specs for all of those, so instead of having to purchase six different products, we'll be able to get our customers to qualify one device. That economy of scale will be a big benefit to the customer and of course to the end users."
Across the board, all the companies interviewed for this article stress the ongoing effort to demonstrate the reliability and viability of their devices. "A lot of the customers weren't ready to jump on it until just recently when we have the full reliability data behind us," adds Andrews. "Full-scale volume deployments probably won't happen for another two quarters."
E2O's Jiang puts his company in the same time frame. "We expect that by the Q3 or Q4 timeframe, we'll have enough reliability data to show our customers that we have a reliable solution that will cost substantially lower than the current solution," he says.
Companies like OCP, E2O Communications, and Picolight will now have to compete with Finisar, which has a plethora of VCSEL technology at its disposal, thanks to a recent spate of acquisitions. Last year, the company purchased laser manufacturer Genoa as well as the entire VCSEL business unit of Honeywell. In late April, the company also picked up Infineon's fiber-optic business, which puts Finisar in good position with 1310-nm VCSELs.
The good news for all companies in the space is that the market seems to be favoring VCSELs. "There is a huge trend toward the enterprise," reports Lawrence Gasman, president of market researcher CIR (Charlottesville, VA). "The applications that seem to be growing are ones in which VCSELs would make a lot of sense, whether it's storage-area networks or large campus networks. The whole of optical networking is shifting in that direction, which makes VCSELs attractive."
For the foreseeable future, look for VCSELs to break into the datacom market first, since the enterprise market holds the most growth potential. "Some of the big carriers are coming out with RFPs or infrastructure improvements," says Gasman, "but none of them are overwhelmingly huge, especially when you look at the laser or component level. You never really know how serious they are until they actually sign the deal," he says.