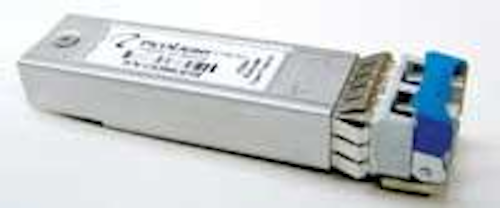 Picolight (Louisville, CO) has introduced a line of 1310-nm vertical-cavity surface-emitting laser (VCSEL) transceivers in 4-Gbit/sec triple-rate (1-, 2-, and 4-Gbit) small-form-factor pluggable (SFP) configurations. The company says the transceivers combine extended reach capabilities with low power consumption and are designed to satisfy a broad range of short- to medium-distance applications, including 4-Gbit/sec Fibre Channel at distances of 4 km and 10 km for SANs.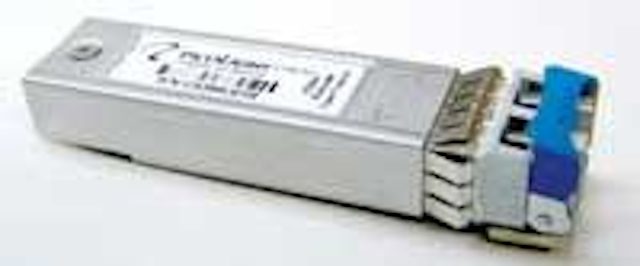 Picolight's 1310-nm VCSEL transceivers come in a 4-Gbit/sec triple-rate (1-, 2-, and 4-Gbit) SFP configuration.
"We're coming out with this 4-Gig Fibre Channel product because the storage-area-networking market is red hot. Post 9/11, Sarbanes-Oxley, HIPAA, things like this, people need to have data storage in farther, more distributed locations," remarks Steve Hane, Picolight's president and CEO. "But the important story behind this individual product is this: We've got a commercialized VCSEL at 1310, which says I can go after Fabry-Perot and I can go after DFB [distributed-feedback laser] applications, and come back with some design efficiencies around power consumption, heat dissipation, and protection from EMI."
In contrast to edge-emitting Fabry-Perot and DFB lasers, VCSEL technology emits light vertically through the surface of a wafer, rather than through its edges. VCSELs require very little electrical current to produce optical energy output of 850 nm and higher, and emit a narrow, circular beam that enables easy transmission of light into an optical fiber. VCSELs are also considered less expensive to manufacture, easier to test, and more efficient to operate than other laser technologies.
"This 1310 VCSEL can be characterized as something where the light that comes out of it is like a DFB laser; the current that goes into it and the power dissipation is like an 850-nm VCSEL; and the cost is more on par with a Fabry-Perot, or probably less than that," asserts Jack Jewell, Picolight's CTO.
Jagdish Rebello, principal analyst with research firm iSuppli (El Segundo, CA), observes that, in the extremely price-sensitive SAN market, 1310-nm VCSEL technology presents significant cost and performance advantages over DFB and Fabry-Perot lasers. "This is quite a tremendous boost for the industry," says Rebello.
Picolight says its VCSEL-based 1310-nm transceivers employ the company's previously released 850-nm transceiver architecture, while achieving longer distances over singlemode fiber. According to the company, with a single architecture addressing multiple specifications at 4 km and 10 km-and the ability to reach up to 40 km-the transceivers feature an uncooled, oxide-confined VCSEL coupled to an LC optical connector. Other features include extended temperature- and voltage-range options, an internal AC coupling on both transmit and receive data signals, and an all-metal housing for increased EMI shielding.
"Because of the high drive currents of edge-emitting lasers, module-level heat dissipation is becoming limiting for high-density, high-bandwidth systems," explains Vidya Sharma, Picolight's vice president of marketing. "Next-generation form factors will strongly favor exclusive use of VCSEL technology, due to its low heat and low EMI-generation characteristics."
The company contends that its 1310-nm VCSEL technology could potentially dominate in short- to medium-distance singlemode fiber applications, eventually serving to displace existing edge-emitting laser transceivers in high-bandwidth and high-density optical systems. Supported form factors include XFP, XENPAK, and SFP applications.
"The roadmap [for this product] is eventually to go into 40 km, where it would target both geographically dispersed SANs, as well as metro SONET or metro DWDM applications," projects iSuppli's Rebello.
Indeed, the company says it has plans to expand its 1310-nm VCSEL product line beyond 4-Gbit/sec Fibre Channel applications, to support other applications at more than 10 km over singlemode fiber.
"We'll be coming back to you, probably in about six months, talking about the release of a 10-Gig 1310-nm VCSEL for the 10-Gigabit Ethernet market, which will be a very disruptive product," concludes Hane.