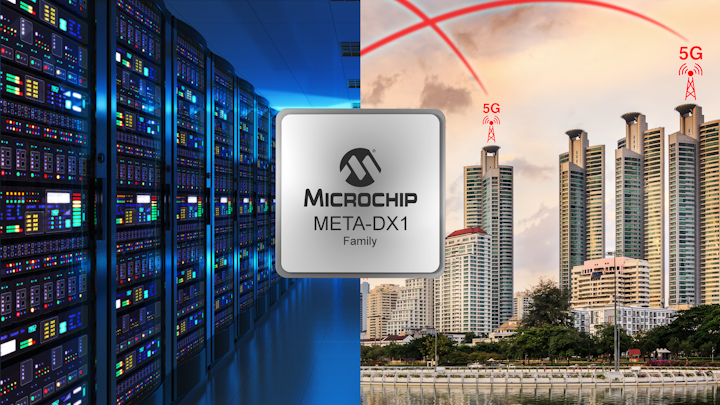 Microchip Technology Inc. (NASDAQ: MCHP), through its Microsemi subsidiary, has unveiled a new line of high-capacity, flexible Ethernet physical layer (PHY) devices. The META-DX1 Ethernet PHY family integrates Gigabit Ethernet (GbE) to 400GbE ports, Flexible Ethernet (FlexE) capabilities, Media Access Control Security (MACsec) link encryption, and timestamping with nanosecond accuracy. The feature set should make the META-DX1 chips popular for routers, switches, and optical transport systems for a wide variety of applications, from data center interconnect to 5G mobile network support, according to Microsemi sources.
The META-DX1 PHYs enable a 4X increase in line card capacity, according to the company, from 3.6 Tbps to 14.4 Tbps via 36 ports of 400GbE or 144 ports of 100GbE. The combination of integrated MACsec and FlexE support should dovetail well with data center interconnect requirements, while the integrated crosspoint switching capability enables a single design to support both QSFP28-based 100GbE and QSFP-DD enabled 400GbE, Microsemi. And the accuracy of the timestamping feature will meet the requirements of 5G mobile support infrastructure, Microsemi adds.
"The META-DX1 family was purpose-built to unify into a single hardware and software offering the broad range of capabilities service providers need in their network buildouts that connect enterprise and data center services to the cloud and emerging 5G applications," said Babak Samimi, vice president for Microchip's Communications business unit, via a company press release. "By delivering the highest-density Ethernet ports coupled with MACsec, FlexE, and the nanosecond packet timing performance needed for 5G, we've introduced an innovative Ethernet connectivity platform for telecom and cloud service provider routers and switches, as well as optical transport equipment."
The META-DX1 line launches with three chip iterations. The PM6110 is fully featured, while the PM6108 comes without FlexE support and the PM6104 leaves off FlexE and MACsec as well as Interlaken support. All three devices share the same footprint and a single SDX, according to Stephen Docking, manager, product marketing.
Initial members of the META-DX1 line will become available during the third quarter of this year. At least some customers will have boards waiting for them, Docking says.
For related articles, visit the Optical Technologies Topic Center.
For more information on communications semiconductors and suppliers, visit the Lightwave Buyer's Guide.