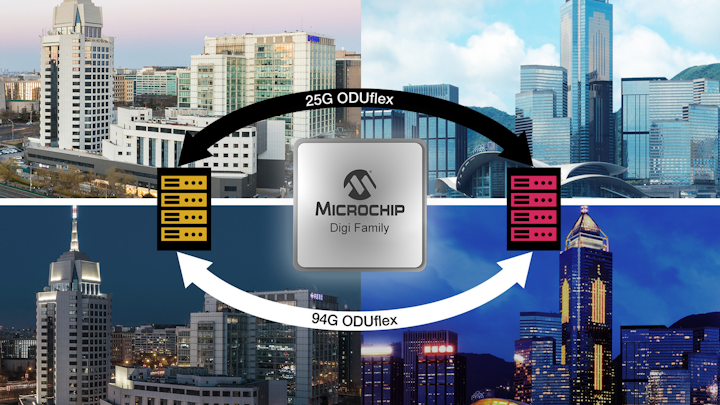 Microchip Technology Inc. (NASDAQ: MCHP) says that China Mobile has conducted multi-vendor interoperability tests of 100-Gbps Optical Transport Network (OTN) technology with Hitless Adjustment of ODUflex (HAO) capabilities. The tests were enabled via a "benchmark solution" based on Microchip subsidiary Microsemi's DIGI OTN processor family, the only commercial silicon that supports HAO, the company asserts. China Mobile plans to use the tested capabilities to launch bandwidth-on-demand leased-line services, Microchip adds.
HAO, defined in the International Telecommunication Union (ITU) G.7044 standard, enables reconfigurable bandwidth capabilities in OTN infrastructures. Microsemi offers integrated HAO features through a released software development kit (SDK) for its DIGI-120G, DIGI-G4, and most recent DIGI-G5 OTN processors.
In the interop exercise, China Mobile leveraged the DIGI OTN processors to verify technology and software readiness among OTN systems from several vendors to support bandwidth-on-demand services at scale. "China Mobile has deployed bandwidth-on-demand capabilities in our new Government/Enterprise OTN network to benefit from all the advantages of flexible bandwidth and services," said Yunbo Li, project manager at China Mobile Research Institute. "We are the world's first carrier to specify HAO product interoperability requirements and test specifications and now, working with Microchip and our ecosystem of equipment providers, we are pleased to have completed a major step toward large-scale deploying this technology [sic] and paving the way for it to become part of our new production network operations."
"We applaud China Mobile as the world's first carrier to complete the necessary interoperability testing to begin a large-scale deployment of bandwidth-on-demand services enabled by flexible OTN switching networks," added Babak Samimi, vice president for Microchip's Communications business unit. "We are proud that our DIGI OTN processors played a pivotal role in proving the readiness of the industry ecosystem, and we believe the momentum behind this technology will now accelerate both in China and around the world, opening a new chapter for carriers to provide an innovative new class of services and new revenue streams tied to their enterprise customers' real-time business demands."
For related articles, visit the Optical Technologies Topic Center.
For more information on communications semiconductors and suppliers, visit the Lightwave Buyer's Guide.