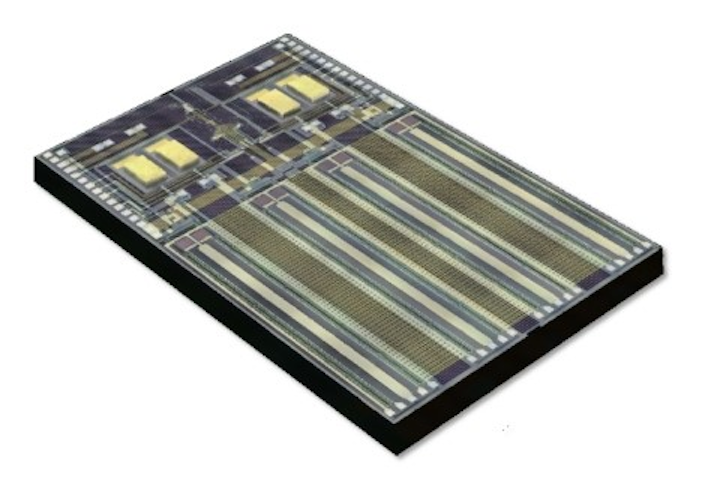 M/A-COM Technology Solutions Inc. (MACOM) has introduced the MAOP-L284CN, a silicon photonics integrated circuit integrated with lasers (L-PIC™) that creates a 100-Gbps transmit optical engine for CWDM4 and CLR4 applications.

The L-PIC features four of MACOM's Etched Facet Technology (EFT) lasers operating at 1270, 1290, 1310, and 1330 nm, respectively. MACOM attaches the lasers to the silicon PIC using its proprietary self-alignment process (SAEFT). The result is high coupling efficiency and power efficiency at a reduced manufacturing cost, the company says.

The MAOP-L284CN also features four high bandwidth Mach-Zehnder modulators and a CWDM multiplexer. Each channel operates at up to 28 Gbps.

The L-PIC operates on a standard single-mode fiber and includes integrated tap detectors for fiber alignment, system initialization, and closed loop control. A single fiber aligned to the output edge coupler of the 4.1x6.5-mm die is the only optical requirement for implementing this device into QSFP28 optical transceivers, MACOM asserts.

The company also offers the MASC-37053A modulator driver integrated with CDR, matched with this L-PIC.

"Silicon-based photonic integrated circuits, or PICs, enable integration of optical devices such as modulators and multiplexer onto a single chip. We believe that MACOM's L-PIC solves the key challenge of aligning lasers to the silicon PIC with high yield and high coupling efficiency, making the adoption of silicon PICs a reality for high-speed optical interconnects within the data center," said Vivek Rajgarhia, vice president of strategy, high-speed networking, for MACOM.

MACOM will display the L-PIC at OFC 2016, Booth #3101, March 22-24 in Anaheim, CA.

For more information on optical components and suppliers, visit the Lightwave Buyer's Guide.