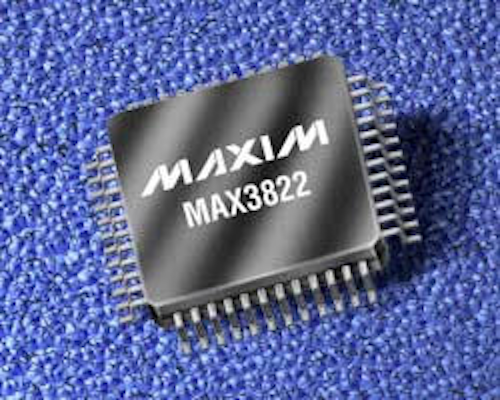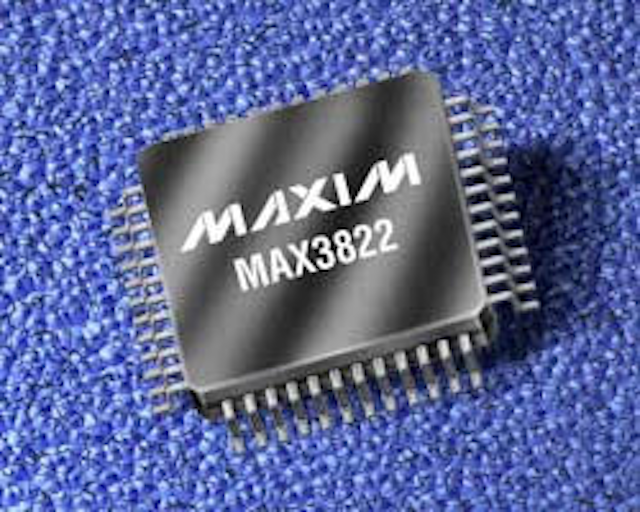 Maxim Integrated Products has introduced the MAX3822 +3.3V, 2.5-Gbits/sec quad limiting amplifier for optical system interconnects.
The MAX3822 is designed to couple directly to the MAX3825 transimpedance amplifier without any external data path components between the two products. Combining the
limiting amplifier and transimpedance amplifier produces a high-performance 2R quad 2.5-Gbit/sec receiver that provides a maximum throughput of 10 Gbits/sec, which is ideal for 4-channel parallel 2.5-Gbit/sec optical interconnections in SONET/SDH, Gigabit Ethernet, and Fibre-Channel systems, claims the company.
The MAX3822 consumes a total of 700mW but can be configured in a single, dual, or quad application. Four separate power detectors are incorporated to monitor the received signal level for each channel. Individual, TTL-compatible, loss-of-power (LOP) indicators assert low if the channel signal input is below the programmed threshold. Typically, 4-dB LOP hysteresis (2-dB optical) is provided to prevent chattering when the input signal level is close to the threshold. A general LOP indicator is also provided, which asserts low if one or more of the four inputs is in the LOP condition. The output structure is back terminated to 100 ohms differentially and is capable of 640mVp-p to 1000mVp-p differential swing. The input structure is internally 50 ohms terminated, allowing direct coupling to the MAX3825 transimpedance amplifier.
Available as package and dice over a 0 degrees Celsius to plus 85 degrees Celsius temperature range, the MAX3822U/D is priced at $13.20 and the MAX3825UCM is priced at $9.90 (in quantites of 1,000 or more). Evaluation kits are available.
For more information, visit the company's Web site at www.maxim-ic.com