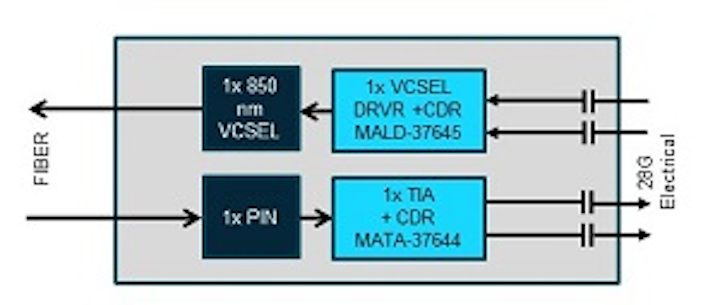 The MATA-37644/MALD-37645 is the first-to-market chipset that enables design and shipments of 25G Ethernet and 28G Fibre Channel short-reach SFP28 optical modules with VCSEL lasers.
This chipset enables deployment of SFP28 modules at approximately the cost of 10G SFP+ modules; 2.5X bandwidth at the same cost. This is the lowest power VCSEL driver/CDR and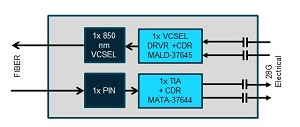 TIA/CDR chipset in the market for reduced operational expenses, MACOM asserts. These companion devices offer customers a complete transmit and receive solution for 25G Ethernet, 32G Fibre Channel, and CPRI applications.
Judge's comment: "This low-power chipset includes laser driver, CDR, and TIA to enable early deployments of 25G VCSEL-based short-reach transceivers. The low power dissipation and programmable eye shaping give transceiver designers flexibility and significant performance benefits."
Click here to return to the 2017 Lightwave Innovation Reviews page.