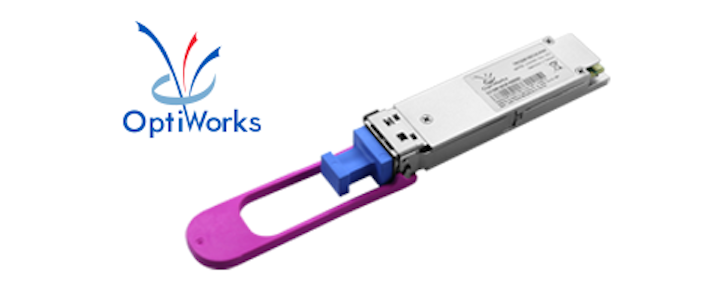 OptiWorks, a wholly owned subsidiary of BizLink Technology, Inc., says it will use CIOE in Shenzhen, China, and ECOC in Dublin, Ireland, to launch 100-Gbps optical transceivers and 100-Gbps and 400-Gbps and active optical cables (AOCs). The optical modules are 100-Gbps QSFP28 CWDM4 devices, while the AOCs come in 100-Gbps QSFP28 and 400-Gbps QSFP-DD configurations.
The CWDM4 optical support 100-Gbps Ethernet links of up to 10 km over duplex single-mode fiber. OptiWorks says it manufactures the transceivers using advanced automated alignment and testing processes to deliver high reliability and quality. Compliant with QSFP28 Multi-Source Agreement (MSA), CWDM4 MSA, and IEEE 802.3bm standards, the optical modules offer low power consumption over an operating temperature of up to 70ºC.
The AOCs target storage, data, and high-performance computing applications. The 100-Gbps AOC is a four-pair multimode fiber cable that offers aggregate two-way 100-Gbps transmission via four independent transmission and receiving channels of 25 Gbps each. Compliant to the SFF8436, 8432, 8472, IEEE 802.3bm, and IEEE 802.3by standards, the 100-Gbps AOC will support 100-m reach.
The 400-Gbps AOC features a similar design, except that it uses eight multimode fiber pairs and 53-Gbps channels to achieve an aggregate 400 Gbps. It also will support links of 100 m; the AOC is compliant to the SFF8436, 8432, 8472 and IEEE 802.3bm standards.
OptiWorks will display the new products at CIOE September 4-7 at Booth #1008, and at ECOC September 23-26 in Booth #323.
For related articles, visit the Optical Technologies Topic Center.
For more information on optical modules and suppliers, visit the Lightwave Buyer's Guide.
To stay up to date on optical communications products, subscribe to the Lightwave Enabling Technologies Newsletter.