10-Gbit/sec datacom transceivers to reach $9 billion by 2010
Aug 1st, 2001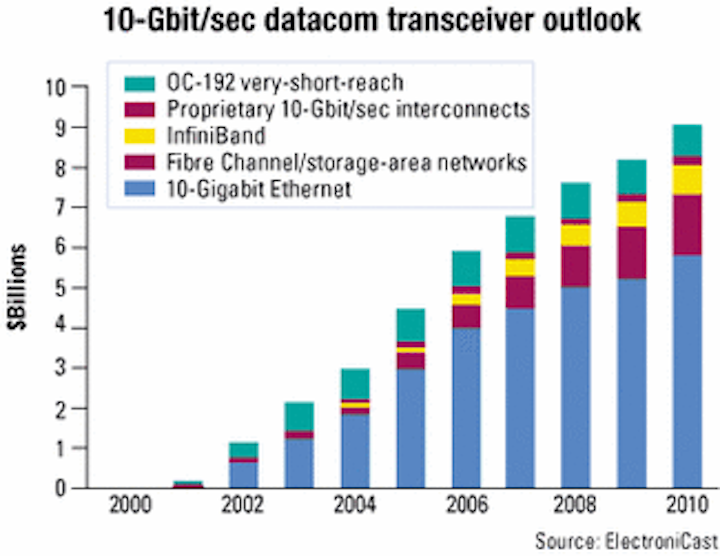 Consumption of 10-Gbit/sec data-communications transceiver modules will increase from $157 million in 2001 to over $9 billion in 2010, according to a new market study by ElectroniCast Corp. (San Mateo, CA). The report shows the global consumption (quantity, price per module, and value) forecasts of 10-Gbit/sec datacom transceivers over five applications: OC-192 very-short-reach (VSR), proprietary 10-Gbit/sec interconnects, InfiniBand, Fibre Channel storage-area networks (SANs), and 10-Gigabit Ethernet. The OC-192 VSR and proprietary interconnect markets are considered cross over markets for 10-Gbit/sec datacom transceivers.
The early deployments of 10-Gbit/sec datacom transceivers in 2001 will total less than 100,000 units, but that will increase with a serious rollout of 10-Gbit/sec datacom links with volumes of nearly two million units in 2003. Growth will then continue over the next several years, reaching nearly seven million units in 2005.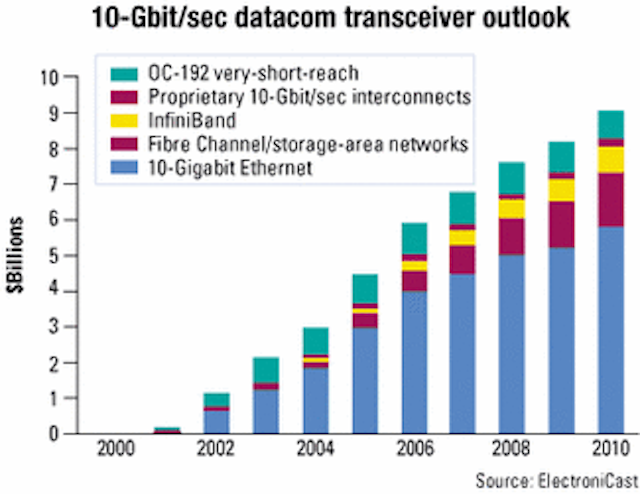 There will be a strong influence of 10-Gigabit Ethernet in the total consumption, followed by 10-Gigabit Fibre Channel in the latter half of the forecast. "The use of low-cost 10-Gbit/sec datacom transceivers, specifically four-fiber parallel, in the OC-192 VSR application shows an impact early in the forecast and continues as a strong crossover market throughout the forecast period," says ElectroniCast president Stephen Montgomery. "The portion of InfiniBand that requires 10-Gbit/sec transceivers-also four-fiber parallel-begins to make an impact in 2005, becoming very significant from 2006 to 2010."
The strong ramps in volume for 10-Gigabit Ethernet and OC-192 VSR applications lead the first year of serious deployment in 2002 with $1.14 billion. Very strong value growth continues, even with declining module pricing, through the next several years, reaching $4.4 billion in global consumption by 2005 and $5.9 billion in 2006. Declining prices ease value growth beyond 2006, reaching just over $9 billion in 2010.
For more information or to purchase a copy of the report, "10-Gbit/sec Datacom Transceiver Market Forecast," contact ElectroniCast at 650-343-1398 or visit the company's Website at www.electronicast.com.