ATTENDEES' CHOICE AWARDS
Sep 1st, 2002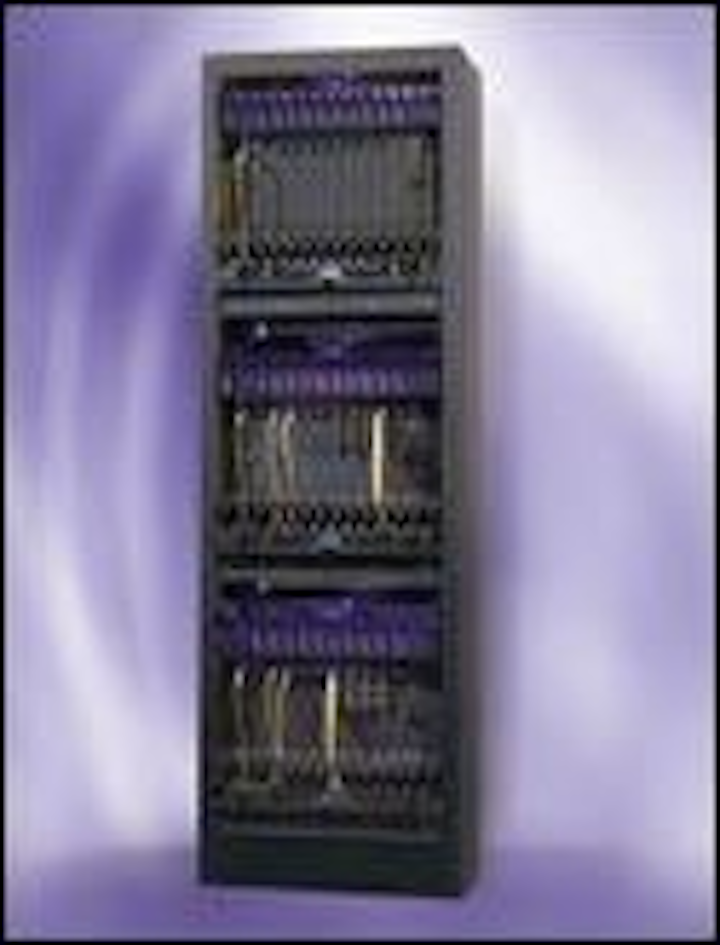 Welcome to the Lightwave Attendees' Choice Awards balloting for products featured at NFOEC 2002 in Dallas. Those attending the show can vote for their favorite product in each of six categories beginning on page 131: Systems, Subsystems, Components, Test Equipment, Manufacturing, and Design Tools. An additional award will be presented to the company whose product receives the most votes overall. While at the show, use the official Attendees' Choice Awards ballot enclosed with the September 2002 issues of Lightwave distributed during NFOEC. Simply mark the appropriate number on the ballot that corresponds to the INFORMATION/NOMINEE NO. following each product decription. All ballots should be dropped off at Lightwave exhibit booth 1811. Only ballots submitted at the booth will be counted. September issues and additional NFOEC ballots are available at booth 1811.
For Lightwave readers not attending NFOEC, free data for any of the nominees listed beginning on page 131 can be obtained by entering at www.onlinecenter.to/lw the INFORMATION/NOMINEE NO. following each product description.
NFOEC attendees only: TO Vote for your favorite product in each category, usE the enclosed attendees' choice awards balloT
NFOEC 2002 nominees
SYSTEMS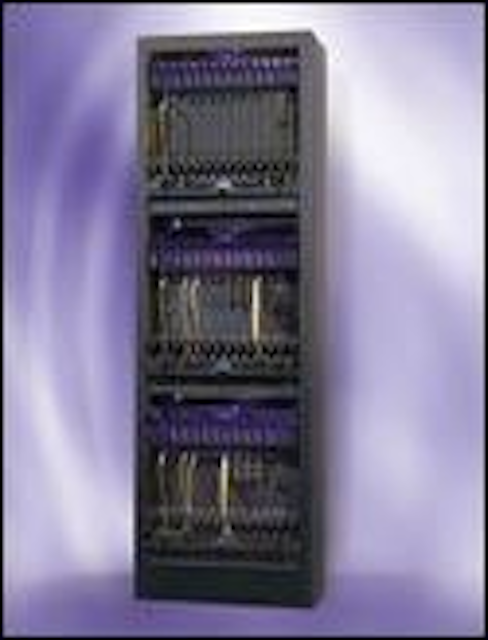 Networking solution
Agile Networking Solution integrates the C420 Dynamic Optical Networking System, a next-generation DWDM platform, and the M900 LightWave Management Suite. The C420's all-reach networking capability gives carriers the means to optimally carry the full range of long-haul and ultra-long-haul traffic on the same platform. The networking solution offers 10- and 40-Gbit/sec line rates on the same C- or L-band system to minimize network overlays, thus reducing stranded bandwidth while providing high scalability.
Ceyba Inc., Ottawa, Ontario
INFORMATION/NOMINEE NO. SYS 300
Multifunction multiplex system
The FOMUX 500 multifunction fiber-optic multiplex system offers data transmission with reliable connections for small-scale SAN, SONET/SDH, and LAN/WAN (10-Mbit/sec to 2.5-Gbit/sec) applications. It combines TDM, WDM, and protection technologies and represents an alternative to large systems and an extension for existing FOMUX 3000 systems.
Pandatel AG, Hamburg, Germany
INFORMATION/NOMINEE NO. SYS 301
Intelligent optical switch
The T::CORE intelligent optical switch for transporting high-capacity optical services across the network incorporates a modular and scalable architecture. The switch delivers a variety of end-to-end management services off the optical layer, offering high system density with low footprint. It fully utilizes the installed base of SONET/SDH networks, providing seamless global gateway capability. Advanced architecture allows the switch to scale incrementally with no service interruption as traffic needs grow. Comprehensive performance monitoring and fault management capabilities assure no single point of failure.
Enavis Networks Inc., Petah Tikva, Israel, and Fort Lauderdale, FL
INFORMATION/NOMINEE NO. SYS 302
Helium recovery system
The helium recovery system can help fiber manufacturers reduce the use of virgin helium and increase draw speed during the fiber-drawing process. The system, which can be retrofitted to any OEM tower, provides helium recovery rates in excess of 75%, according to the company.
BOC Fiber Optic Solutions, Murray Hill, NJ
INFORMATION/NOMINEE NO. SYS 303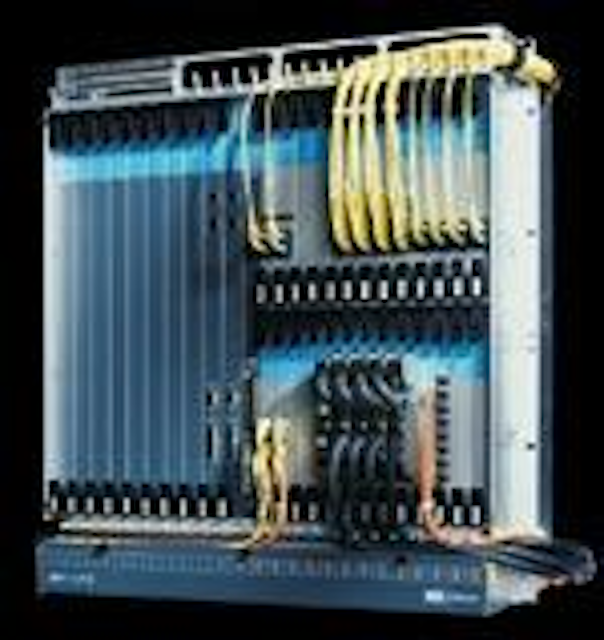 Multifunction system
Release 2.0 of City Stream 5000 features wideband crossconnect functionality for VT 1.5 circuits, with 10,752x10,752 switching capacity, at the edge to eliminate the need for backhauling traffic to a central office for processing. The wideband crossconnect functionality has been trialed with several leading service providers and is now generally available for customer field installations.
Metro-Optix, Allen, TX
INFORMATION/NOMINEE NO. SYS 304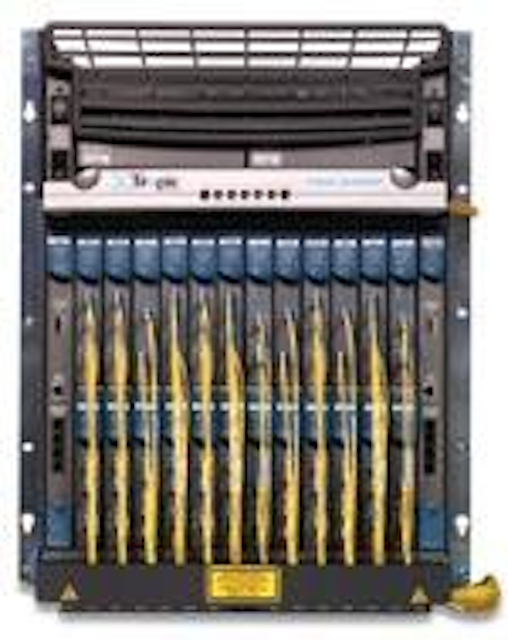 Metro optical transport platform
The TRX-24000 metro-optimized OADM/DWDM platform, with integrated wavelength tracking, offers SONET-like management for the optical layer. Wavelength Tracker technology provides integrated path trace, power monitoring, and power adjustment on a wavelength-by-wavelength basis. Fault isolation and correlation are also provided, giving carriers a lot of visibility and control over their optical networks. With extensive management at the optical layer, Wavelength Tracker provides flexibility for metro optical architectures and eliminates much of the optical-electrical-optical conversions.
Tropic Networks, Ottawa, Ontario
INFORMATION/NOMINEE NO. SYS 305
Photonic service switch
The PXS 540 photonic service switch is designed to provide service-switching and grooming functions for core edge and metro core applications. The switch uses the photonic burst switching technique to simultaneously switch lambda, TDM, and packet traffic in one consolidated network element. This switching flexibility allows carriers to maximize the network efficiency of their underlying DWDM infrastructure. The switch, with 540 functionalities, is complemented by an integrated intelligent Generalized MPLS-based control plane, enabling both circuit-based and packet-based traffic engineering for network optimization. It also offers quality-of-service and traffic management supports for IP/MPLS traffic.
AcceLight Networks Inc., Bridgeville, PA
INFORMATION/NOMINEE NO. SYS 306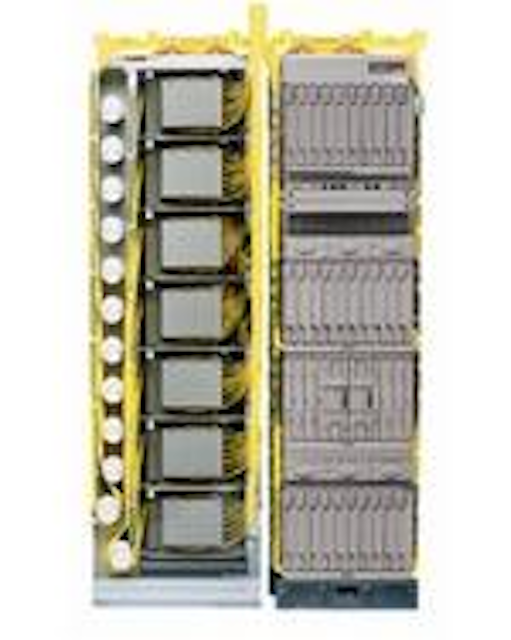 Optical-network access bay
Optical Network Element Access Bay allows single-circuit turn-up, testing, patching, and replacement. As ribbon fiber-optic connectors are deployed on new network elements, the ability to access individual circuits is eliminated. With each connector and cable carrying eight, 12, or even 24 channels, service downtime can increase and network flexibility can decrease. To minimize risk associated with loss of service, it's necessary to break out multifiber connections into individual fibers. The access bay transitions ribbon connections to single ferrule connectors, which allows for discrete access and ensures a safe network.
ADC Telecommunications, Eden Prairie, MN
INFORMATION/NOMINEE NO. SYS 307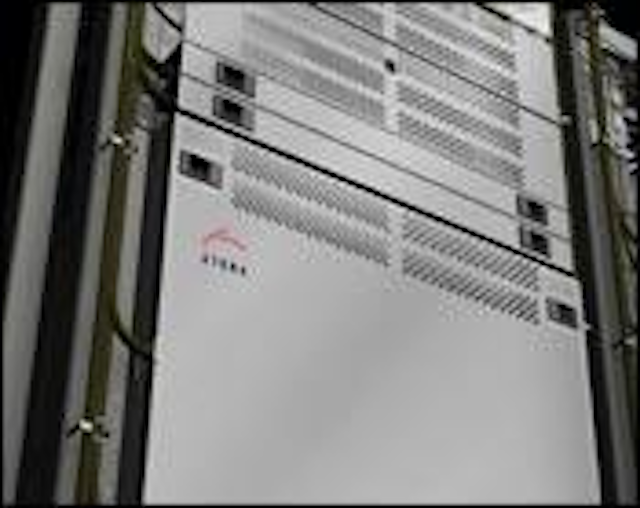 Wide-reach DWDM system
The Nu-Wave wide-reach DWDM system, featuring all-Raman technology, provides single-amplifier simplicity and wide spectrum efficiency, with 2.4 Tbits in three bays. Using the Nu-Wave planner, carriers can add capacity and plan for network growth with a click of the mouse.
Xtera Communications, Allen, TX
INFORMATION/NOMINEE NO. SYS 308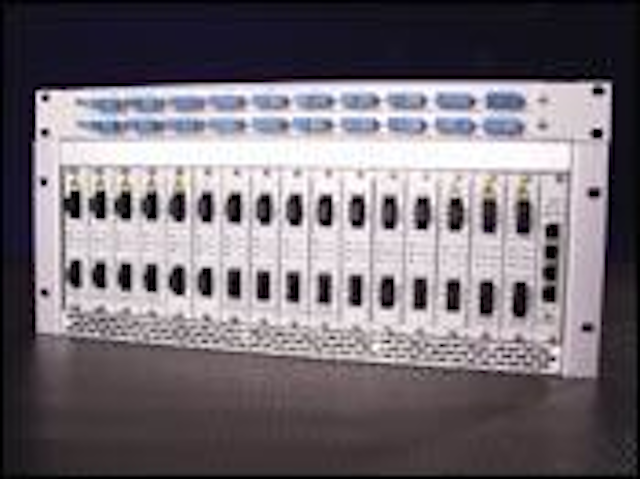 Fiber multiplier
FiberMultiplier Voice/Data allows compact entrance for the user into the fiber platform of CBL. The modular device, which can be individually customized, permits a maximum stage of development for up to eight-channel coarse WDM, and is highly scalable. Users can determine the desired fiber interface for each local port. A management feature monitors all active components of the equipment to ensure reliability. The entire solution can be extended in small steps.
Communication by light GmbH, Muenster, Germany
INFORMATION/NOMINEE NO. SYS 310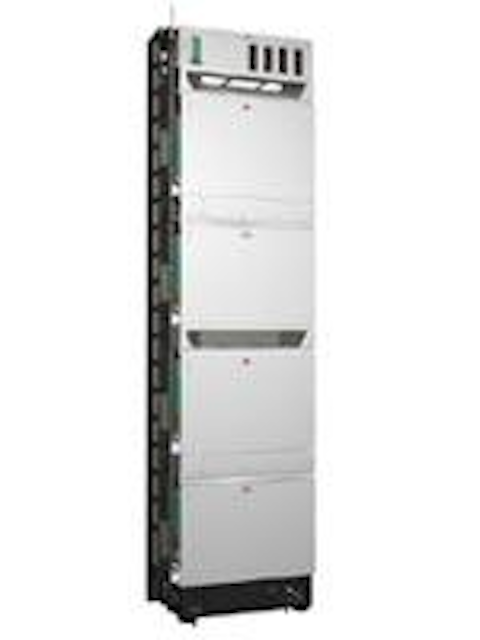 Core photonic networking
Designed for long-haul networks, the AgileCore core photonic networking system provides dynamic wavelength assignment from "A to Z" without the need for intermediate optical-electrical-optical conversions and without taxing limited resources like fiber, personnel, and space. With base technology such as tunable filters, tunable ULR lasers, and photonic switching, the system delivers a new technology suite that will "automate" the core, according to the company. This combination eliminates wavelength engineering and replaces lengthy engineering cycles with point-and-click provisioning.
Innovance Networks, Piscataway, NJ
INFORMATION/NOMINEE NO. SYS 311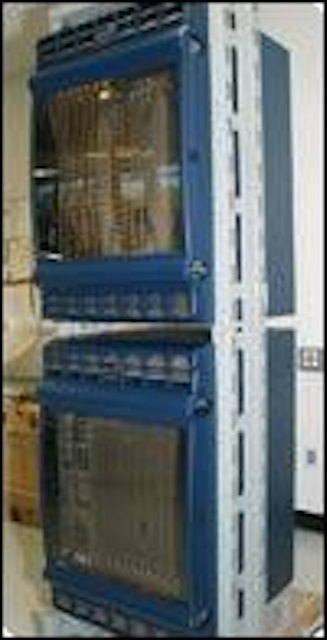 Optical-switching system
The OMX optical transport switching system for the metro core network combines the functions of a wideband (DS-1/VT1.5), broadband (DS-3/STS-1), and super broadband (STS-N) digital-crossconnect system with SONET add/drop multiplexer transport capabilities-all managed under a Generalized MPLS-based common control plane. Based on a software-defined single switch-fabric architecture that can scale from gigabits to multiterabits, the switch natively grooms TDM while futureproofing the network to natively support cell- and packet-based traffic.
Polaris Networks Inc., San Jose, CA
INFORMATION/NOMINEE NO. SYS 312
Optical transport switch
The Mi7 optical transport switch is a fully standards-compliant, IP packet-aware platform designed to aggregate, switch, and groom SONET interoffice transport facilities and immediately provide support for sophisticated Ethernet and multiprotocol data services as well as automated provisioning and network management. It takes carriers along a minimally disruptive migration path to simplified networks.
Mahi Networks, Petaluma, CA
INFORMATION/NOMINEE NO. SYS 313
Add/drop switch
7200 OADX optical add/drop switch combines the efficiency of WDM transmission with the flexibility and transparency of a wavelength switch, yielding a space-efficient optical-networking platform that allows existing services to grow while enabling transparent wavelength services. It provides intelligent and efficient transport for multiple Layer 1 signals across metro and regional fiber-based facilities. Bit-rate- and protocol-independent, the digitally transparent switch is capable of data rates of 100 Mbits/sec-10 Gbits/sec and scales from 128 to 512 ports.
Meriton Networks, Ottawa, Ontario
INFORMATION/NOMINEE NO. SYS 314
PON computer-based training
"Passive Optical Networks" is a computer-based training CD-ROM covering such topics as passive-optical-networking (PON) terminology and components, the significance of PON architecture, how and where is PON being used, and how to integrate PON. The CD-ROM uses a variety of media methods, including text, animation, graphics, video clips, and interactive exercises.
The Light Brigade, Kent, WA
INFORMATION/NOMINEE NO. SYS 315
SUBSYSTEMS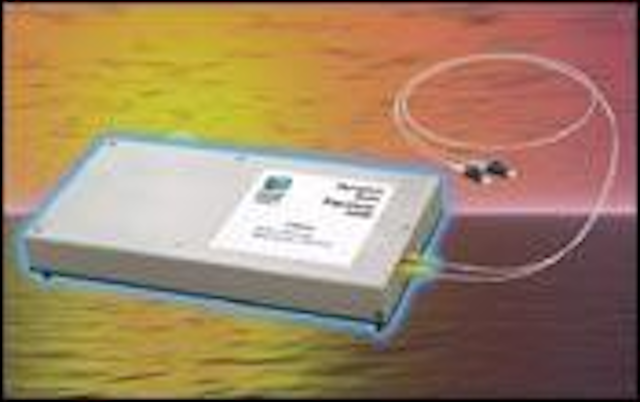 Dynamic gain equalizer
The SLM 2200 state-of-the-art dynamic gain equalizer for DWDM systems provides high resolution and accurate attenuation, enabling systems providers to flatten the spectrum with extremely low residual ripple. Equalization is done in a spectrally continuous fashion, so the SLM 2200 is completely independent of channel spacing. The system is based on the company's Grating Light Valve optical micro-electromechanical systems (MEMS) technology.
Silicon Light Machines, Sunnyvale, CA
INFORMATION/NOMINEE NO. SUB 316
SFP SONET/SDH module
The IGP-2000 Series small-form-factor pluggable (SFP) singlemode optical module for SONET OC-48 and SDH STM-16 applications features the company's IO-Pkg design. The built-in hot-pluggable feature allows optical port upgrades at the customer premises. Built-in digital diagnostics enable user access to static and dynamic data as well as module condition. The module, with distance options ranging from 0 to 40 km, supports metro/access networks, rack-to-rack connectivity, and aggregation device interconnects.
Ignis Optics, San Jose, CA
INFORMATION/NOMINEE NO. SUB 317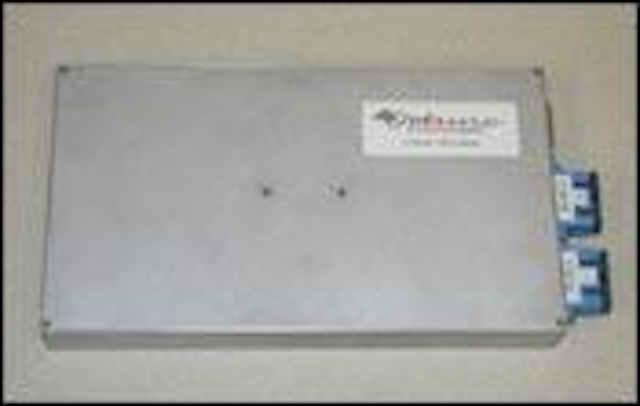 Tunable optical filter
The TOF tunable-optical-filter subsystem for WDM filtering into a very broad tuning range contains two proprietary interferometers controlled by a DSP. The external interface is simple: unfiltered optical input, filtered output, and an interface to the network control layer. Subsystem functions include search and lock on any arbitrary band; monitoring power, wavelength, and SNR; and self-calibration. Tuning range is >220 nm, passband <0.2 nm; rejection ratio >40 dB, tuning speed (C- and L-bands) <200 msec, insertion loss <3 dB, wavelength-dependent loss ±0.2 dB, polarization-dependent loss <0.2 dB, and dimensions are 4.5x8.37x0.93 inch.
Optune Technologies Inc., Quebec
INFORMATION/NOMINEE NO. SUB 318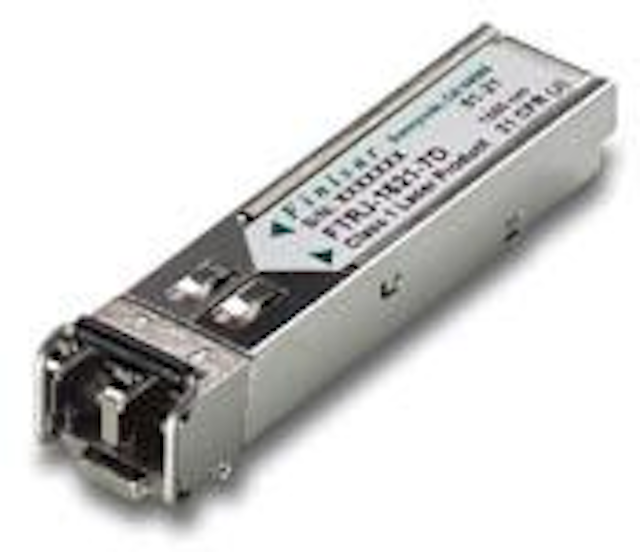 LR SFP transceiver
Using 1550-nm and coarse WDM ITU-grid distributed-feedback lasers and APD receiver technology, the FTRJ-1621 long-reach (LR) small-form-factor-pluggable (SFP) optical transceiver is designed for 80-km SONET OC-48 LR-2 (SDH STM L-16.2) and 110-km Gigabit Ethernet applications. It supports the company's SmartSFP digital diagnostics and monitoring functions, which provide real time measurements of key transceiver parameters and are being standardized under SFF-8472.
Finisar Corp., Sunnyvale, CA
INFORMATION/NOMINEE NO. SUB 319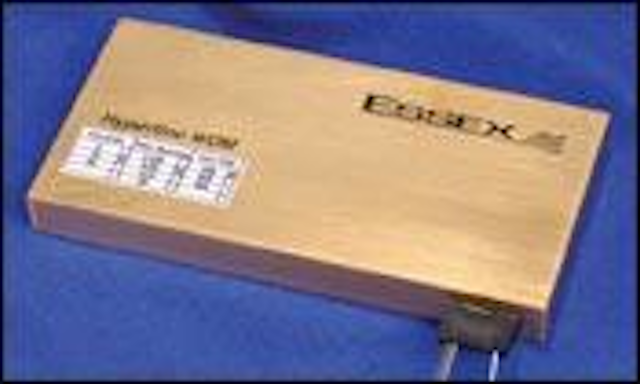 Ultra-dense WDM subsystem
The WaveGenerator ultra-dense WDM subsystem combines a stable laser (locked with optical PLL technology), a wavelength comb generator (SWDM technology), and an ultra-dense WDM filter (Hyperfine WDM technology) to create a compact subsystem that generates many closely spaced wavelengths for integration with standard external modulators. Channel counts from eight to 32, with spacings from 3.125 to 50 GHz, are possible from a single light source. Typical applications include enterprise, access, and metro networks.
Essex Corp., Columbia, MD
INFORMATION/NOMINEE NO. SUB 320
SFF multichannel power monitor
The IPM-8 small-form-factor multichannel inline power monitor, based on Integrated Taped Photo-Detector (IPD) technology, has eight integrated taps and photodetectors that tap off a small fraction of the incoming light and convert it into an electronic signal. The signal is amplified and processed with a microcontroller to provide the optical power information in a digital format. Power information from all the channels is available through a single protocol with a serial port of customer's choice. The compact, high-speed monitor is designed for channel-monitoring needs in DWDM networks.
Santec USA Corp., Hackensack, NJ
INFORMATION/NOMINEE NO. SUB 321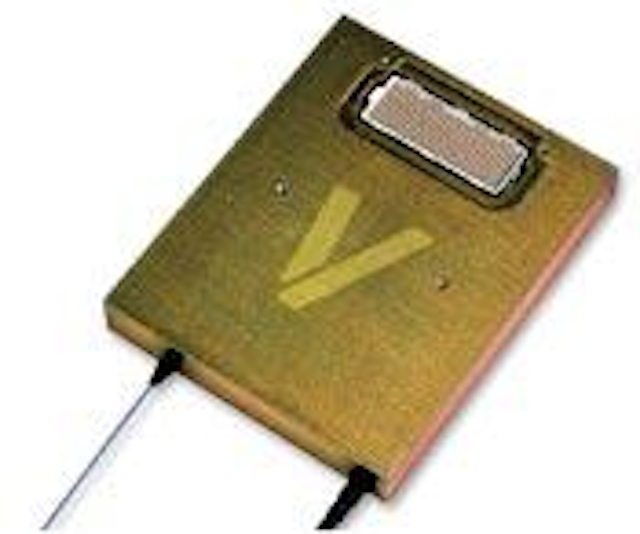 Tunable LR 10-Gbit transponder
The VIT5208 tunable long-reach 10-Gbit/sec transponder can be tuned over eight consecutive 50-GHz wavelengths or four wavelengths at 100-GHz spacing, lowering inventory requirements. Instead of inventorying each line-card variety at all wavelengths, service providers can now use the transponder to reduce this requirement by a factor of eight. The transponder meets the 300-pin MSA standard, so it can be easily implemented in all MSA-compliant applications. Standard output power remains a robust 3 dBm.
Vitesse, Camarillo, CA
INFORMATION/NOMINEE NO. SUB 322
Optical modem
The KOM210 optical modem uses signal processing to boost OC-192 optical transmission reach to 150 km with a <2-dB power penalty, leveraging built-in programmability to transmit in traditional nonreturn-to-zero or carrier-supressed return-to-zero format. The need for optical amplifiers and dispersion-compensating modules is reduced. The modem is a 300-pin MSA-compatible DWDM transponder that operates at rates up to 12.5 Gbits/sec for forward error correction on the 50-GHz ITU grid and is available in PIN or APD receiver configurations.
Kodeos Communications, South Plainfield, NJ
INFORMATION/NOMINEE NO. SUB 323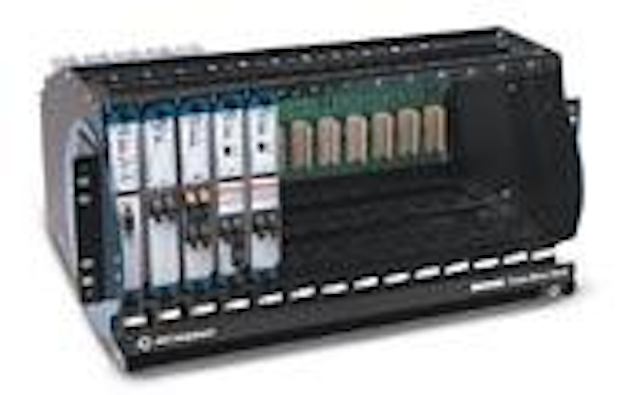 Optical-module mounting
DenseMount Shelf is a mounting solution that provides a full range of optical modules for service providers. It allows modules to be installed in 19- and 23-inch racks or remote cabinets. The shelf is NEBS 3-approved and meets Telcordia requirements for central-office applications. Those solutions involve reach extension (1310/1550- and 850/1550-nm optical regenerators and single-channel and multichannel optical amplifiers), protection (protection switches), and fiber exhaust (deployable filter cassettes).
JDS Uniphase Corp., Ottawa, Ontario
INFORMATION/NOMINEE NO. SUB 324
COMPONENTS
40-Gbit/sec LiNbO3 modulator driver
The model 5885 40-Gbit/sec lithium niobate (LiNbO3) modulator driver delivers high-quality, clean, 43-Gbit/sec nonreturn-to-zero eye-diagrams with low jitter. It provides LiNbO3 drive capability with as little as 300 mVpp of input and includes crossing-point control, output-level control, radio-frequency power detection, and temperature-stabilized output. The extremely broadband driver is targeted for the OC-768/STM-256 (40-Gbit/sec) telecommunications market.
Picosecond Pulse Labs, Boulder, CO
INFORMATION/NOMINEE NO. Comp 325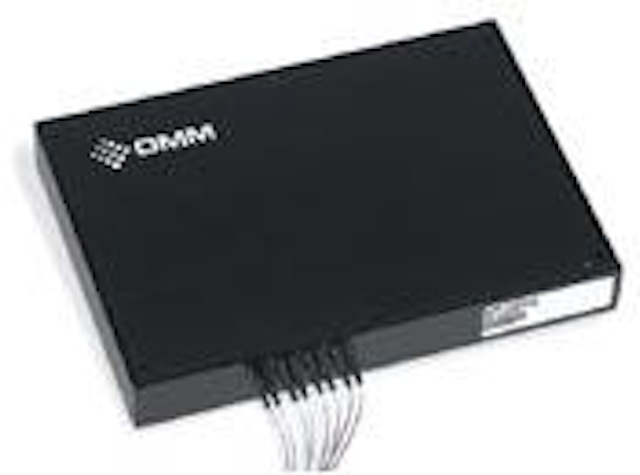 Photonic switch
The 32x32 photonic switch is used in optical crossconnects, reconfigurable optical add/drops, and wavelength-selective crossconnects. The switch's small-form-factor, single, 5-V supply and ribbon fiber make it easy to integrate. Featuring low power consumption (500 mW), it is built with two-dimensional micro-electromechanical (MEMS) technology and surpasses stringent Telcordia requirements.
OMM Inc., San Diego
INFORMATION/NOMINEE NO. Comp 326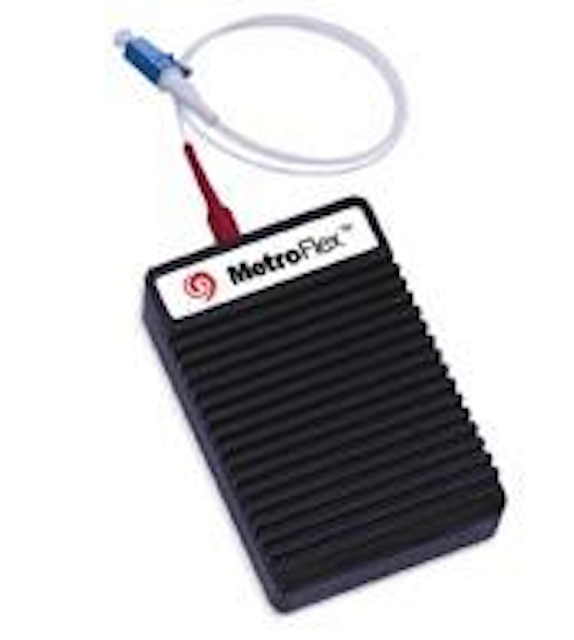 Tunable transmitter
MetroFlex G2 Series Tunable Optical Transmitter is designed for remote configuration and sparing applications in the metro, delivering wide tuning (C- or L-bands) in a small, reliable 2x3-inch (5x7.5-cm) package. The transmitter incorporates the company's directly modulated VCSEL-based tunable-laser, wavelength-locking technology, and optional gain within a single integrated package. It offers fast, continuous tuning over 20 100-GHz (or 40 50-GHz) ITU channels, direct modulation from OC-3 through OC-48, and >1-mW (0-dBm) modulated output power.
Bandwidth9 Inc., Fremont, CA
INFORMATION/NOMINEE NO. Comp 327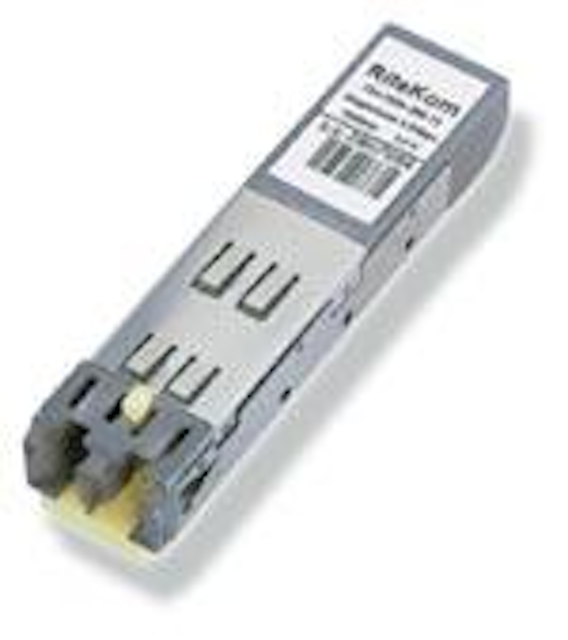 SFP transceivers
The small-form-factor pluggable (SFP) optical transceivers include various models for distances ranging from 2 to 80 km, with a choice of both single-channel and CWDM transceivers, allowing multi-different channels to be aggregated into one fiber. The 2.5-Gbit/sec, 1.25-Gbit/sec, and 155-Mbit/sec transceivers are hot-pluggable, allowing systems to be maintained and upgraded and ensuring low EMI emissions.
RiteKom Photonics Corp., ChuDung Hsinchu, Taiwan
INFORMATION/NOMINEE NO. Comp 328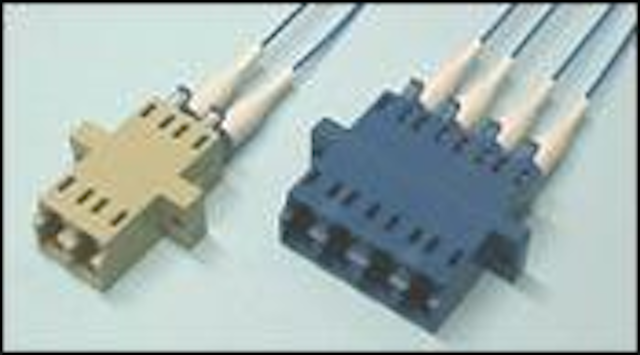 LC connector
The LC PANDA connector features a cord diameter of 0.4, 0.9, and 2 mm, an insertion loss of 0.5/0.25/0.22 dB, a return loss of 40/50/55 dB, and an extinction ratio of 25/28 dB. Also available are an LC four-port adapter for SC duplex adapter (F) footprint (PB/Zr sleeve); LC duplex adapter for SC simplex adapter footprint (PB/Zr sleeve); LC APC connector for cable TV, etc.; and LC connector kit for a cord diameter of 3 mm.
NTT-ME Corp., Tokyo
INFORMATION/NOMINEE NO. COMP 329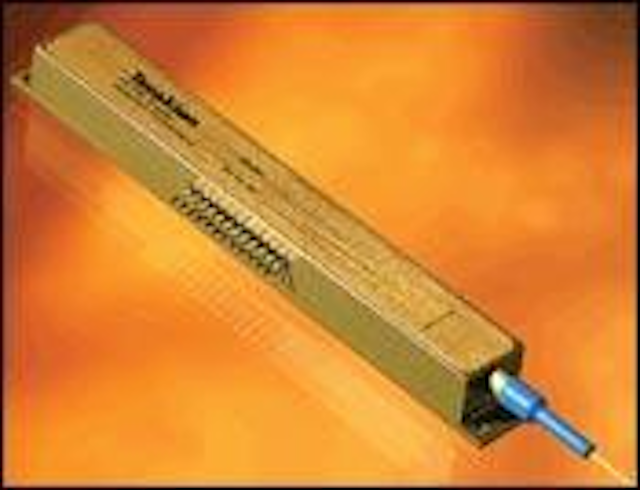 Multichannel compensator
Multichannel Tunable Dispersion Compensator is a complex chirped fiber Bragg grating (FBG) that allows the compensation of many channels. The compensator can be inserted in a tunable device to dynamically tune the multichannel dispersion while adjusting the dispersion slope of any type of fiber. The low insertion loss of the FBG technology, combined with a compact tuning device (137x17x12 mm), makes this technology especially suited for sub-band management.
TeraXion, Sainte-Foy (P.Q.), Canada
INFORMATION/NOMINEE NO. COMP 330
10-GbE transceiver
The MS2430 transceiver is fully 802.3ae 10-Gigabit Ethernet-compliant and capable of 20-Gbit/sec aggregate data transfer. It is housed in a 196-pin BGA 12x12-mm package and can be used in 10Gbase-LX4 optical-module-transceiver as well as system-backplane XAUI-to-XAUI retimer applications. The bidirectional transceiver incorporates eight transmit and receive blocks, clock recovery, 8B/10B encoding, lane-by-lane deskewing, and integrated XENPAK/MDIO control blocks.
MathStar Inc., Minneapolis
INFORMATION/NOMINEE NO. COMP 331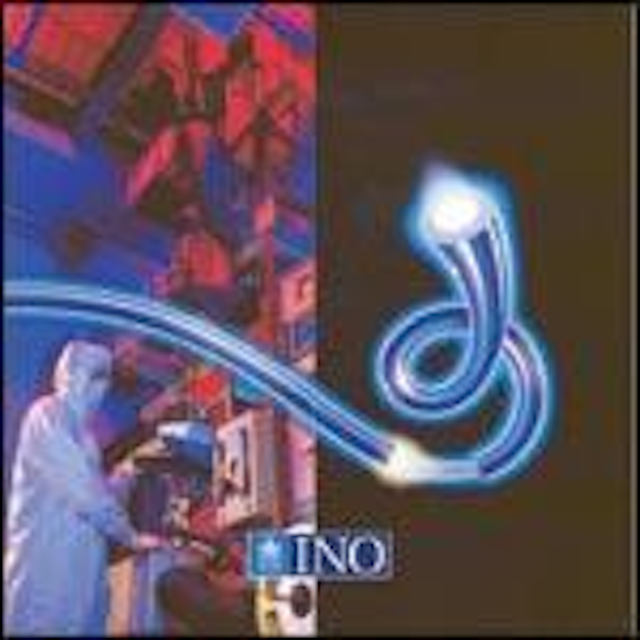 Custom fiber
Specialty fiber can be custom-designed according to customer specifications. The company has collaborated with numerous organizations to provide fiber with specific refractive index profiles, cladding material, dimensions, shapes, and rare-earth dopants. Some features that can be implemented in a custom fiber include Holey fiber design, double-clad structure, and aluminum coatings.
INO, Sainte-Foy, Quebec
INFORMATION/NOMINEE NO. COMP 332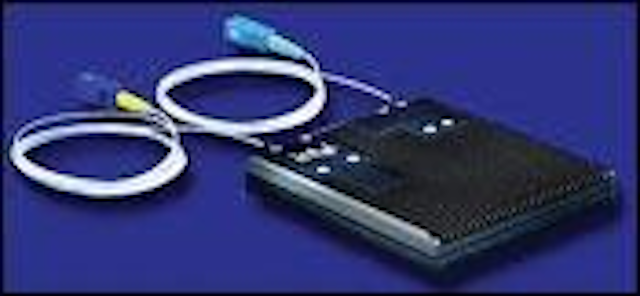 Tunable 10-Gbit/sec transceiver
For metro DWDM systems, the TXN13500 eight-channel (50-GHz-spacing) tunable 10-Gbit/sec transceiver incorporates a lithium niobate modulator, a microcontroller, a multiplexer/demultiplexer, a CDR, a jitter filter, an APD, and a temperature-tuned distributed-feedback laser into a 4x3.5x0.53-inch form factor. Features include SBS suppression "dithering," multirate capability (SONET/SDH, Ethernet, and forward error corrrection), 80-km reach (1,600-psec/nm dispersion), and output power of -2, 0, or +4.5 dBm (factory-settable). The TXN13500 covers 80 C-band wavelengths with just 10 transceivers, reducing the carrier's need for spares for each and every wavelength.
Intel Corp., Santa Clara, CA
INFORMATION/NOMINEE NO. COMP 333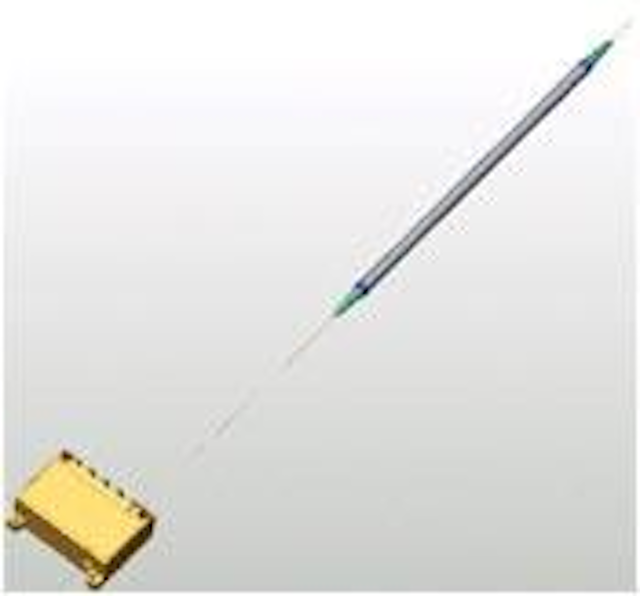 Micro fiber amplifier gain block
Scorpion Gainlet MMP-7010 is an erbium-doped micro-fiber-amplifier gain block, incorporating the company's Erbium Micro Fiber. The telecom-grade Spectra-Physics TE-cooled multimode laser pumps the erbium-doped micro fiber, providing 10-dB gain across the C-band. Gain block features include a highly integrated, customizable gain element; variable fiber length connecting the pump/coupler module and gain element; and Telcordia GR-1312 compliance.
NP Photonics Inc., Tucson, AZ
INFORMATION/NOMINEE NO. COMP 334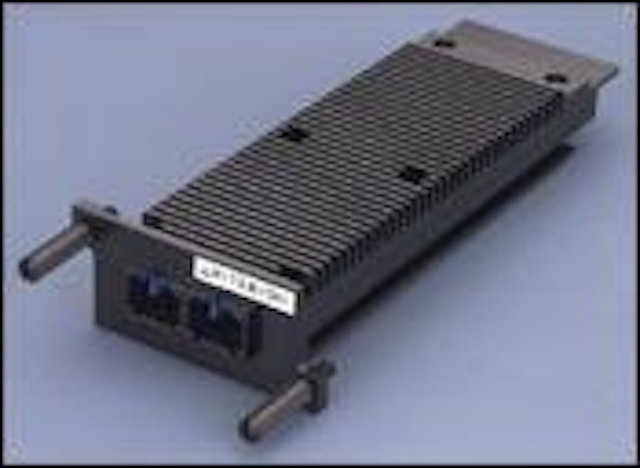 XENPAK optical transceiver
The MF-11KCXB-001WA XENPAK optical transceiver is designed for compliance with the XENPAK MSA and IEEE 802.3ae standard for 10GBase-LR 10-km applications. It uses a 1.3-micron direct modulation distributed-feedback laser; a photodiode; an XAUI interface; ICs for PMA, PCS, and XGXS; and SC duplex connectors. The pluggable device provides a versatile application for 10-Gigabit Ethernet transceivers, which can realize speed-up of IP traffic.
Mitsubishi Electric, Kanagawa, Japan
INFORMATION/NOMINEE NO. COMP 335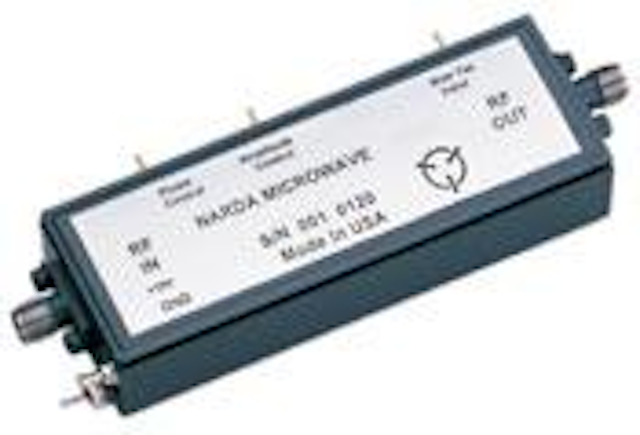 Clock-signal amplifier
Fiber Optic Clock Driver Amplifier for 10- and 40-Gbit/sec applications uses interchangeable thin-film gallium arsenide FET modules and can be customized with short lead times. It amplifies clock signals at any phase and gain to drive a lithium niobate or other optical modulator. Optional internal analog phase-shifters can be used to phase-lock clock signals to data for synchronous transmitters or receiver clock recovery. Optional gain control and power detectors allow for use in closed-loop AGC systems. Standard features include 5-, 10-, 20- and 40-GHz versions, 200-MHz bandwidth, output power to 30 dBm, and a single power supply.
Narda (an L-3 communications company), Hauppauge, NY
INFORMATION/NOMINEE NO. COMP 336
Long-reach laser
The Metro Lite long-reach transmission laser can be housed in an uncooled miniDIL package with temperature stability of 0.01nm/°C. It has high power output of >10 mW, is capable of long 150-200-km reach, and supports direct modulation to 2.5 Gbits with low chirp.
BRAGG Photonics Inc., Pointe-Claire, Quebec
INFORMATION/NOMINEE NO. COMP 337
Network adapter fiber
The SK-NET 9843 is a Gigabit Ethernet network adapter fiber for SK-NET GE-SX, 1000Base-SX, SC fiber connectors.
SysKonnect Inc., San Jose, CA
INFORMATION/NOMINEE NO. COMP 338
16-channel device
The DWDM 16-channel device features insertion loss of <3 dB, maintained over an operating-temperature range of 0-60°C. Insertion loss is at least one decibel better than the company's previous models.
APA Optics, Blaine, MN
INFORMATION/NOMINEE NO. COMP 339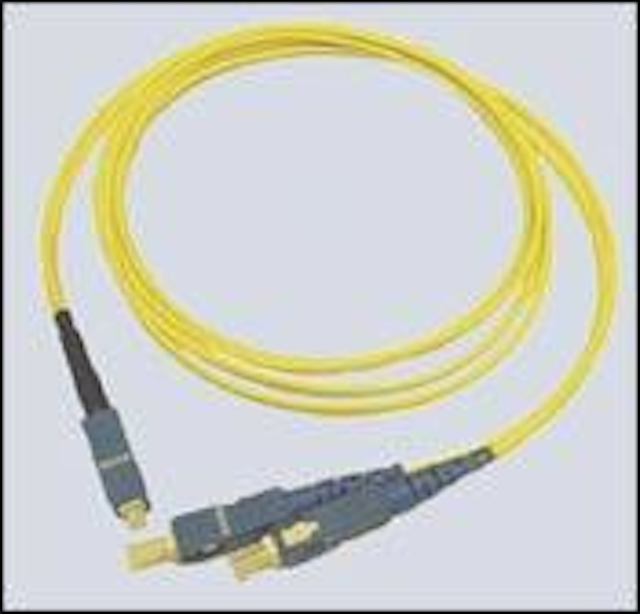 Integrated tap/coupler
The integrated optical tap coupler, housed in the body of a fiber-optic connector, can be added to any standard patch panel within an existing network. Typically, an optical tap/coupler is housed in a cassette, mounted in a patch panel on a frame. The integrated coupler can be used with no additional frame space. Installation is simplified.
Fiber Optic Network Solutions (FONS) Corp., Northboro, MA
INFORMATION/NOMINEE NO. COMP 340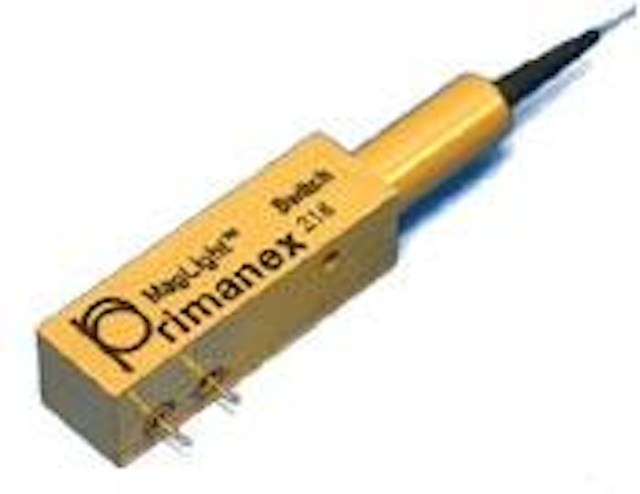 Wideband switch
MagLight Solid-State Wideband Switch has no moving parts and offers billion-cycle reliability, operating in the C- and L-bands. The switch provides <-55-dB crosstalk over the entire wavelength range of 1525-1610 nm, a high cycling rate of >1 kHz, and a response time of <0.2 msec. The switch's compact and robust package also saves PCB estate.
Primanex Corp., Fremont, CA
INFORMATION/NOMINEE NO. COMP 341
Small optical amplifier
SmartAMPLET is a small credit-card-sized optical amplifier based on conventional erbium-doped fiber. It is also a platform that's easily adaptable to different customer requirements for variable gain and variable output power, and everything is controlled through a simple computer interface with the click of a mouse. The amplifier uses off-the-shelf components and is Telcordia-qualified.
Dowslake Microsystems, Santa Clara, CA INFORMATION/NOMINEE NO. COMP 342
Small-footprint optical switch
MS Series optical switch in scalable and flexible configurations with small footprint is designed for next-generation high-bandwidth optical networks.
Hitachi Metals America Ltd., San Jose, CA
INFORMATION/NOMINEE NO. COMP 343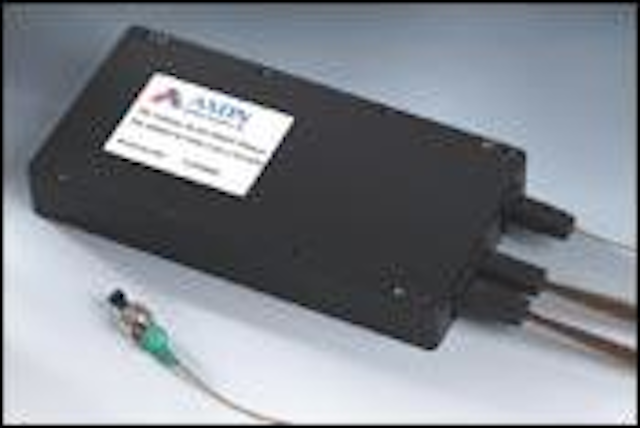 50-GHz AWG
The 50-GHz-channel-spacing polarization-maintaining arrayed-waveguide grating has a high extinction ratio of >18 dB. It is designed for polarization interleaving applications and can help reduce noise from neighboring channels in ultra-long-haul applications. An internally integrated temperature controller is available as a packaging option.
Axon Photonics, Fremont, CA
INFORMATION/NOMINEE NO. COMP 344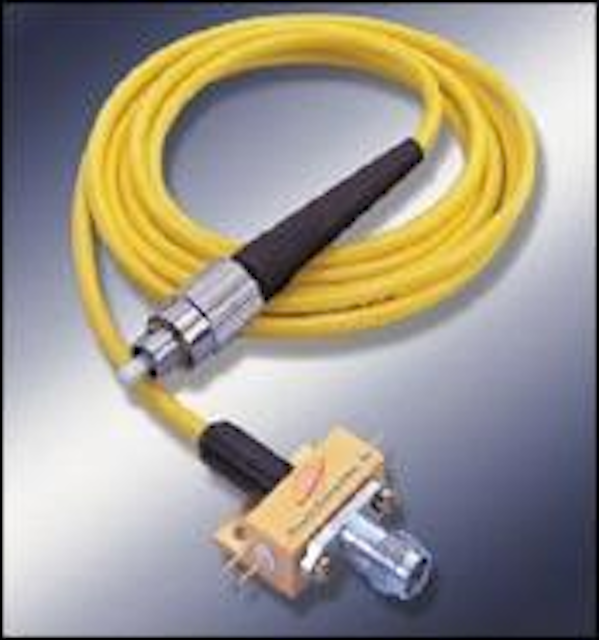 Broadband receiver
With conversion gain of 150 V/W or 350 V/W, the DSC-R404HG/UG broadband optical receiver is suited for digital 40-Gbit/sec transmission and analog radio-frequency-over-fiber in L- to K-bands. It has a high responsivity of 0.6 A/W and 250-ohm transimpedance gain in a small-footprint package for high-channel-count DWDM systems.
Discovery Semiconductors Inc.,
Ewing, NJ INFORMATION/NOMINEE NO. Comp 345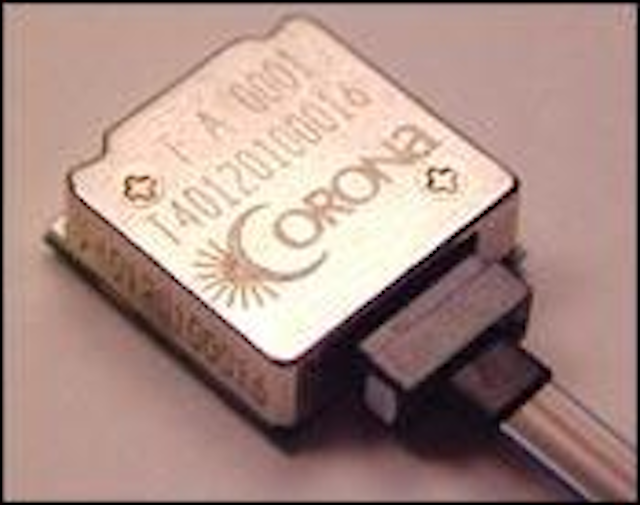 Parallel transmitter/receiver
The OptoCube 40 parallel optical transmitter/receiver features 12 channels operating up to 3.35 Gbits/sec per channel and provides maximum density in a package measuring just 13x13 mm (about the diameter of a dime). The module features standard BGA package and MT interface; accommodates standard SMT processing, aqueous wash, and multiple heat-sink configurations; and enables high-speed shelf-to-shelf interconnects. Applications include optical backplanes and parallel links in multirack switching, routing, and transmission systems. Channel speeds support OC-48, OC-48 with 8B/10B encoding, XAUI, OC-768 VSR, and proprietary backplane signaling.
Corona Optical Systems Inc., Lombard, IL
INFORMATION/NOMINEE NO. Comp 346
Tunable-laser source
At ±250 MHz, the Gridlocker tunable laser has high wavelength accuracy to enable the deployment of closer channel spacing to increase transmission capacity. As optical-channel density increases, the accuracy and stability of the laser frequency become critical to transmission performance. The additional features of 16-channel (3-nm) tunability and a distributed-feedback laser make the laser source well suited for the sparing and remote provisioning needs of extended-distance DWDM applications. It is designed for use in externally modulated optical transmission systems. No external wavelength locker is required.
Fiberspace Inc., Woodland Hills, CA
INFORMATION/NOMINEE NO. COMP 347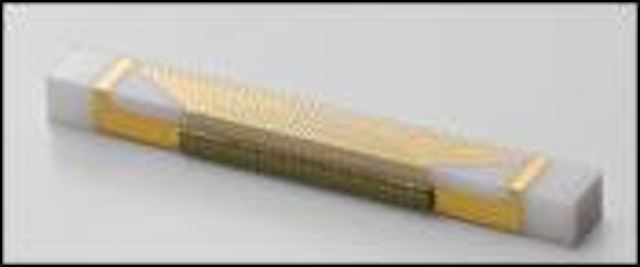 InGaAs photodiode array
The G8909-01 indium gallium arsenide PIN photodiode array features low crosstalk (33 dB), excellent frequency response characteristics, low dark current (0.02 nA), and small terminal capacitance. It is well suited as a DWDM channel monitor operating at 1.31 and 1.55 microns. Typical photo sensitivity is 0.9 A/W at 1.31 microns and 0.95 A/W at 1.55 microns. The array has 40 elements with an 80-micron-diameter active area and a pitch of 250 microns. It measures 22x2x2.5 mm.
Hamamatsu Corp., Bridgewater, NJ
INFORMATION/NOMINEE NO. COMP 348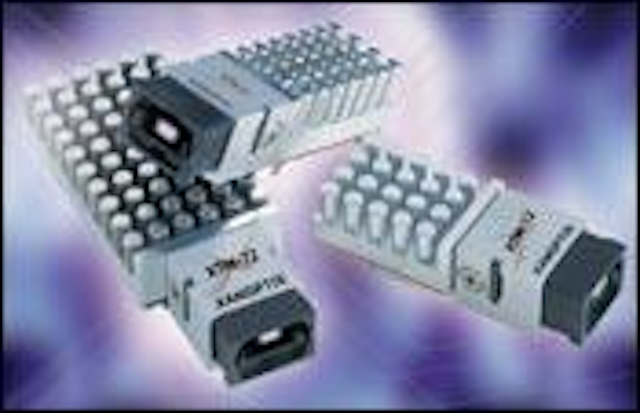 Optical transceiver
The XTM Series optical transceiver provides bandwidths up to 245 Gbits/sec and improves speed, power consumption, and density. It can address a wide range of telecommunications, data communications, computing, and data storage applications and can be used in a variety of architectures, from chip-to-chip to campus and enterprise solutions.The transceiver provides enhanced lifetime, programmable channel control, and automatic performance adjustment on all channels.
Xanoptix Inc., Merrimack, NH
INFORMATION/NOMINEE NO. COMP 349
Coarse WDM mux/demux
The 16-channel CWDM mux/demux features low insertion loss, low ripple, broad passband, high reflection isolation, excellent thermal and environmental stability, and good uniformity and directivity. The central wavelength is 1310-1610 nm with 20-nm channel spacing.
AocTel Inc., Shanghai, China
INFORMATION/NOMINEE NO. COMP 350
Optical-fiber array
KQ Series optical-fiber array is a high-purity and high-reliability quartz array ferrule that allows ultraviolet rays to deeply penetrate into the body because of its transparent property and enables adhesion to cure rapidly. Unfavorable CTE mismatch can be avoided since the quartz ferrule has the same composition as optical fiber. Available in cylindrical and box types; single-hole to 8x8 matrix types are available depending on specific needs.
Kohoku America Inc., Cambridge, MA
INFORMATION/NOMINEE NO. COMP 351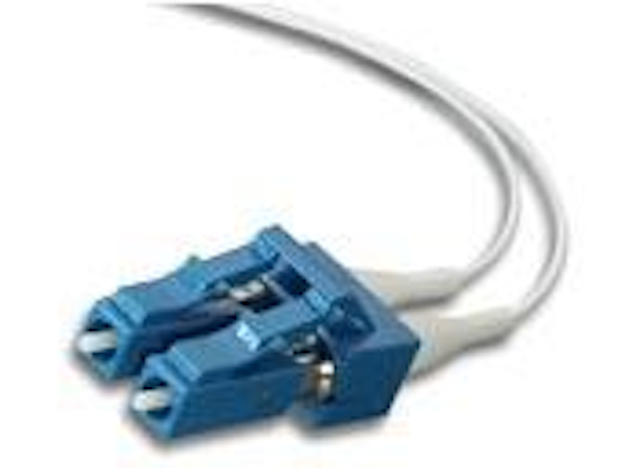 LC connector
The LC Fast Cure connector is half the size of a standard SC connector, providing double the density for panels and hubs and reducing the number of panels and racks in distribution rooms. Designed specifically for high-density, space-saving installations, the connector, available in singlemode and multimode, terminates in <5 minutes, has a typical insertion loss of 0.3 dB, features 1.25-mm zirconia ferrules, has high cable retention, and supports 0.9- and 3-mm cable types. Backed by a lifetime warranty when installed as part of a certified installation.
Leviton Voice and Data Division, Bothell, WA
INFORMATION/NOMINEE NO. COMP 352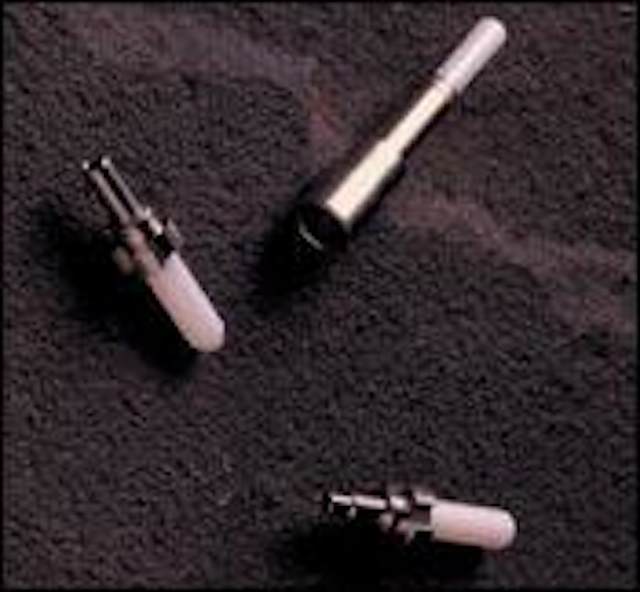 Zirconia fiber stub
The fiber stub uses yttria-stabilized zirconia to provide excellent durability. The fine-grained well-engineered ceramic can be finished to tolerances at fractions of a micron, offering robust performance for fiber-optic applications.
CoorsTek, Grand Junction, CO
INFORMATION/NOMINEE NO. COMP 353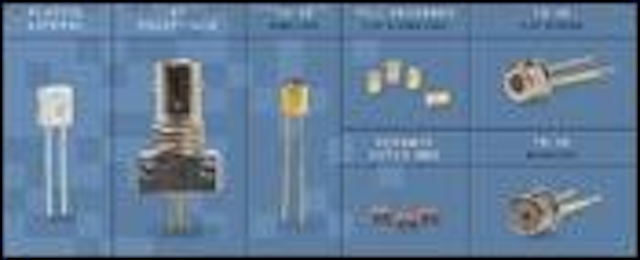 Short-haul, high-speed VCSEL
The vertical-cavity surface-emitting laser (VCSEL) is designed for short-haul, high-speed datacom/telecom systems as well as industrial applications requiring precise collimated light sources. The VCSEL provides higher coupled output power and low drive currents and a variety of packaging options for ease of assembly and integration. It supports Gigabit Ethernet and Fibre Channel.
Optek Technology Inc., Carrollton, TX
INFORMATION/NOMINEE NO. COMP 354
850-nm 10-Gbit/sec VCSEL
The 850-nm 10-Gbit/sec serial vertical-cavity surface-emitting laser (VCSEL) is for short-range multimode fiber-optic links between/within network equipment. To ease the design complexities for manufacturers of high-speed optical transceivers and transponders, the VCSEL includes optical subassembly (OSA) and optical front-end (OFE) options. All are compliant with 10-Gigabit Ethernet and Fiber Channel networking standards. OSA and OFE are compatible with the footprints specified by various multisource agreements, including XENPAK, XGP, and XFP.
Honeywell VCSEL Optical Products Division, Plano, TX
INFORMATION/NOMINEE NO. COMP 355
Mini-fiber fanout assembly
The mini-fiber fanout assembly addresses parallel transmission, and its smaller footprint reduces the amount of real estate needed for fiber routings. For designers of switch and router equipment and arrayed-waveguide-grating components, the assembly can supply longer input leg lengths.
Schott Optovance, Southbridge, MA
INFORMATION/NOMINEE NO. COMP 356
Quartz ferrule
X-Ferrule is a quartz ferrule that has a glass-to-glass hermetic seal to the inserted optical fiber. The seal eliminates thermal mismatch and sealing problems. X-Ferrules may be particularly useful with polarization-maintaining fiber pigtails that tend to be sensitive to stress.
Polymicro Technologies LLC, Phoenix
INFORMATION/NOMINEE NO. COMP 357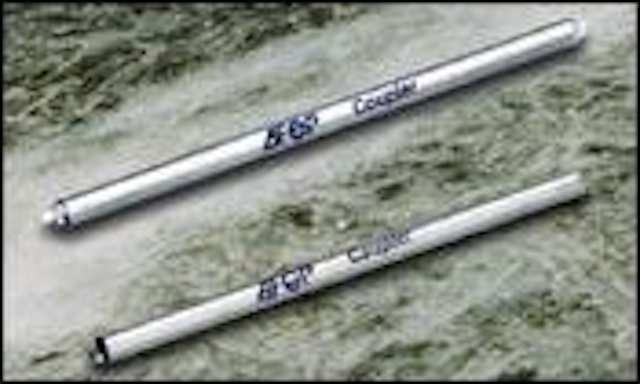 PM fused taper coupler
Polarization Maintaining Fused Biconic Taper Coupler, designed to meet Telcordia requirements, features rugged construction to ensure low-insertion-loss deviation across temperature and bandwidth. Standard split ratios offered are 1%, 2%, 5%, 10%, and 50%, with either 250- or 900-micron fiber pigtails. Custom configurations are available.
Alliance Fiber Optic Products Inc., Sunnyvale, CA
INFORMATION/NOMINEE NO. COMP 358
Dispersion compensation module
The Light Fixer dispersion compensation module (DCM) enables simultaneous 80-channel (100-GHz-channel-spacing) slope-compensated tunable dispersion compensation across the C- and L-bands with low group velocity delay ripple. It can be installed in existing networks to improve the performance of the existing fiber-cable span, thus enabling extremely low residual transmission errors at speeds up to 10 Gbits/sec. The etalon-based DCM offers low insertion loss and excellent slope compensation with a "Figure of Merit" better than 300. Compact size allows for mounting on a printed circuit board or external to the system.
Accumux Technologies, Camarillo, CA
INFORMATION/NOMINEE NO. COMP 359
Parallel fiber-optic VCSEL-based module
The nLIGHTEN 2100 parallel fiber-optic 850-nm vertical-cavity surface-emitting-laser (VCSEL)-based transmitter and receiver module uses 12 channels at 2.7 Gbits/sec per channel for >32 Gbits/sec of aggregate bandwidth. The pluggable module, which conforms to the SNAP12 multisource agreement, incorporates a widely accepted matrix array connector for electrical attachment to the printed circuit board that promotes easy assembly and maintenance and enables the module to be dropped into place late in the build cycle.
W.L. Gore & Associates Inc., Elkton, MD
INFORMATION/NOMINEE NO. COMP 360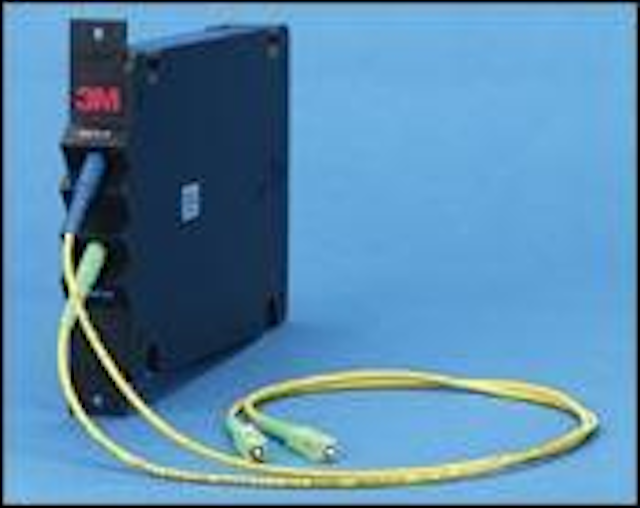 Pulse compressor
The pulse compressor provides single-channel to full C- and L-band chromatic dispersion compensation using the company's ultra-long fiber Bragg gratings. Compensation to different dispersion levels and slopes can be customized depending on specific network configurations using computer-controlled grating fabrication. With recent breakthroughs in group delay ripple, the compressor enables excellent system performance in a small package.
3M Optical Components, Austin, TX
INFORMATION/NOMINEE NO. COMP 361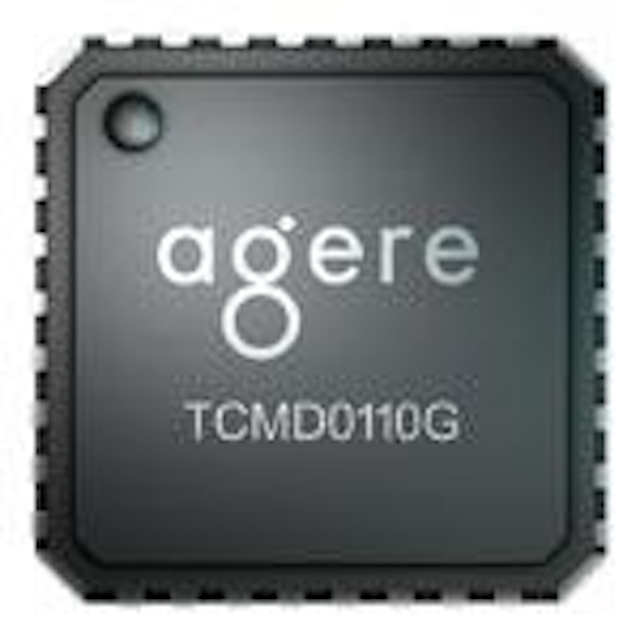 Modulator driver chip
The TCMD0110G clocked modulator driver chip combines a number of previously discrete functions into an integrated package for use in 10- and 12-Gbit/sec tran sponders or optical transceiv ers, SONET/SDH line cards, optical repeaters, and optical test equipment. The chip features excellent jitter control, programmability, and robust dispersion performance. It supports a wide range of output inductances for driving a 10-/12-Gbit/sec data signal to an electro-absorption modulator, lithium niobate modulator, or direct modulated lasers. Operating from a single -5.2-V supply, the chip offers adjustable output amplitude (up to 3 V/pin), pulsewidth control, and DC offset (up to 1.5 V).
Agere Systems, Allentown, PA
INFORMATION/NOMINEE NO. COMP 362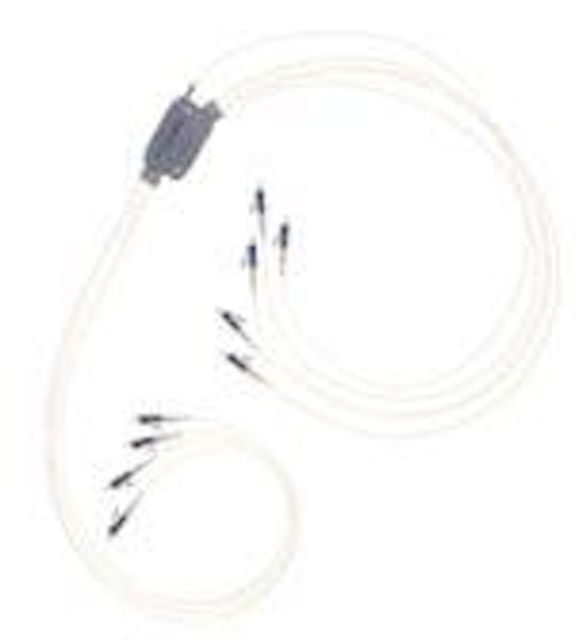 Small-footprint mux/demux
The small-footprint Mini-MetroChannel eight-channel coarse WDM (CWDM) multiplexer/demultiplexer module offers very low insertion loss with high channel isolation. The passive module is designed for integration into CWDM architectures that employ uncooled lasers with wavelengths separated by 20 nm. It operates with singlemode fiber independent of data rate and protocol in metro and access networks.
Tsunami, Mountain View, CA
INFORMATION/NOMINEE NO. COMP 363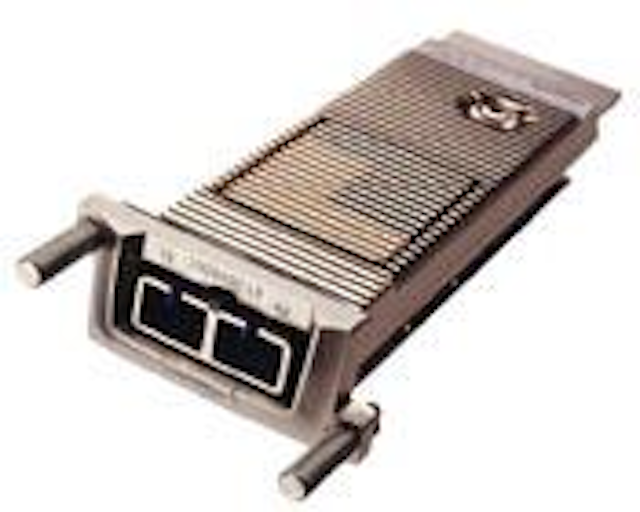 XENPAK transceiver module
The TOP 5010-SC 10-Gigabit Ethernet fiber-optic transceiver module in XENPAK format is a highly integrated Ethernet physical layer. Class 1 laser-safe and designed according to Telcordia GR-468-CORE reliability, the transceiver provides high-speed serial link signaling at an optical data rate of 10.3 Gbits/sec with wavelength of 1550 nm. Compliant with IEEE 802.3ae Draft 5.0 and XENPAK 2.1, the module provides Ethernet transmission up to 40 km over singlemode fiber with improved service availability. It supports a "pay-as-you-grow" business model, provides changing traffic-pattern flexibility, and has extensive management and test features for design integration and field maintenance..
Optillion AB, Stockholm
INFORMATION/NOMINEE NO. COMP 364
Transmit/receive VSR chipset
The 10-Gbit/sec 850-nm very-short-reach (VSR) front-end optoelectronic chipset consists of an integrated PIN/TIA receiver (OEpic PT1002) that converts 850-nm wavelength optical signals to electrical data and a vertical-cavity surface-emitting-laser (VCSEL) transmitter (OEpic LV1001). The receiver chip and VCSEL chip are packaged in the industry-standard TO-46 package. The transmit and receive chipset provides optical-module manufacturers with highly integrated optical-electrical conversion, enabling faster time-to-market. A limiting amplifier and laser-driver amplifier are available to provide a complete front-end chipset solution designed for small-form-factor transceivers.
OEpic Inc., Sunnyvale, CA
INFORMATION/NOMINEE NO. COMP 365
Zero water peak fiber
LightScope ZWP is a zero water peak full-spectrum singlemode fiber (SMF) that opens up transmission over the 1360-1460-nm wavelength range. Fully compatible with legacy standard SMF networks, the fiber provides future bandwidth scalability and upgradability and enables coarse WDM as an alternative to DWDM in unamplified portions of the network. It provides transmission capability in the 1310-, 1400- and 1550-nm operating bands, resulting in a 30% increase in usable spectrum.
CommScope, Hickory, NC
INFORMATION/NOMINEE NO. COMP 366
10-Gbit/sec transponder
The 10-Gbit/sec transponder module used in optical-fiber communications systems includes an optical transmitter and receiver with 16-channel 622-Mbit/sec multiplexer/demultiplexer, 1550-nm distributed-feedback laser diode/integrated EML and PIN detector, and CMU/CDR inside with 3R function. The module has a 300-pin BERG connector compatible with the 300-pin multisource agreement. It measures 120x80x20 mm and can be applied in environments with temperatures ranging from -5° to +60°C.
Wuhan Telecommunication Devices Co., Wuhan Hubei, China
INFORMATION/NOMINEE NO. COMP 367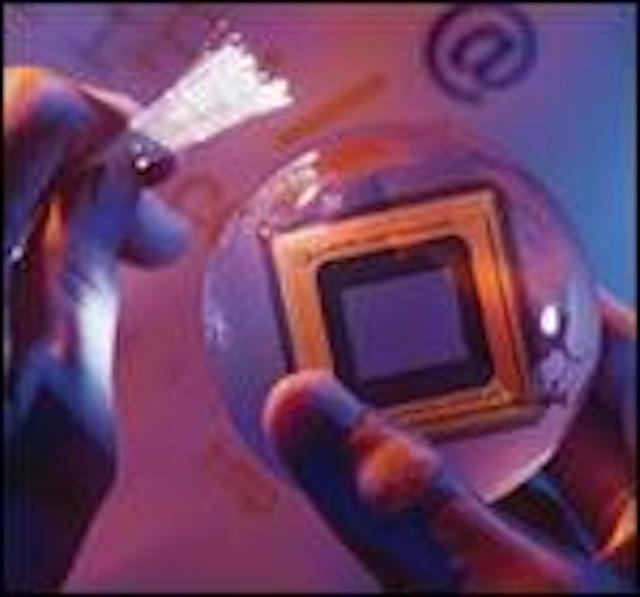 Signal processing chipset
Blaze Chipset, based on the company's DLP technology, is optimized for optical signal processing applications in the DWDM bands. The DLP Switched Blazed Grating (SBG) is used to spatially modulate coherent light. An SBG DSP, analog and digital support devices, and SW round out the chipset. Pure optical applications include spectral equalization, filtering, blocking, switching , and compensation. The chipset's overall flexibility and inherent intelligence make it suited for dynamic network elements and optical test and measurement gear.
Texas Instruments Inc., Plano, TX
INFORMATION/NOMINEE NO. COMP 368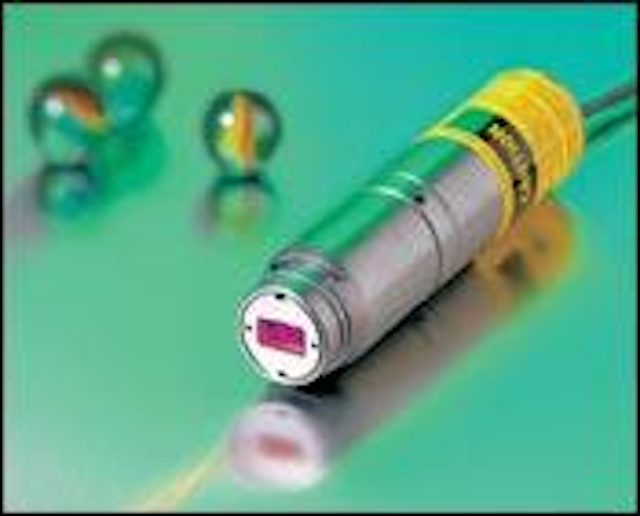 5-micron laser
The Lasiris Micro Focus Laser projects a 5-micron ± 0.75-micron line at 1/e2, out of a fully operational 5-degree fan angle laser line projector. Wavelengths are 404-1550 nm and power is 1-100 mW. Applications include optical-fiber alignment and defect inspection.
StockerYale Canada Inc., Montreal
INFORMATION/NOMINEE NO. COMP 370
MEMS-based VOA
The variable-optical-attenuator (VOA) device is a type of optical micro-electromechanical system (MEMS) in an arrayed configuration with up to 64 channels. It is a fast, insertion-loss array of separately and continuously controlled attenuators operating at high dynamic range with flat wavelength response. Channels are adjusted by 0-5-V inputs. Integrated output power monitoring of each channel is optionally available. MEMS VOA enables integration, batch production, and high reliability. Potential applications include multichannel VOAs in routers, all-optical networks, and switching arrays.
OZ Optics Ltd., Carp, Ontario
INFORMATION/NOMINEE NO. COMP 371
Optical transmission controller
The optical transmission controller is a DSP-based device designed to meet the entire circuit control requirement of optical transmitters or transponders. Focused on regional and long-haul applications, the controller provides modulator bias control, laser current driving, TEC control, wavelength stabilization, modulator driver AGC control, and transmitter output power control functions in a single low-profile package. The configuration data and monitoring parameters can be exchanged through a low-speed SCI or high-speed SPI interface.
Pine Photonics Communications,
Fremont, CA INFORMATION/NOMINEE NO. COMP 372
850-nm VCSEL and array
The 850-nm VCSEL and VCSEL array for optical data communications and optical sensor applications include 10-Gbit/sec and 2.5-Gbit/sec multimode and singlemode characteristics. The VCSELs can also be custom-designed.

Fuji Xerox, Kanagawa, Japan
INFORMATION/NOMINEE NO. COMP 369
Small-footprint power monitor
SurePath Monitor can enhance network management capability and quality of service, featuring a small footprint, low power consumption, and fast response time. It is an accurate power monitoring solution for optical networks that can be directly integrated into network elements, or it can be deployed at a discrete network node.
MetroPhotonics, Ottawa, Ontario
INFORMATION/NOMINEE NO. COMP 374

Gain tilt controller
Dynamic Gain Tilt Controller equalizes optical power across channels in DWDM systems. With primary applications in erbium-doped fiber amplifiers (EDFAs), the controller allows gain flatness to be maintained by introducing wavelength-dependent attenuation to correct gain tilt over a wide dynamic range of operating conditions. Designed with no moving parts, it features low insertion loss and power consumption. Its small size and simple control algorithm allows easy integration into EDFA modules.
CoAdna Photonics, San Jose, CA
INFORMATION/NOMINEE NO. COMP 373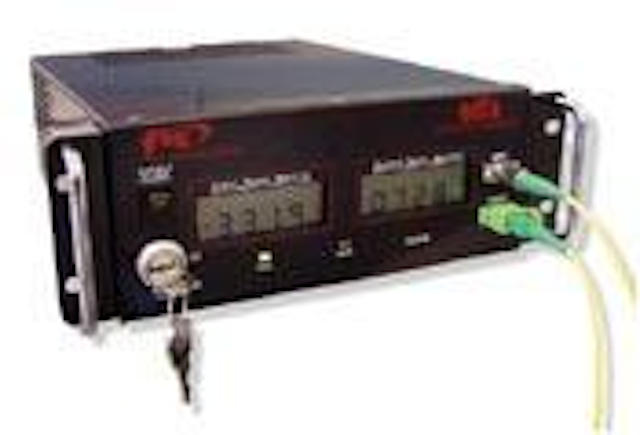 Erbium-doped fiber amplifier
The FIS erbium-doped fiber amplifier features a dual-redundant power supply, front- or rear-mounted optical interfacing, and an input power range (minimum -26 dBm, maximum +6 dBm) that make this versatile unit capable of handling pre-amplifier, inline, or power-amplifier duties. The desktop unit can convert to a 19-inch rack.
Fiber Instrument Sales, Oriskany, NY
INFORMATION/NOMINEE NO. COMP 376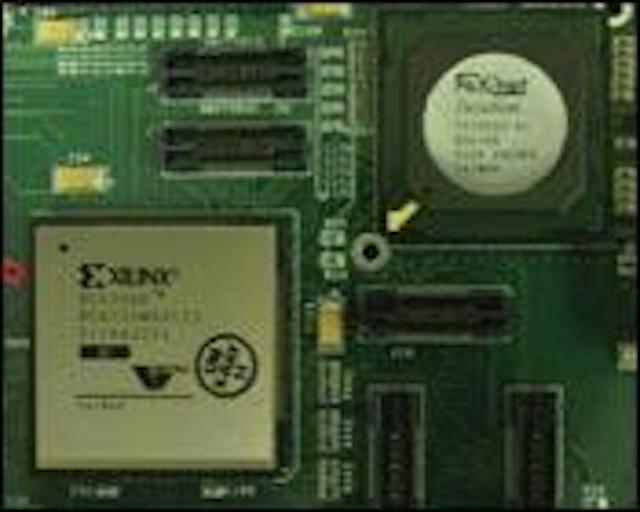 10-Gbit/sec GFP IP core
The CC327 10-Gbit/sec generic framing procedure (GFP) IP core is fully compliant with all relevant ITU standards and is available in Xilinx Virtex-Pro series field-programmable gate arrays, enabling system designers to retain flexibility in their implementation of this portion of their system. The core is also available for ASIC technologies for system designers that need a fixed implementation tailored to their needs. It works with all industry-standard 10-Gbit/sec physical layer devices.
Paxonet Communications, Fremont, CA
INFORMATION/NOMINEE NO. COMP 375
TEST EQUIPMENT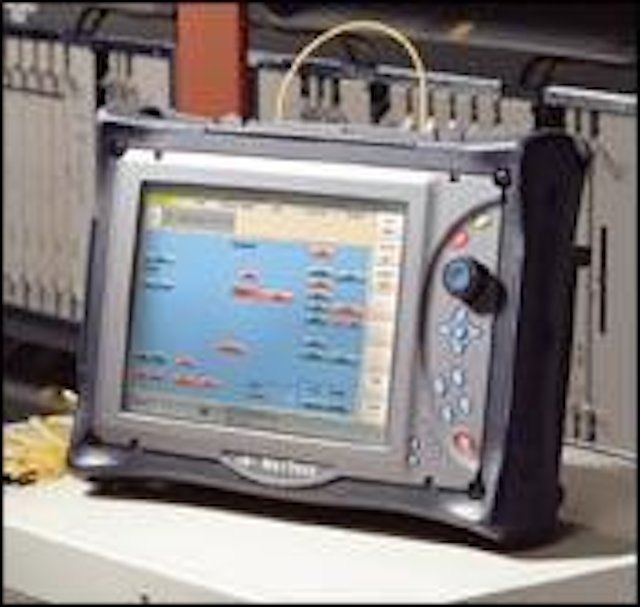 Multilayer test platform
The CMA5000 multilayer-network test platform accelerates the deployment of new services. The modular platform's open architecture design enables networks to be efficiently installed, commissioned, and documented. Its flexibility and scalability allow the platform to evolve with user testing needs and technology for addressing changing telecommunications infrastructures.
NetTest, Utica, NY
INFORMATION/NOMINEE NO. TEST 377
10-Gbit/sec optical transmitter
The 1310/1550-nm standalone optical-transmitter source supporting 10-Gigabit Ethernet testing can be modulated with digital data rates of 50 Mbits/sec-10.3125 Gbits/sec, while providing variable extinction ratio control. An internally switchable filter and AM input port support 802.3ae stressed eye generation. All features are accessible from the front panel or remotely (GPIB) in support of R&D and manufacturing test applications.
JDS Uniphase Instrumentation,
Ottawa, Ontario INFORMATION/NOMINEE NO. TEST 378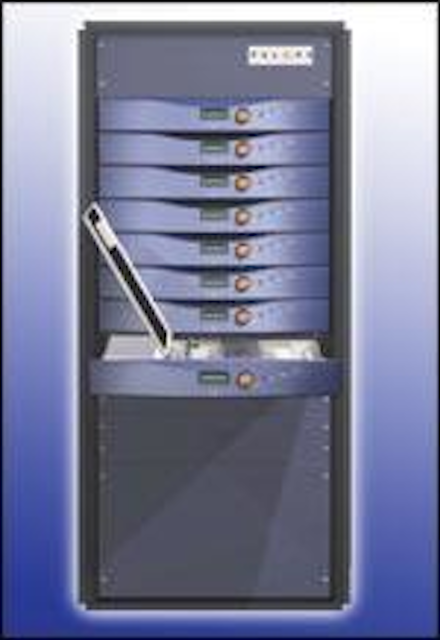 Photonic test system
Under a distribution agreement with Telops Inc., the company will distribute the TELOPS optoelectronic test and measurement system for the telecommunications, defense, and aerospace industries. The system performs photonic-component testing, burn-in, and characterization to enhance quality control. Components are subjected to extreme environmental conditions by means of a series of optical, electrical, and thermal tests.
AMS Technologies AG, Martinsried, Germany
INFORMATION/NOMINEE NO. TEST 379
Emulated ASE source
The CombEBS emulated WDM ASE source emulates a DWDM transmission system across the C- or L-band using channels at 50- or 100-GHz spacing. Offering more power and improved flatness, the ASE source is an alternative to multiple-laser systems. It measures crosstalk and isolation between channels, Raman gain tilt, and high-power erbium-doped fiber-amplifier gain. It also performs accurate ASE and noise figure measurements and a variety of other fiber link tests.
MPB Communications Inc., Quebec
INFORMATION/NOMINEE NO. TEST 380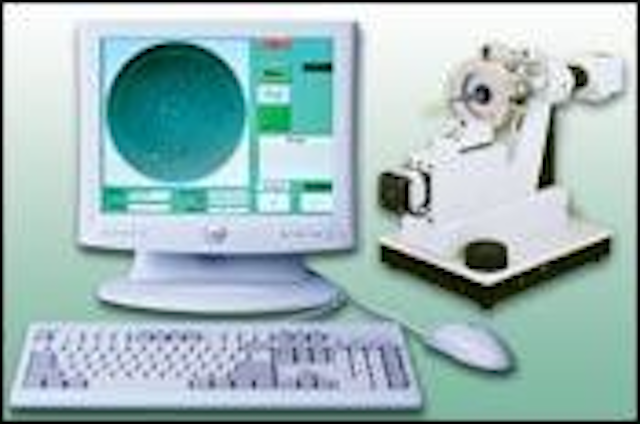 Connector certification system
The ConnCertalpha100 automatic fiber-optic endface inspection and certification system provides accurate and repeatable results that conform to the most stringent fiber-optic termination standards. The easy-to-use, complete system allows authorized users to change feature and inspection parameters based on programmed requirements, while enabling the user to program a variety of pass/fail criteria for various zones across the face of the fiber. Results then can be electronically saved or printed for easy and accurate recordkeeping.
Prior Scientific Inc., Rockland, MA
INFORMATION/NOMINEE NO. TEST 382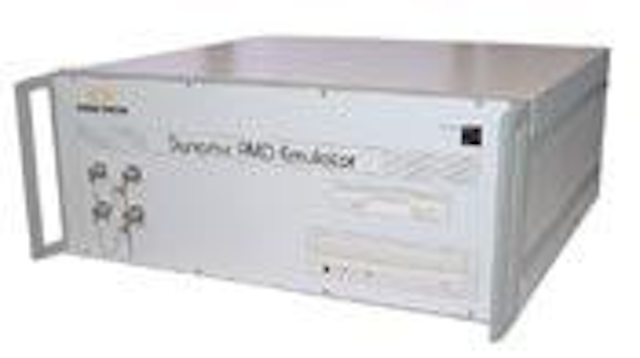 PMD emulator
Dynamic PMD Emulator accurately reproduces the polarization-mode dispersion (PMD) created in real world environments. It emulates first-order and higher-order frequency-dependent PMD for a true representation of installed fiber. The emulator is very accurate in emulating real life with a variety of changes in weather, temperature, vibration, wind, and noise in the states of polarization within optical fiber. An optional fixed PMD/DGD section is a repeatable first-order PMD programmer capable of changing the amount of PMD/DGD introduced into the system in the order desired.
Sunrise Telecom Inc., San Jose, CA
INFORMATION/NOMINEE NO. TEST 381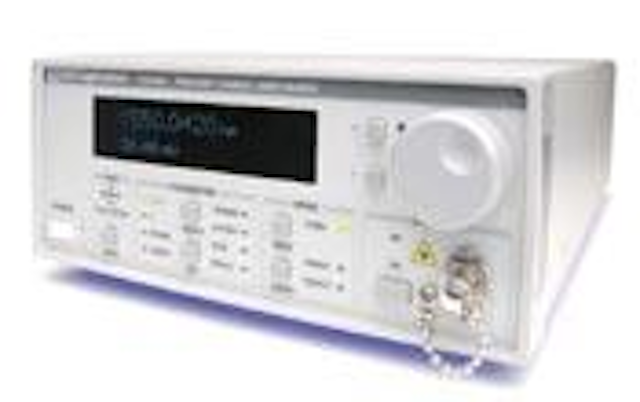 Tunable-laser source
The TLS-8800 Series compact benchtop tunable-laser source provides the highest output power, highest degree of absolute wavelength accuracy, and power flatness over the tuning range. The integrated wavelength monitor can achieve absolute wavelength accuracy of ±1 pm with 13 dBm of output power. An integrated power monitor maintains ±0.1 dB throughout the full tuning range. Power stability is ±0.01 dB over 1 hour and ±0.03 dB over 24 hours, while sweeping the entire wavelength range. It's possible to quickly tune to any discrete wavelength in the specified range while holding the same specifications.
ILX Lightwave Corp., Bozeman, MT
INFORMATION/NOMINEE NO. TEST 384
Protocol conformance tester
OIF UNI Conformance Test Suite provides a comprehensive series of predefined test cases for validating conformance of protocol implementations, including the OIF UNI specification, LMP, RSVP-TE, and LDP. Each case tests a logical unit of functionality and reports a pass, fail, or inconclusive result. These test suites run on the AX/4000 broadband test system.
Spirent Communications, Rockville, MD
INFORMATION/NOMINEE NO. TEST 383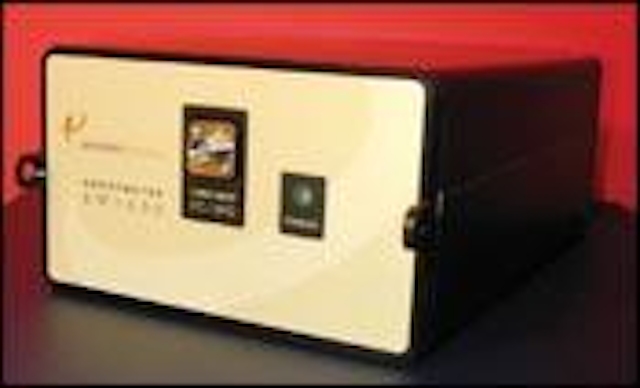 Wavelength calibrator
Sweepmeter provides an accurate, high-resolution, NIST-traceable calibration of wavelength for sweeping tunable lasers. The instrument measures light from a sweeping laser and generates a clock signal that corresponds in real time to precisely equal intervals of optical frequency. An internal HCN cell enables an absolute calibration of the laser wavelength to <1 pm for scan rates of 1-100 nm/sec, resulting in a calibrated wavelength axis for optical measurements. The clock signals, which use TTL levels, may be used to trigger a data acquisition synchronous with the calibrated wavelength measurements.
Precision Photonics Corp., Boulder, CO
INFORMATION/NOMINEE NO. TEST 385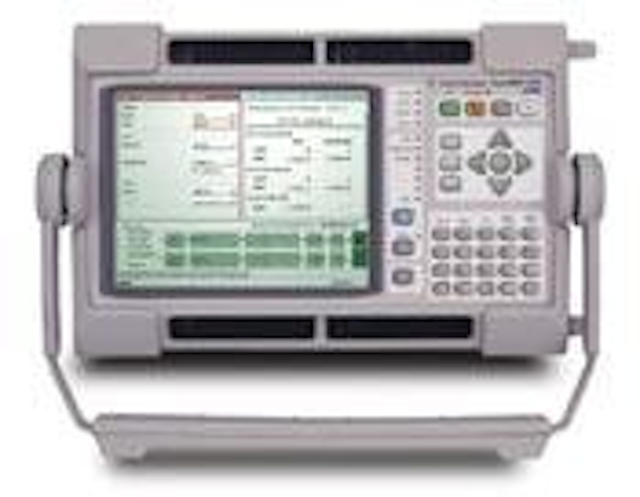 40-Gbit/sec performance analyzer
The OmniBER OTN 40-Gbit/sec communications performance analyzer is a fully integrated multirate SONET/SDH and OTN test set. Equipped with all line rates from 52 Mbits/sec to 40 Gbits/sec, plus 10.71/43-Gbit/sec optical channel (OTU2/OTU3), the analyzer provides flexibility for design and verification applications. Its ability to generate structured SONET/SDH and OTN signals and apply these signals to aggregation devices ensures quick validation to Telcordia/ITU-T standards. The analyzer can verify conformance of devices to both ITU-T G.707 and G.709 standards in a single instrument.
Agilent Technologies Inc., Palo Alto, CA
INFORMATION/NOMINEE NO. TEST 386

PHY switch
The Intellapatch physical layer switch supports Fibre Channel (1 or 2 Gbits/sec), Ethernet (10/100/1,000 Mbits/sec), or ATM/SONET (OC-3, -12, -48) protocols. Because these switches are designed for Layer 1 transport, they are suited for electronic configuration of interoperability testing within test lab, R&D, and telecom/datacom environments as well as enterprise-wide network security. They are designed to automate cable pulls and test lab setups, augment intrusion detection system and analyzer insertion, enhance data monitoring and signal amplification, and simplify fiber-optic media conversion.
APCON Inc., Portland, OR
INFORMATION/NOMINEE NO. TEST 388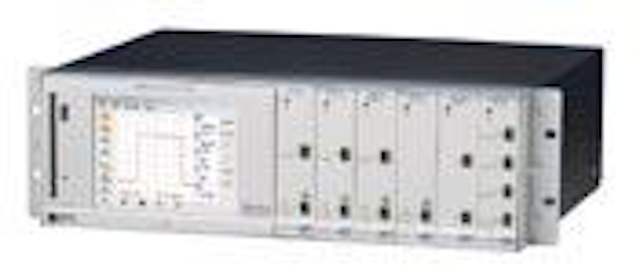 Optical test platform
The Lighthouse fiber-optic test platform for DWDM manufacturing applications that include passive-component testing and optical-amplifier characterization simultaneously controls and independently modulates up to 78 optical source modules (or 156 lasers) in an industrial rackmount. The platform uses a synchronized backplane called "USB-in-sync" that allows easy hot-swappable module exchange and automatic module recognition without powering down the system. LightPAK modules can contain up to two programmable-laser or ASE sources for stable output across the S-, C-, and L-bands and can be independently operated via a PC or notebook using USB connectivity in a variety of test applications and environments.
Fiberbyte, Adelaide, SA, Australia
INFORMATION/NOMINEE NO. TEST 387
Multifunction BER PHY tester
The BA1500 multifunction bit-error rate-based physical layer test system includes in one unit pattern generation, bit-error detection, eye-pattern display, automatic jitter and Q-factor measurements, and fast eye-mask tests. Also featured is interface flexibility with variable amplitude, offset, logic threshold, and termination voltages for differential and single-ended I/O. The comprehensive tester supports data rates of 1 Mbit/sec-1.5 Gbits/sec and includes the company's patented Error Analysis features, which assist in isolating the source of bit errors.
SyntheSys Research Inc., Menlo Park, CA
INFORMATION/NOMINEE NO. TEST 389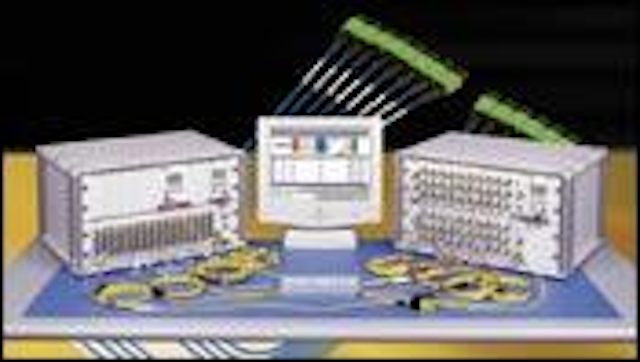 Fiber circuit tester
The FCTS fiber circuit test system automates return-loss and insertion-loss measurements of terminated fiber-optic shuffle and flex circuit assemblies. It has a production-friendly user interface, the ability to handle up to 256 channels, and a user-configurable fiber routing map. The company's "non-mandrel wrap" return-loss measurement technology reduces the amount of touch-labor required and the damage caused by such wrapping.
Tempo (a Textron company), Camarillo, CA
INFORMATION/NOMINEE NO. TEST 390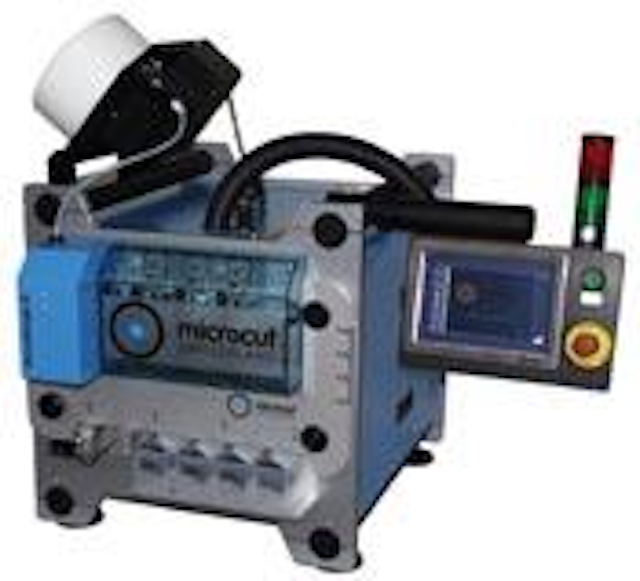 Ferrule-diameter checking system
The MicroGauge 31 automatic inner-diameter checking system for SC and small-form-factor ferrules has a user-friendly menu-driven touchscreen cockpit that features a fully automated ferrule ID checking machine. Up to five gauge classes can be defined within an accuracy window of ±0.1 mm (depending on the pin-gauge quality). The cycle time per piece is <4 sec, independent of the number of used gauge classes. The measurement principle is based on a patented low-impact design, minimizing the wear of expensive pin gauges and allowing for a much faster measurement speed.
Microcut Ltd., Lengnau BE, Switzerland
INFORMATION/NOMINEE NO. Test 392
Portable Ethernet/IP analyzer
The MD1230A completely self-contained and portable Ethernet/IP analyzer has full SONET test capabilities and MW9076D1 optical time domain reflectometer offers chromatic dispersion measurements in WDM transmission systems.
Anritsu Co., Richardson, TX
INFORMATION/NOMINEE NO. Test 393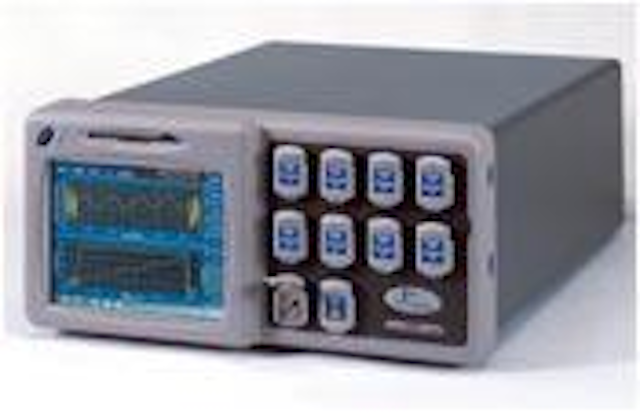 All-parameter test system
For optical-component and -systems manufacturers, the OCT8000 all-parameter test system can analyze a full range of component measurements over multiple channels simultaneously in a single, fast wavelength scan. Designed with a modular architecture that makes it versatile and expandable, the tester allows users to rapidly perform delay and loss measurements, including group delay, chromatic dispersion, polarization-mode dispersion, polarization-dependent loss, insertion loss, and return loss in up to 256 channels in one instrument.
PerkinElmer Optoelectronics, Fremont, CA
INFORMATION/NOMINEE NO. Test 391
Fault locator
The FF-3+ Verus fault locator is designed for locating events in optical cables and the measuring distances to them. The instrument is lightweight and easy to use and performs high-speed, high-precision measurements.
Optictelecom Ltd., Moscow
INFORMATION/NOMINEE NO. TEST 394
MANUFACTURING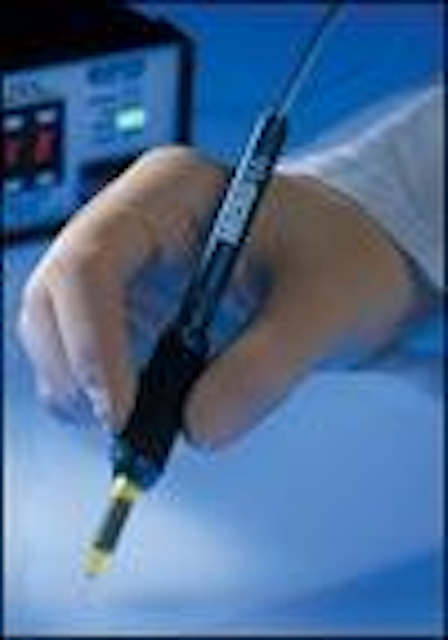 Dispensing pen system
The Mikros dispensing pen system improves fluid control and minimizes waste in fiber-optic assembly processes where precise amounts of two-part epoxies, UV-cure adhesives, and other expensive fluids are required. Used with air-powered dispensers, the dispensing system produces consistent micro-deposits as small as 0.007 inch in diameter. Disposable reservoir tips with 0.25-cc capacity reduce waste by allowing expensive adhesives to be mixed in small batches and consumed before working time expires. Silicone-free reservoir tips have 30-, 32-, or 33-gauge needles and block UV wavelengths between 280 and 390 nm.
EFD Inc., East Providence, RI
INFORMATION/NOMINEE NO. MFG 395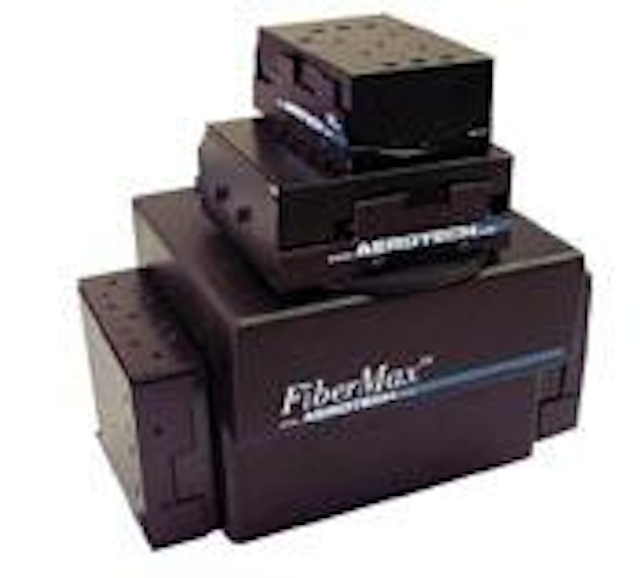 Component manufacture, testing
FiberMax performs high-volume manufacturing and testing of fiber-optic components in a highly automated, 24/7 production environment. It uses patent-pending direct-drive technology to achieve a high level of positioning performance. offers up to six axes of precise motion, 10-nm resolution X-Z axis, 2-nm resolution Y axis, 300-pm resolution with the Automation 3200 soft controller, 0.027-0.058-arc sec resolution on all rotary axes, and 32-axis turnkey drive and control electronics. Comes in a 224x150x206-mm package (six axes).
Aerotech Inc. Pittsburgh
INFORMATION/NOMINEE NO. MFG 396
Field fusion splicer
The FSU 15 field fusion splicer from Ericsson Network Technologies delivers fast splice time (13 sec) and shrink time (within 25 sec), adding up to a total cycle time of <40 sec. The company's combined "hot core estimation" and "cold core alignment" provide reliable accuracy. The splicer has a robust design, yet is easy to use.
Amherst FiberOptics (a TVC company), Brentwood, TN
INFORMATION/NOMINEE NO. MFG 397
Fiber ribbon stripper
The FiberStrip 7035 semi-automatic fiber ribbon stripper is designed for use in a production environment or during the field installation of cable systems with fiber ribbons. The portable unit serves as a companion to cleaving and splicing devices for standard and high-strength applications. It features a closed-loop temperature control that ensures repeatable stripping quality. An LED indicator shows the status during warm-up and indicates over- and under-temperature conditions, allowing processes to be developed for cables that have a narrow temperature band for stripping. This type of accuracy reduces the possibililty of damaging the fiber.
Schleuniger Inc., Manchester, NH
INFORMATION/NOMINEE NO. MFG 398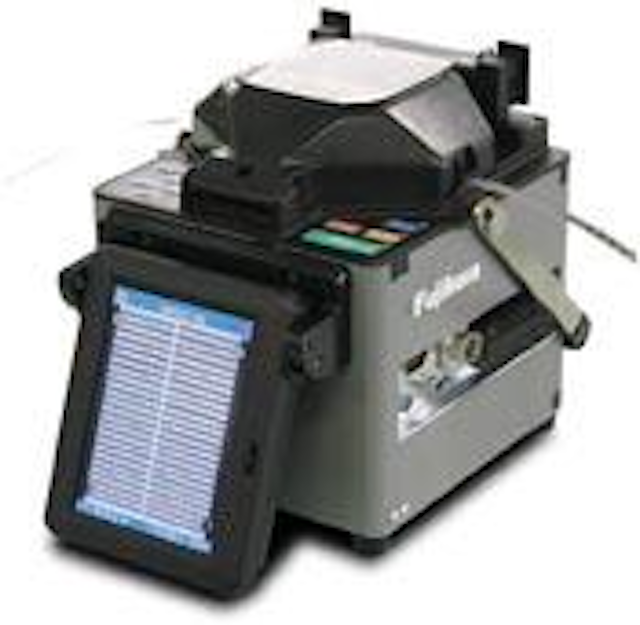 Fusion ribbon splicer
The FSM-40R24 fusion splicer can splice ribbons as large as 24 fibers as well as single fibers. Ultra compact and lightweight, it features a built-in AC adapter and dual-axes optical-path system to provide fully automatic, low-splice-loss performance in <50 sec. Individual splice loss is estimated for each splice, and preprogrammed splicing and heater modes allow for specialized splicing and various splice protector-sleeve types. Memory allows 30 user-defined splice mode settings and 10 splice protection sleeve heater settings as well as storage of splice data for 80 24-fiber splices.
AFL Telecommunications, Franklin, TN
INFORMATION/NOMINEE NO. MFG 400
Connector crimper
The QDY-01 pneumatic crimper is primarily designed for connector crimping to secure connectors to the ends of fiber-optic cables. By replacing the crimp die with a press die, the machine can also be used to press-fit ferrules into flanges during the assembly process. The crimper is pneumatic-powered and compact (77x45x65 mm) and provides safe operations during product production. It is designed for connector types SC, FC, ST, MT-RJ, LC, MU, and others.
Pacific Interconnection Co., Renton, WA
INFORMATION/NOMINEE NO. MFG 399
DESIGN TOOLS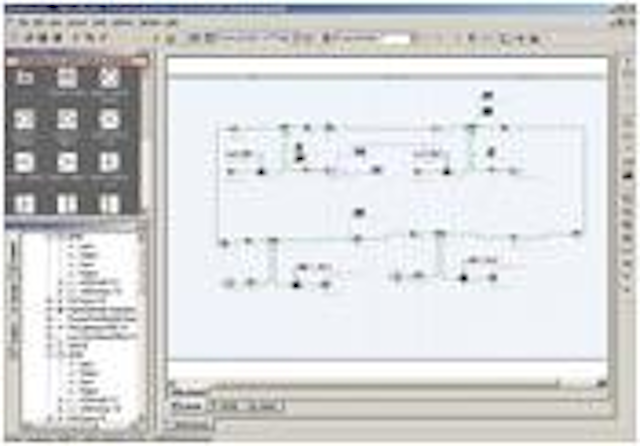 System-level simulator
OptiSystem is an optical communications system simulation package for the design, testing, and optimization of virtually any type of optical link in the physical layer of a broad spectrum of optical networks. The system-level simulator is based on the realistic modeling of fiber-optic communications systems and possesses a strong simu lation environment and hierarchical definition of components and systems. Its capabilities can be expanded with the addition of user components and seamless interfaces to a range of tools. OptiSystem 2.1 includes enhancements such as integration with the company's OptiBPM, compatibility with ADS by Agilent Eesof EDA, and a memory management system.
Optiwave Corp., Ottawa, Ontario
INFORMATION/NOMINEE NO. DES 401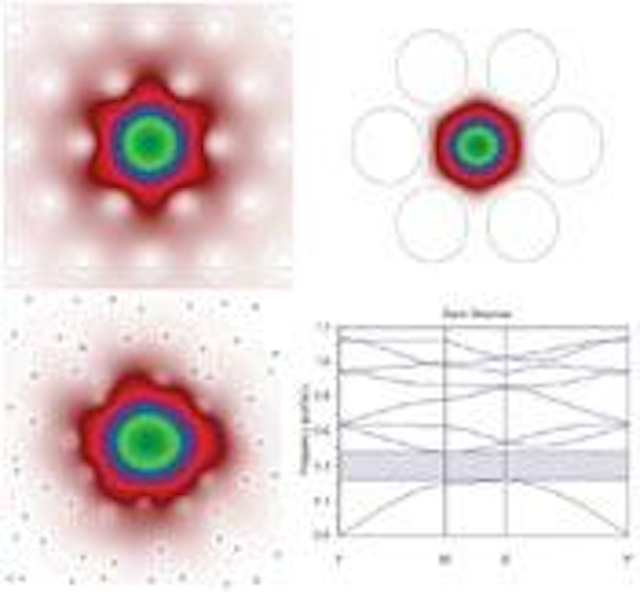 Graphical simulation tool
BandSOLVE is a graphical simulation tool for the design and analysis of all photonic-crystal (PC) structures, including microstructured and PC optical fibers. Fully integrated with the company's BeamPROP and FullWAVE propagation tools, the simulation tool automates the process of generating band structures, extracting bandgaps, calculating mode profiles, and optimizing structures for desired gap properties. Projected band structures allow the calculation of dispersion curves for PC fiber modes.
RSoft Design Group Inc., Ossining, NY
INFORMATION/NOMINEE NO. DES 402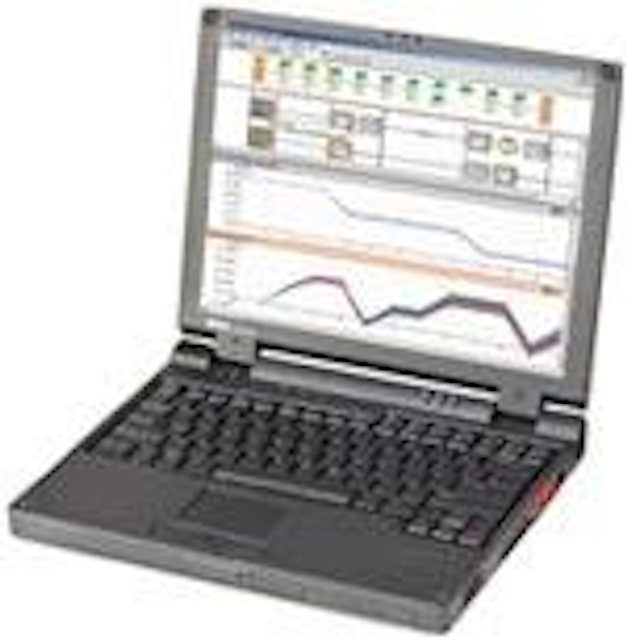 Engineering tool
VPIlinkConfigurator derives accurate cost and span engineering information for any optical link in the mesh network. The "expert" version of the tool captures parameters for real world components. Sophisticated algorithms quickly predict the limitations on systems performance for greenfield and brownfield fiber plants. A streamlined version of the same tool is then used by field engineers to verify that a given WDM system can be deployed between specified nodes, working with repeater hut locations, fiber types between huts, and the number of wavelengths and signal rates that need to be carried.
VPIsystems Inc., Holmdel NJ
INFORMATION/NOMINEE NO. DES 403