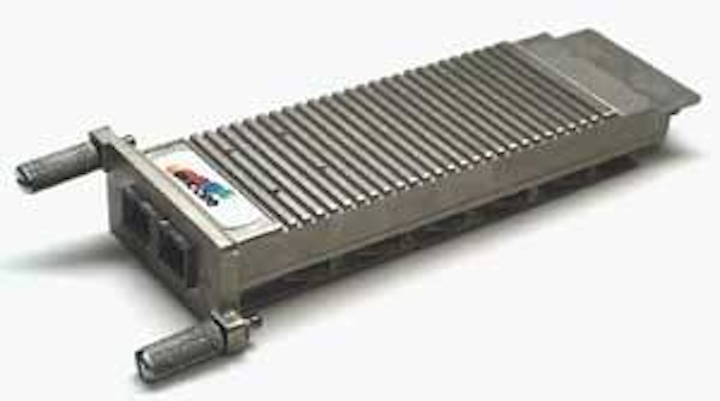 Many enterprise networks feature 1-Gigabit Ethernet (GbE) multimode-fiber (MMF) links that are longer than 300 m between buildings and central offices, and that legacy fiber must be upgraded to 10-GbE to support new applications. The only way to do that is to dig up city streets and lay new fiber or use something like an air-blown technique to pull new fiber, but both of these options can be prohibitively expensive.
Emcore (Downers Grove, IL) has developed what it believes is the most practical, cost-effective alternative: a new transceiver that supports 10-GbE over MMF links longer than 300 m as well as singlemode-fiber (SMF) links up to 40 km. The 10GBase-EX4 extended-reach transceiver is designed to bridge the distance gap between those longer lengths of legacy fiber and the available modules. "If I take a legacy 62.5-µm multimode fiber and I plug an SR [short-reach] module into it, I typically get 26 m or 33 m out of it, depending on the bandwidth," notes Emcore marketing vice president Bryan Gregory. "If I have a 50-µm-core fiber, I can get out to maybe 66 m. If I take an LX4 module and plug it into that same fiber, I get to 300 m." The EX4 module targets the unaddressed stranded fiber segment that is longer than the 300-m length specified by the IEEE 802.3aq.
The folks at Emcore had a hunch that there are enough stranded fiber links longer than 300 m installed in today's campus networks to provide a viable market for the EX4 transceiver, a hunch that was corroborated by a recent study commissioned by Agilent Technologies and Cisco Systems. According to Alan Flatman, principal consultant with U.K.-based consultancy LAN Technologies and author of the study, there are about seven million MMF links greater than 300 m installed today. He estimates that three million of those are campus backbone duplex links and four million are building backbone duplex links.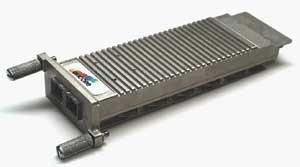 Emcore claims its proprietary 10GBase-EX4 extended-reach module is the only transceiver on the market that supports 10-Gigabit Ethernet over legacy multimode-fiber links longer than 300 m.
"Based on the Flatman study, the market seems quite large," surmises Gregory. "We're happy with it. Based on those parameters, it looks like you can get a nice return on this sort of product."
Initially, the company envisions the device will fill this niche market need; however, in certain installations, the device could also function as a one-size-fits-all module. Because it supports both SMF and MMF, network engineers could use the EX4 module to reduce inventory and simplify installation. The module fits many different environments, eliminating the risk of someone trying to plug an SMF module into an MMF or vice versa.
"This is another potential market for it," says Gregory. "Where people just want one simple option to go within their network in a campus environment. They want to have something that can hook up to singlemode, multimode, and handle a wide range of distances. But," he adds, "I think the biggest market for it initially will be these longer than 300 m multimode links."
Emcore has already shipped over 10,000 LX4 modules, a 10-GbE WDM-based transceiver that supports legacy MMF connections of any grade up to 300 m. After extensive testing, the company realized that the LX4 was capable of transmitting even further than 300 m, and thus the EX4 was developed.
Though Gregory won't divulge the details of Emcore's secret sauce, he will say that the company has leveraged its expertise in circuit design, multiplexing/demultiplexing technology, and in-house distributed feedback laser fabrication in the design of the EX4. Electrically and mechanically compatible with the XENPAK multisource agreement (MSA), the device is plug-and-play-compatible with both XENPAK and X2 slots and supports IEEE-standard XAUI and MDIO interfaces.
Like its LX4 counterpart, the EX4 uses CWDM technology to split the 10-Gbit/sec signal into four wavelengths (1275, 1300, 1325, and 1350 nm), each of which runs at 3.125 Gbits/sec. The technique eliminates what Gregory calls "the speed and distance tradeoff. That slower speed gives you a broader pulse and eliminates some of the problems you get with serial high-speed links," he explains. "As you go faster and faster, the bit distances-the distance between one bit and the next-are very short and close together. Dispersion can limit how far you can transmit, so we go with the slower speed, just like the LX4," he adds.
The device is currently sampling, and the company is in the process of rolling it out more broadly. Emcore is working on an X2 version, which should be available soon.