10-Gbit/sec transceiver revenues to leap beyond $3 billion by 2006
Jan 1st, 2003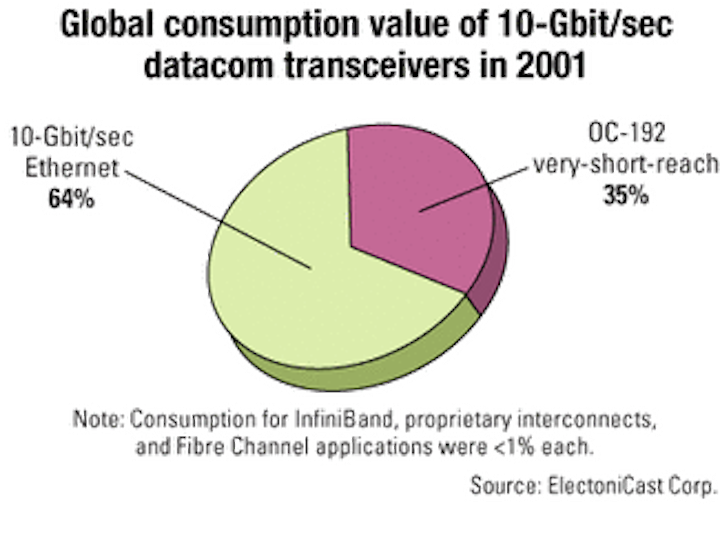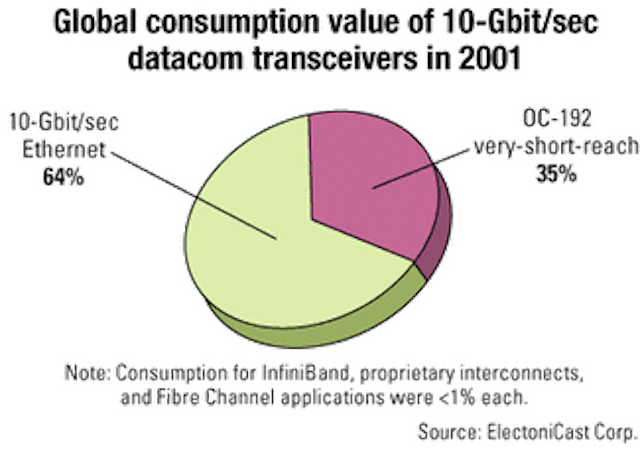 Worldwide consumption of 10-Gbit/sec data communications transceivers is projected to rise from its $68.7-million mark in 2001 to $3.26 billion by 2006, according to a new study from ElectroniCast Corp. (San Mateo, CA). "The high-speed datacom transceiver market was launched in 1998 with the success of full-speed Fibre Channel, Gigabit Ethernet, and VCSEL transceivers, whose markets tripled in 1999," says ElectroniCast president Stephen Montgomery. "With the emergence of 10-Gbit/sec datacom transceivers, the datacom and telecom markets have converged at approximately the same data rate for the first time. As a result, there will be technology and product sharing across these two market segments."
The 10-Gbit/sec transceiver modules that have already been developed for the telecom industry initially will find use in datacom applications, he contends, but the datacom segment will always look for low-cost connectorized transceiver modules.
Six varieties of 10-Gbit/sec datacom transceivers will compete for market share, says the report. Three different 850-nm transceivers will consume about half the unit volume total during the 2001-11 forecast period. The study also examines the increasing market movement of 1310-nm singlemode serial transceivers. Two additional serial transceiver types, 1310-nm wide WDM and 1550 nm, will add increasing shares to the totals.
For more information on the report, "10-Gbit/sec Datacom Transceiver Study," call 650-343-1398 or visit www. electronicast.com.