Maxim intros PON/SFP controller with APD boost converter
Feb 1st, 2009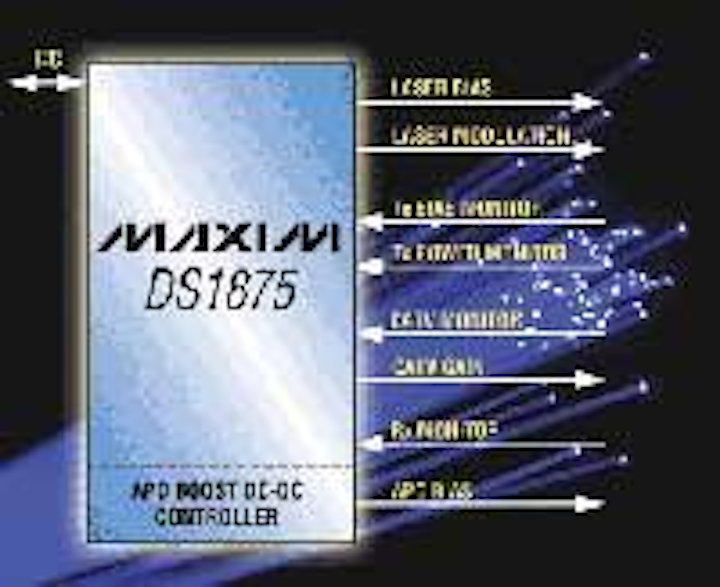 Maxim Integrated Products (www.maxim-ic.com) has introduced the DS1875 PON/SFP controller and monitor, designed to provide the control and monitoring features required for PON transceivers, as well as the monitoring features for video control in triplexer applications.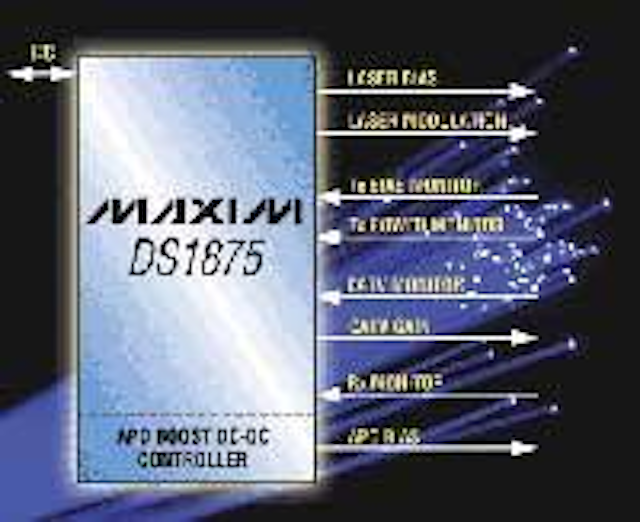 The DS1875 employs a state-machine design, which eliminates the need for software development, thus simplifying design implementation and speeding time to market, says the company. Moreover, by integrating an APD boost converter, this device minimizes chip count in GPON applications. The DS1875 also integrates ten 13-bit ADC channels, six DAC channels, a temperature sensor, and 384 bytes of user EEPROM memory (SFF-8472 compliant). Maxim says the device is ideal for PON triplexers, PON OLTs, and LR SFPs. FIND OUT MORE ONLINE
IPtronics (www.iptronics.com) has announced the availability of production-ready silicon for a range of applications within data centers and the computer communications domain. The company says these devices already enable InfiniBand QDR and DDR transceivers and active optical cables as well as chip-to-chip and rack-to-rack applications where density, power, and cost are important. The devices have been optimized for density, affordability, and power dissipation.
The IPTA12G011 four-channel TIA/LIA and IPVD12G011 VCSEL driver chip set is already in production and the IPTA3X4 12-channel TIA/LIA and IPVD3X4 12-channel VCSEL driver have been tested and designed in by "a range of leading module manufacturers in the parallel optics domain," the company asserts.
FIND OUT MORE ONLINE
Phyworks (www.phyworks-ic.com) will design and manufacture its next generation of transceiver ICs in CMOS instead of SiGe. Phyworks says it will then become the first manufacturer to offer both 10-Gbps transceiver and equalizer technology in CMOS, which will enable greater device integration.
Initial CMOS-based transceiver products to be taped out by Phyworks during Q2 and Q3 of 2009 will include a multi-rate 1- to 10-Gbps optical transceiver for 10GBase-SR and 1- to 8.5-Gbps storage markets; a low-power 10-Gbps copper cable transceiver/equalizer for 5- to 15-m active copper cables; and a 10G PON transceiver with burst mode laser drive capability and optional equalizer capability. FIND OUT MORE ONLINE