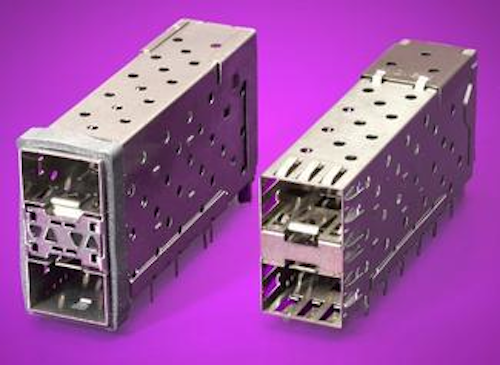 October 12, 2005 Lisle, IL -- Molex's small form-factor pluggable (SFP) Stacked Multi-Port Connectors offer high port density and offer complete integration of stacked 20-circuit SFP connector ports within a cage.
An integrated lightpipe option provides port status indication and activity feedback. Suitable for networking, storage, and telecommunication applications, such as hubs, routers, servers, and switches, the connectors' high-speed contact design meets 4.25 Gbit/sec SFP requirements, and accommodates speeds up to 10 Gbit/sec.
According to the company, the connectors have five port configurations (two-by-one, two-by-two, two-by-four, two-by-five, and two-by-six) and are available in two heights. The medium height of 25.50-mm (1.004") meets industry standards and is consistent with the stacked multi-port modular jack design. The tall height of 29.30-mm (1.154") is designed for 1U applications and is only available in the two-by-one port configuration.
"With increased port density, as well as up to 12 ports and an integrated lightpipe option, the SFP Stacked Multi-Port Connectors offer design engineers a complete solution," comments Dave Stevenson, product manager for Molex. "Expanding our SFP line further strengthens our commitment to developing products that meet the networking and storage industry's requirements for higher density and increased speeds."
According to the company, the connector's modules, when inserted, are oriented "belly-to-belly" to ease module removal from the port. The integrated lightpipes support mono and bi-color SMT Light Emitting Diodes (LEDs). The connectors accept SFP MSA-compliant modules, allowing installers to configure and upgrade high-speed Ethernet and Fibre Channel (FC) ports. With a pitch of 0.80-mm (0.031"), the connectors are designed with tin-lead press-fit tails, allowing the connector to be removed from the PCB for rework purposes. Tin-plated tails are also available, to meet lead-free requirements.
Pricing varies according to quantities. For example, in quantities of 500 pieces, pricing for the two-by-one connector is $11.00 each.