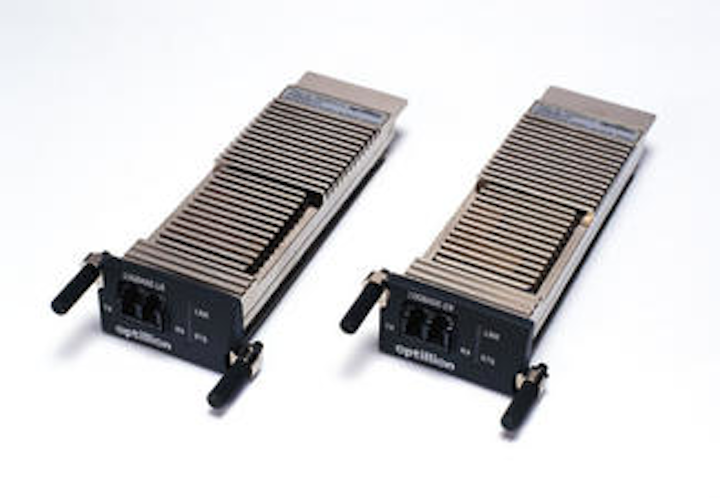 Providing a longer range and greater reliability for Ethernet to move from LANs to the Metro markets, Optillion has announced its new 10-Gbit/sec Ethernet transceiver (1550 nm), the TOP 5010, for data transmission up to 40 km. The TOP 5010 is being sampled to select customers in April, and the company expects to deliver to a broader customer base by June 2002.
Both the new TOP 5010 for 40 km and the company's TOP 3010 (1310 nm) for 10 km support the IEEE 802.3ae standard definition of the 10GBASE-LR and the10GBASE-ER. The TOP 5010 is also designed in accordance with Telcordia GR-468-CORE to ensure reliability, claim company representatives.
The TOP 5010 and the TOP 3010 maintain their optimal operating characteristics by controlling the internal working environment, even at elevated temperature conditions. By developing all of its products from a multi-purpose platform where lasers are combined with a protocol chip, Optillion achieves a high rate of product development.
The transceiver has an extremely high performance level for longer transmission distances and has been developed in accordance with the latest revision 10-Gbit/sec Ethernet standard (IEEE 802.3ae). The module development follows the XENPAK multi-source agreement (MSA) requirements and is the second transceiver in a long range of products designed to outperform the IEEE standard specification.
Optillion will start sampling the TOP 5010 to a selected number of customers in April. The company plans to offer the TOP 5010 transceiver to a broader customer base June 2002, and estimates that volume production of the transceiver will start during the third quarter of 2002.
For more information about Optillion (Stockholm, Sweden) or its products, visit the company's Web site at www.optillion.com.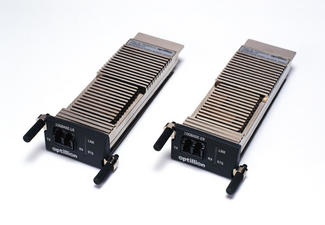 The Top 3010 and Top 5010 XENPAK transceivers