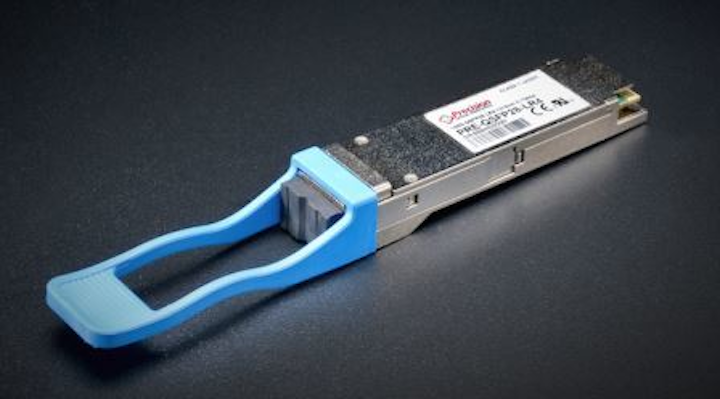 Systems engineering company Precision Optical Transceivers, Inc. has unveiled a line of QSF28 optical modules. The company now offers 100-Gbps transceivers for both multimode and singlemode fiber applications.
The line begins with a pair of optical transceivers:
PRE-QSFP28-SR4 features 850-nm operation for multimode fiber applications with 100 m of reach. It features DDM and an MPO style connector.
PRE-QSFP28-LR4 leverages 1310-nm lasers for 10-km reach over singlemode fiber, with DDM and an LC fiber-optic connector.
"The QSFP28 form factor is the clear winner going forward for the 100G transceiver business," asserts the company via a press release. "Precision's engineering team has committed a tremendous amount of resources to ensure that not only is our 100G product offering the highest quality, but it's priced competitively. We've already found a tremendous amount of success with these products and are excited about the opportunities in front of us."
Precision says it guarantees 100% compatibility across a wide variety of OEM platforms for its products. The company also provides a lifetime warranty and next-day shipment upon request.
For related articles, visit the Optical Technologies Topic Center.
For more information on optical transceivers and suppliers, visit the Lightwave Buyer's Guide.