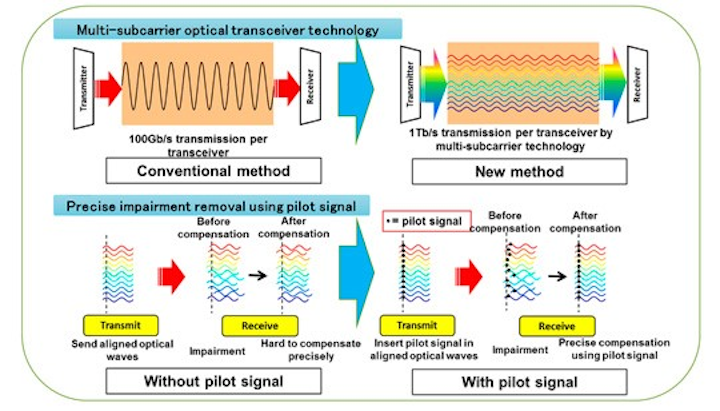 Mitsubishi Electric Corp. (TOKYO: 6503), working with the Optical Networks Group at University College London (co-leaders with Aston University of the UK Engineering and Physical Sciences Research Council funded UNLOC program) has successfully demonstrated an optical transceiver capable of sending and receiving 1 Tbps through the use of multiple subcarriers. The optical module uses a single receiver, the company reports.

The trial saw the optical transceiver transmit 11 subcarriers via an optical comb over what Mitsubishi described as "existing optical fibers." The comb enabled the subcarriers to be packed into a sufficiently small spectral range that a single receiver could accommodate them, according to the company. The use of a pilot signal to realign the subcarriers enabled accurate reception (see figure above).

The experiment achieved a spectral efficiency of 9.2 bps/Hz, Mitsubishi added.

An article on Physics.org that describes the technology from the University College of London perspective reveals that the UNLOC program has combined the basic design described above with a 256QAM modulation format across 15 subcarriers to achieve 1.125 Tbps.

For more information on optical transceivers and suppliers, visit the Lightwave Buyer's Guide.