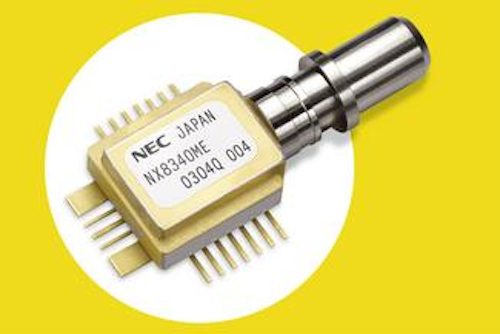 19 August 2003 Santa Clara, CA Lightwave--California Eastern Laboratories (CEL) has announced the availability of an uncooled, 1310-nm, directly modulated laser diode module from NEC. The module is designed for 10-Gbit/sec transmission applications in which high density mounting and power consumption are a concern. It is the first 10-Gbit/sec AlGaInAs uncooled distributed feedback (DFB) laser diode to be fabricated using Al oxidation-free all-selective metal-organic vapor phase epitaxy (MOVPE) without semiconductor etching, according to the company.
Ideal for engineers tasked with miniaturizing their designs, the module is available in two new 17-pin mini-butterfly packages: the NX8340MD pigtail version for 300-pin transponders, and the NX8340ME SC receptacle version for XENPAK, and X2 and XPAK transceivers. Both versions are designed to be surface mounted for ease of assembly.
While NEC reduced the size of these modules by eliminating the temperature control circuitry, it didn't compromise the integration. Besides the laser diode, the modules include a monitor photodiode, thermistor, optical isolator, and a built-in laser driver IC. Designed for a differential input with 50W impedance, the modules feature pins for controlling and monitoring the laser bias and modulation current.
Available now, the NX8340 series modules join CEL's growing family of NEC fiber-optic components.