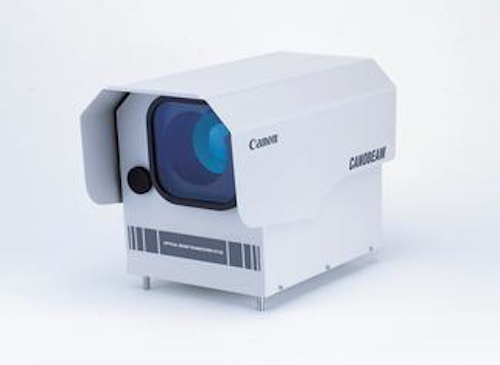 6 May 2003 Lake Success, NY Lightwave -- Originally installed for New York City disaster recovery, Canon's free-space optics (FSO) system is emerging statewide as a networking solution.
The New York State Unified Court System's introduction to the Canobeam FSO solution came under tough circumstances: The optical beam transceiver from Canon U.S.A., Inc., a subsidiary of Canon Inc. was the emergency broadband data link in downtown Manhattan just after September 11, 2001. Throughout the disaster recovery process, Canobeam served the courts as a flexible and secure wireless connection, and it has since emerged as its network connection in deployments across New York State.
With the power to securely transmit Gigabit Ethernet and more in a straight-line distance of up to 2 km, Canobeam is used by court network administrators to complete vital data links in situations where other networks can't go. Established as a way to connect courthouses at higher speeds with lower costs than T1 and other traditional networks, Canobeam has been installed in multiple New York State Unified Court System locations, including the following:
Buffalo, Rochester and Syracuse: Switched data traffic to an alternative service provider using the Canobeam DT-50, made exclusively for fiber transmission of Gigabit Ethernet, when the telecommunication carrier suddenly declared bankruptcy. Canobeam, which was set up quickly, and does not require FCC allocation, provided an instant source of stability in an uncertain environment.
Queens and Bronx: The Canobeam DT-55, which features auto-tracking to maintain alignment between units with maximum reliability, will complete a communications link among three buildings each in Queens and Bronx court campuses where the cost of
fiber optics proved prohibitive. Canobeam completes the rings at a lower cost to the courts and taxpayers than provided by fiber optics.
Riverhead (Suffolk County on Long Island): Two courthouses at the end of the Long Island expressway needed to ramp up communications performance. Canobeam DT-55, which improved performance from 10 Mbits/sec to 1000 Mbits/sec, will end complaints about slow network response time.
White Plains (Westchester County): A T1 line will be installed but the court system has specified Canobeam DT-50, with the versatility to interface with multiple network types, for the primary data connection. The T1 line will serve as a backup to the FSO high-speed link.
In addition to Canobeam DT-55 for Gigabit Ethernet, the DT-50 can transmit data at speeds up to 622 Mbits/sec at a distance of up to 2 km and the Canobeam DT-30 is a lower cost transceiver for applications with shorter link distances (up to 500 m). All of the FSO products are available from the Broadcast and Communications division of Canon U.S.A., Inc.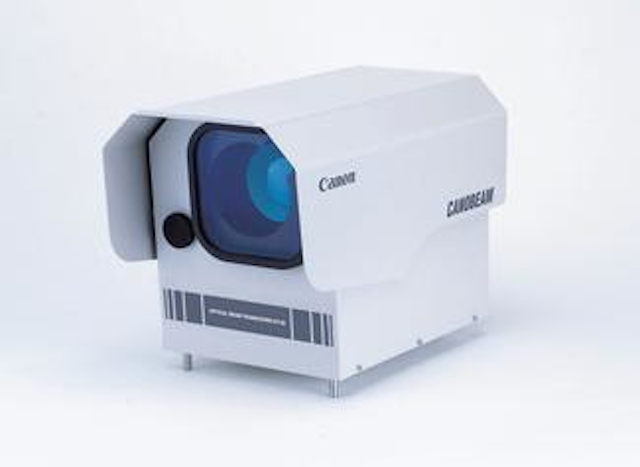 Canonbeam DT-55 free-space optics system