FEBRUARY 27, 2008 By Meghan Fuller Hanna -- At OFC/NFOEC this week NEC Corp. (search for NEC) is demonstrating what it claims is the world's smallest 10-Gbit/sec four-channel parallel fiber-optic transceiver.
Optical interconnection technology is critical for the realization of next-generation, high-speed, high-capacity servers, storage, and communications systems. However, these systems require Terabit/sec throughput to support the many high-speed signals from switching LSIs or CPUs. And as high as several hundred Gigabit/sec throughput has been required for card-to-card and rack-to-rack interconnections for these systems. Single-channel optical transceivers like the XFP and SFP, commonly used in high-speed systems, are simply too large for use in supercomputer and high-end router and server applications that require several hundred parallel optical transceivers per rack or card.
With dimensions of 14- x 14- x 4.7-mm, the new transceiver is one-tenth the size of conventional XFP transceivers but supports the same transmission capacity, reports Hank Sato, director of business development at NEC FiberOptech Inc. Integrated within the compact housing are high-speed laser diodes, photodiodes, and high-speed transmitter/receiver LSIs. Due to its small size, the transceiver can be installed next to high-speed CPUs and peripheral ICs.
Sato says three key technologies enabled NEC to develop this small form factor transceiver. First, NEC uses a transparent resin film for the package, and the VCSEL array, pin-photodiode array, and transmitter and receiver LSI are all flip-chip bonded on this resin package. This new packaging technology allowed NEC to develop a transceiver that is less than 2 mm in height.
Second, the low power consumption of the transmitter and receiver LSIs prevents the transceiver's temperature from rising under normal operating conditions. NEC's new transceiver consumes less than 1 W or 250 mW/channel per transmitter/receiver pair, notes Sato.
Finally, a new detachable optical connector, developed in collaboration with Fujikura Ltd., turns the input/output light signal direction perpendicular to the VCSEL array and pin-photodiode array. Again, this detachable optical connector enables the small form factor.
Samples of NEC's 10-Gbit/sec four-channel parallel optical transceivers will begin shipping in April 2008. Sato confirms that NEC hopes to ship one million units from 2010 to 2012, following full-scale deployment of next-generation systems.
Looking ahead, Sato says NEC's next target is 100-Gigabit Ethernet (100-GbE); the company is currently conducting research activities on key components, including high-speed VCSELs and pin photodiodes. According to Sato, NEC favors a 25-Gbit/sec x four-channel transceiver for short reach applications up to 100 m on multimode fiber. The company has already made headway toward this goal, introducing this week a 25-Gbit/sec four-channel VCSEL and pin-photodiode.

Visit NEC Corp.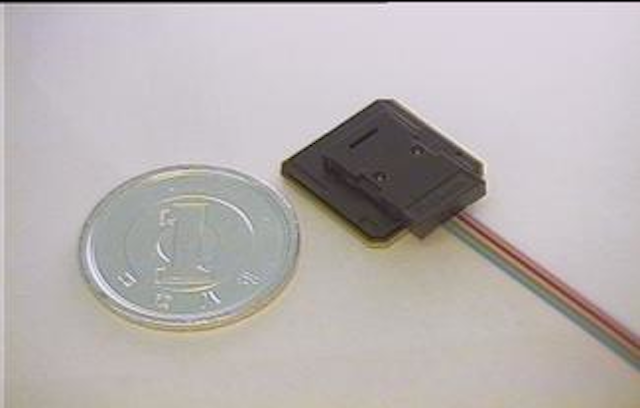 NEC's new transceiver is one-tenth the size of the conventional XFP. Here, it is shown with a Japanese 1 Yen coin, which has a diameter of 2 cm.