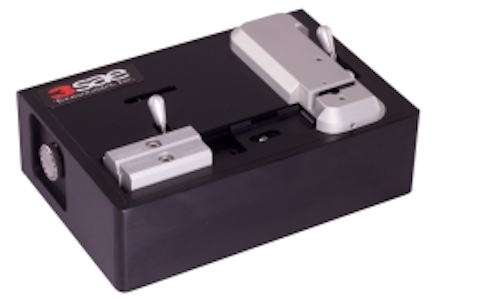 3SAE Technologies claims that the new 3SAE LFC fiber cleaver is the industry's most cost-effective, high-precision cleaver designed for fibers with cladding diameters ranging from 125–550 µm. Like the 3SAE patented Liquid Clamp Cleaver II (LCC II), the 3SAE LFC includes a universal clamping system that accommodates its full diameter range. With maximum portability, the LFC provides ease of use, high-quality cleave angle performance, and repeatability for high-volume manufacturing, R&D, or field repairs of fiber lasers, according to the company. The 3SAE LFC has the option of an integrated backstop to provide enhanced cleave performance for structured fibers. The design makes for a robust and low maintenance tool essential for large diameter fiber cleaving in the factory or the field, the company claims. With its small footprint and ease of use, the LFC fits optical work bench spaces in the factory. The LFC with fiber holder compatibility can be used with most commercially available fusion splicers and preparation tools providing a complete handling process for high-yield product throughput. 3SAE also offers a field splicing kit that includes the LFC fiber cleaver to provide a complete portable splicing system. The field splicing kit incorporates the battery-operated LFS, Fitel S178 LD fusion splicer, 3SAE thermal stripper, 3SAE ultrasonic cleaner, and 3SAE large diameter bend proof tester. For more information on splicing equipment and suppliers, visit the Lightwave Buyer's Guide.
Want to learn more about optical fiber innovation? Attend the Lightwave Optical Innovation Summit
The Lightwave Optical Innovation Summit will feature panels and presentations that will illuminate where optical innovation is required in carrier and enterprise/data center networks, what it should look like, and when it might appear. A wide range of experts from the user, technology development, academic, and analyst communities will offer their views on innovation in a variety of areas, including optical fiber. Find out more about the Summit, which will be held in Austin, TX, July 14-16, at the Lightwave Optical Innovation Summit website.