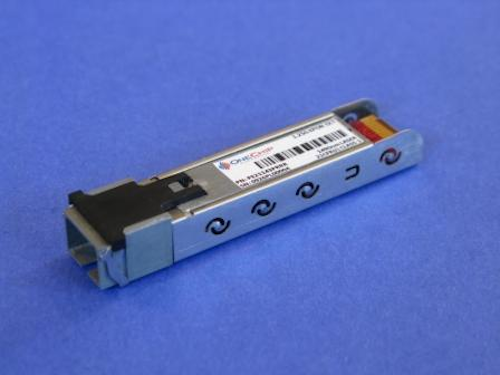 SEPTEMBER 7, 2009 By Stephen Hardy -- Startup OneChip Photonics has introduced its first products. The new line of EPON FTTH OLT and ONU transceivers leverages the company's InP-based photonic integrated circuit (PIC) technology to create modules 20 to 25 percent cheaper than typical competitors, OneChip sources assert.
The devices will make their debut at this week's China International Opto Electronic Expo (CIOE 2009). The line includes SFF and SFP devices for OLTs and a variety of SFF modules for ONUs. OneChip will also offer an SFP OLT device and a companion ONU transceiver for applications that leverage Teknovus 2.5-Gbps ICs. The ONU transceivers are compliant with IEEE Standard 802.3ah-2004 1000Base-PX20-U and its extensions, SFF MSA2000 and FCC 47 CFR Part 15, Class B standards.
According to Andy Weirich, vice president of product line management, the new offerings feature OneChip's PICs, which combine a multiple quantum well distributed-feedback (DFB) laser, optically pre-amplified detector, wavelength splitter, spot-size converter (which converts the line from the laser into a larger size for easier fiber coupling), and passive waveguide circuitry. As previously reported, OneChip's process monolithically integrates these elements into a single wafer via one epitaxial growth step. No re-growth or post-growth modification of the epitaxial material is required, according to the company.
Monolithic integration provides only the first key to lower cost, Wierich states. The PIC-based device can be flip-chip bonded into a silicon optical bench, which can then be inserted into a transceiver casing using standard pick-and-place machinery. With the help of the spot-size converter, fiber can be inserted via a V-groove into the assembly for attachment with active alignment.
In addition to the cost savings, the use of a DFB laser and the optically pre-amplified detector should provide better performance than competing modules that use Fabry-Perot light sources and avalanche photodiodes, the company asserts.
As OneChip is a fabless company, this assembly takes place out of house. The company has announced a partnership with Sanmina-SCI for manufacturing of the transceivers. Weirich says Sanmina will use the facility in Shenzhen it required from JDSU.
The EPON devices are sampling. The company hasn't yet earned any design wins "per se," according to Weirich, but chose CIOE for product debut because of the concentration of potential customers at the show and the size of the EPON market in Asia generally and China in particular. He expects the devices to begin production shipping in the fourth quarter of this year.
Weirich adds that OneChip will announce GPON counterparts in the near future. The company also has its eye on applications other than FTTH for its transceiver technology.