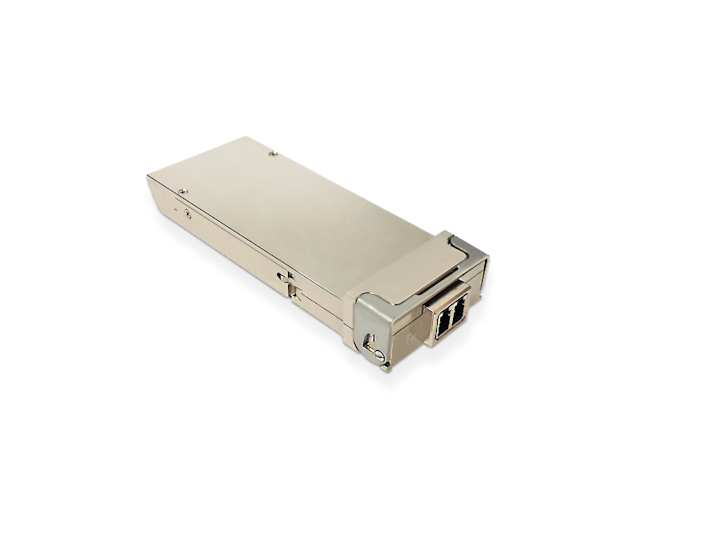 Acacia Communications, Inc. (NASDAQ: ACIA) says it has supplied its CFP2-DCO coherent optical transceivers to Chinese internet content provider Tencent for a lab demonstration of 200-Gbps wavelength transmission over open line systems. Tencent plugged the coherent modules into switch platforms, then transmitted multiple 200-Gbps wavelengths over 80 km using the OPC-4 open line system that Tencent designed.
The Acacia CFP2-DCO transceivers used 8QAM modulation to create the 200-Gbps wavelengths (see "Acacia Communications coherent CFP2-DCO transceiver reaches general availability"). To simulate lossy metro fiber networks, Tencent technicians added 10-dB optical attenuators to the test link and still achieved error-free transmission, according to Acacia. The demonstration validated the ability of the OPC-4 open line system, which can support 96 channels under direction of Tencent's network controller, to support IP over DWDM metro data center interconnect (DCI) links within Tencent's software-defined networking (SDN) disaggregated transport network vision, Acacia adds.
"This demonstration validated that Acacia's CFP2-DCO product has been integrated into switch platforms in terms of mechanical, electrical, power, and firmware interfaces. The switch platform was able to configure the CFP2-DCO and access advanced performance monitoring functionality for the module, as well as the link," stated Jengyi Geng, senior network architect at Tencent. "With Acacia's 200G CFP2-DCO, our switch platform can support eight ports, for up to 1.6 Tbps per line card and our OPC-4 can support transmission of up to 19.2 Tbps over a single fiber for metro DCI applications. In addition, the CFP2-DCO form factor provides us with a pay-as-you-grow deployment model."
"We believe this lab demonstration underlines the importance of pluggable coherent modules in applications such as Tencent's metro DCI network, potentially creating opportunities for our NEM customers to offer differentiated solutions in these applications," added Tom Williams, associate vice president of marketing at Acacia Communications.
For related articles, visit the Optical Technologies Topic Center.
For more information about optical modules and suppliers, visit the Lightwave Buyer's Guide.