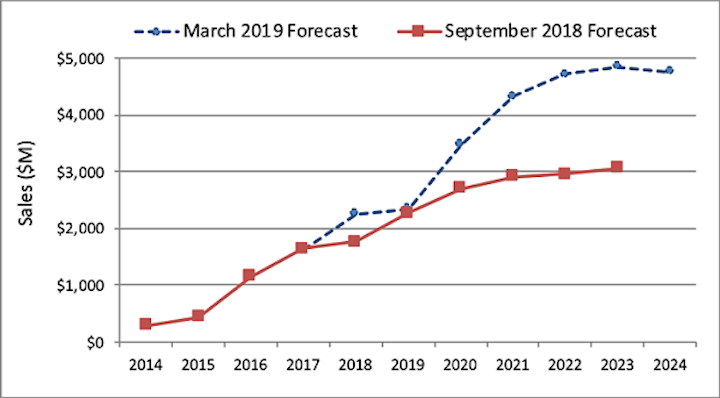 LightCounting says it expects the softness seen in 100 Gigabit Ethernet (100GbE) optical transceiver sales in the second half of 2018 will continue into the first half of this year. However, the market research firm writes in its latest "High Speed Ethernet Optics" report that CWDM4 100GbE transceiver demand should rise sharply in the second half of 2019 and continue into 2020 and beyond. A concurrent pickup in demand for higher-speed devices should lead to healthy growth for Ethernet optical module sales, LightCounting believes.
Several high-speed Ethernet optical transceiver types are in play this year, LightCounting notes. Deployments of 2x200GbE have begun at Google, while initial shipments of 4x100GbE 400G-DR4 (particularly to Amazon) should start this year. These latter modules will be used for 4x100G breakout applications, paired with DR1 modules on the other end, LightCounting notes. Sales of true 400GbE optical modules will prove limited to upper-level switching in mega data centers and core routers through 2021, or until switching ASICs reach 51 Tbps of capacity.
But the DR1 and other 100GbE modules will enjoy increased demand in the second half of 2019, particularly as Facebook rolls out its new F16 data center network architecture, which will require 3X to 4X more optical connections than the previous F4 architecture, LightCounting reports. The internet content provider says it plans to rely primarily on 100GbE CWDM4 modules (particularly the 500-m CWDM4-OCP, or Open Compute Project, variant) at least through its next upgrade cycle, expected to begin in 2021, according to the market research firm. The 100GbE momentum generated during the last six months of 2019 should continue into 2020 and beyond, as the chart above reflects.
But until that time, Ethernet transceiver suppliers will have to work through six months of doldrums. Excess inventory at customer locations, a problem compounded by declining prices, accounted for the slower sales during the latter half of 2018 and will take some time to dissipate, LightCounting reports. The slow first six months and the more active last six months will counterbalance each other, which leads to the market research firm's prediction for overall flat performance for 2019.
LightCounting's "High-Speed Ethernet Optics" report contains a forecast with more than 50 product categories, including 10GbE, 25GbE, 40GbE, 50GbE, 100GbE, 200GbE, 2x200GbE, and 400GbE transceivers, sorted by reach and form factors. It also offers a summary of the technical challenges faced by high-speed transceiver suppliers, including a review of the latest products and technologies introduced by leading suppliers. The report is based on confidential sales information and on analysis of publicly available data released by component and equipment manufacturers along with input from industry sources.
For related articles, visit the Optical Technologies Topic Center.
For more information on optical modules and suppliers, visit the Lightwave Buyer's Guide.