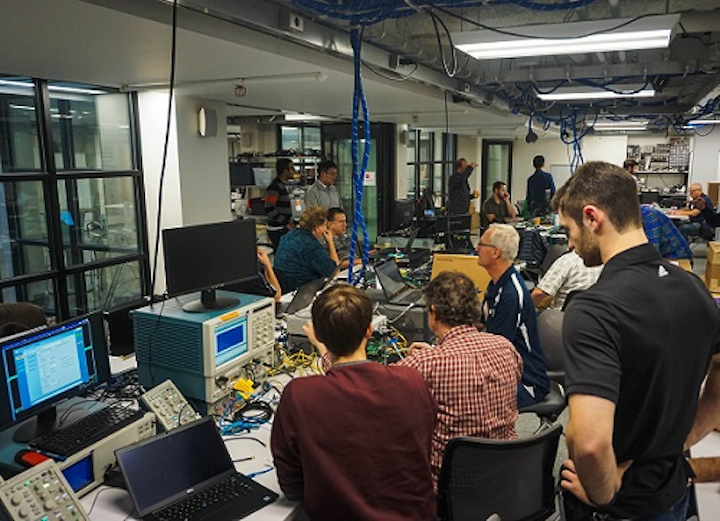 The Ethernet Alliance has issued a call for interest for a Higher Speed Networking (HSN) Interoperability Plugfest it plans to hold the week of April 29, 2019, at the University of New Hampshire InterOperability Laboratory (UNH-IOL) in Durham, NH. This will be the third such plugfest the Ethernet Alliance has held at UNH-IOL in less than a year.
As was the case with the previous two (see "Ethernet Alliance plans Higher Speed Ethernet Plugfest" and "Ethernet Alliance wraps second Higher Speed Networking Plugfest of 2018"), this month's event will enable participants to demonstrate the interoperability of Ethernet devices and other technology at transmission rates ranging from 25 to 400 Gbps. The event is open to Ethernet Alliance members. The December 2018 plugfest saw more than 20 companies connect a variety of network interface cards, optical transceivers, copper-based transmission elements, and test equipment. Previous plugfests have seen PHY vendors participate as well.
The fact that this will be the third HSN plugfest the Ethernet Alliance has held since August reflects the number of companies interested in such recently ratified Ethernet standards as IEEE 802.3bs and IEEE 802.3cd as well as how rapidly their technology development programs have progressed. While the technology provided for the previous two plugfests focused on data center applications, John D'Ambrosia, chairman of the Ethernet Alliance, noted at OFC 2019 that Ethernet technology for other high-speed applications would be welcomed as well. He also hinted that a fourth HSN plugfest might be in the cards for later this year.
Meanwhile, those interested in more information on this month's plugfest can find it on the Ethernet Alliance website. The organization has a special membership page for non-member companies interested in participating.
For related articles, visit the Optical Technologies Topic Center.
For more information on optical modules and suppliers, visit the Lightwave Buyer's Guide.