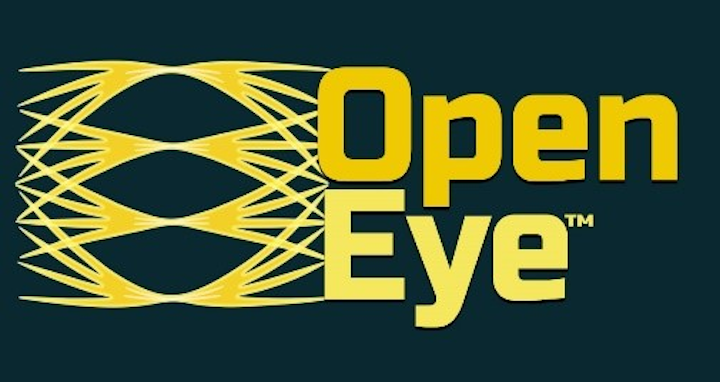 The Open Eye Consortium, led by silicon specialists MACOM and Semtech Corp., has established a multi-source agreement (MSA) that aims to standardize an approach to PAM4-based high-speed optical transceivers that replaces the digital signal processor (DSP) based architecture common in current designs with one that leverages analog clock and data recovery (CDR) devices. The MSA initially will target single-mode 50G SFP, 100G DSFP, 100G SFP-DD, 200G QSFP, and 400G QSFP-DD and OSFP modules based on 53-Gbps lanes. The use of analog CDRs instead of DSPs will result in significant cost, latency, and power benefits and simplified manufacturing, say Open Eye proponents.
The MSA membership should ratify initial specifications by the third quarter of this year, leading to product demonstrations at ECOC 2019 and CIOE 2019, predict Marek Tlalka, director of product marketing, high performance analog, at MACOM and Bharat Tailor, senior director, strategic marketing at Semtech. The MSA also will tackle specifications for multimode applications as well as for designs using 100-Gbps lanes next year, they add.
Current IEEE and MSA specifications for Ethernet transceivers at high-speed transmission rates leveraged DSPs because that was the best initial approach, explains Tlalka. However, analog CDR technology has now matured enough to offer an effective alternative that offers several performance and manufacturing benefits, he asserts – a situation he likens to the advent of CWDM4 optics as an alternative to the 100GBASE-LR4 approach initially ratified within the IEEE. While the MSA will accept the use of DSPs, use of analog CDRs returns design and performance measurement to the eye-mask-based approach common in NRZ transmission (hence the name of the consortium); obviating the need for TDECQ as a design and measurement yardstick simplifies design and performance certification, Tlalka asserts. Manufacturability also should improve, he adds.
Approaches based on analog CDRs also offer at least a 24% reduction in power requirements at the module level and a 1000X reduction in latency, according to the consortium sources. Such an approach also creates an opportunity for additional functional integration, Tailor points out. The specifications initially will target reaches from 500 m to 2 km.
"LightCounting forecasts that sales of next-generation Ethernet products will exceed $500 million in 2020," said Dale Murray, principal analyst at LightCounting, via a press release that announced the MSA formation. "However, this is only possible if suppliers can meet customer requirements for cost and power consumption. The new Open Eye MSA addresses both of these critical requirements. Having low latency is an extra bonus that HPC and AI applications will benefit from."
Not surprisingly, both companies have worked on such analog CDR architectures. MACOM announced concurrently with the consortium's formation that it offers what it termed "a complete analog and silicon photonics portfolio" of devices that should comply with the upcoming MSA specifications. The portfolio includes the MAOM-38053 four-channel transmit PAM4 CDR with an integrated driver as well as an L-PIC transmitter; on the receive side, applicable devices include the MATA-03819 quad TIA, MACOM BSP56B photodetectors, and the MASC-38040 four-channel receive PAM4 CDR. Tailor says Semtech hasn't formally announced related offerings, although he did say that the company has demonstrated such technology to potential customers.
In addition to MACOM and Semtech, the consortium includes Applied Optoelectronics Inc., Cambridge Industries (CIG), Color Chip, Juniper Networks, Luxshare-ICT, Mellanox, and Molex as promoters; Accelink, Cloud Light Technology, InnoLight, Keysight Technologies, Maxim Integrated, O-Net, Optomind, Source Photonics, and Sumitomo Electric are aboard as contributors. Additional information is available via the consortium's website.
For related articles, visit the Optical Technologies Topic Center.
For more information on optical modules and suppliers, visit the Lightwave Buyer's Guide.