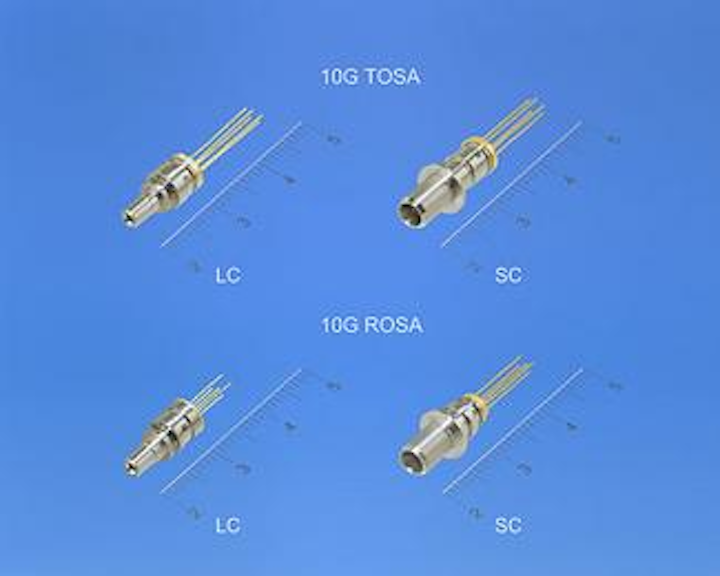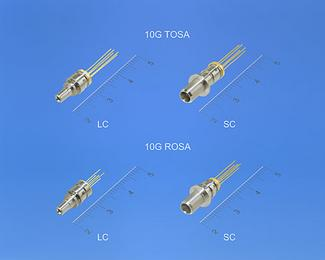 NEC optical modules for 10-Gbit/sec transceivers
20 January 2004 Tokyo Lightwave--NEC Compound Semiconductor Devices, Ltd. and NEC Electronics GmbH (Duesseldorf, Germany) today announced the sample shipment of two optical modules for the 10-Gbit/sec optical transceivers to be employed in MAN and high-speed LANs. The new products are the smallest in the industry as optical modules for the 10-Gbit/sec transceiver and also support operation up to 85°C.
The new optical modules are available in two types of optical sub-assembly: the NX8341 series, transmitter optical sub-assembly (TOSA), and the NR3311 series, receiver optical sub-assembly (ROSA). Both have LC or SC receptacle ports that feature fiber-to-laser design to eliminate optical alignment problems and ensure a fixed optical coupling. These are intended for use in 10-Gbit/sec small transceiver, XENPAK, XPAK, X2, and XFP in OC-192/STM-64, 10-Gbit/sec Ethernet and Fibre Channel applications up to 12 km.
The NX8341 series employs a 1.3-micron uncooled directly modulated distributed feedback laser chip that features high-speed (10 Gbits/sec) and high-temperature operation. This laser chip uses aluminum gallium indium arsenide in the active layer, enabling a greater electron containment effect and operations at higher temperatures and speeds than the conventional indium phosphide laser material used, as well as higher reliability. The NR3311 series achieves both high speed and high sensitivity due to combined photodiode with a preamplifier to realize the wide-band characteristics required to receive 10-Gbit/sec signals. These features enable high speed, stable optical communication on both the transmitter and receiver sides, at a temperature range from -5 to 85°C, which is the widest in the industry for an optical module with a transfer rate of 10 Gbits/sec and uncooled system.
The optical modules employ a small, easily mass producible CAN package in which laser chip, damping resistor, bias inductor for TOSA, photodiode, +3.3V powered preamplifier for ROSA are incorporated optimally for matching impedance to achieve 10-Gbit/sec high speed operation. With a diameter of 5.6 mm, these are the smallest optical modules in the industry supporting all major 10-Gbit/sec small transceivers.
An extensive lineup is offered for the new products. The NX8341 series have two types of modules for driver ICs with different drive models: single-ended or differential drive. In addition, the NX8341 series and NR3311 series support both SC connector, which is in wide use, and small-size LC connector. With a total of 6 models in the two series, customers can find the module that best suits their application needs.
The new modules are designed for use in all major international optical communication standards, including STM-64 I64.1 of the ITU-G.691 standard, OC-192 SR-1 SONET, an equivalent standard in North America, the IEEE802.3ae 10 Gigabit Ethernet 10GBASE-LR/LW standard recommended by the Institute of Electrical and Electronics Engineers (IEEE) in the United States, and ANSI T11.2 10GFC, the Fibre Channel 10 Gigabit standard from the American National Standards Institute. Transmission range up to 12 km is supported under all above standards.
"Most of current 10-Gbit/sec optical sub-assembly modules have difficulties in operating at a wide temperature range without cooler," said Masayuki Yamaguchi, department manager, 1st Optical Semiconductor Department, NEC Compound Semiconductor Devices. "With the development of these two new optical modules that function in the widest temperature range, we believe we can make a major contribution to the realization of 10-Gbit/sec networks. We will continue developing new technologies in this field with the aim of producing optical modules that offer customers the ideal solution, including support of easy-to-mount flexible boards."
NEC Compound Semiconductor Devices will be exhibiting these new optical modules and related products at the 4th Fiber Optics Expo (FOE2004), Asia's largest optical communications exhibition, held at Tokyo Big Sight in Tokyo from January 28, and at the Optical Fiber Communication Conference and Exhibition, the largest such exhibition in North America, held at the Los Angeles Convention Center, from February 24.
Pricing and availability
Sample prices for the new modules are 50,000 yen for the NX8341 series and 30,000 yen for the NR3311 series. Mass production is slated to start in May 2004, with an annual shipment forecast of 20,000 units in total for the two series.