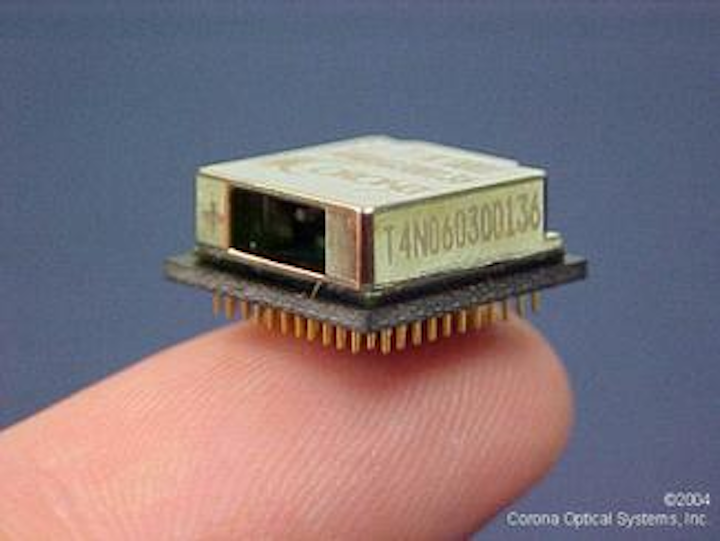 June 15, 2004 Lombard, IL -- < ahref=http://www.coronasys.com>Corona Optical Systems Inc., provider of parallel optical modules, today announced the release of the OptoCube 40-S pluggable transmitter and receiver modules, which attach to a circuit board with a high-performance pin array and socket assembly. This pluggable electrical interface allows for greatly simplified board attachment and removal. Each module features 12 optical channels operating at speeds up to 3.35 Gbits/sec per channel, resulting in an aggregate throughput of over 40 Gbits/sec.

The OptoCube 40-S, with its 13- by 13-mm footprint, provides more gigabits per square centimeter throughput than any other optical module on the market, claim Corona representatives. This size advantage allows equipment designers to develop smaller, more efficient board layouts and systems. The OptoCube 40-S modules transmit up to 600 m over ribbonized high-bandwidth multimode fiber. The modules use VCSEL sources operating at 850 nm.

"This product release is an important step towards meeting the broad industry demands for small, high-density optical interfaces," explains Bryan Gregory, chief marketing officer and chairman of Corona Optical Systems. "Pluggable optical modules can be mounted in the final production step, after a complex switching card has been assembled and tested. This increases production flexibility, offers higher inventory turns for expensive optical components and improves production yields. Our small, cost-effective optical modules also offer higher speeds and longer transmission distances than problematic electrical cables," he adds.

Corona's parallel optical modules are used in a variety of industry segments, including telecom switching, IP routing, test equipment, imaging and scanning equipment, and a variety of military applications.