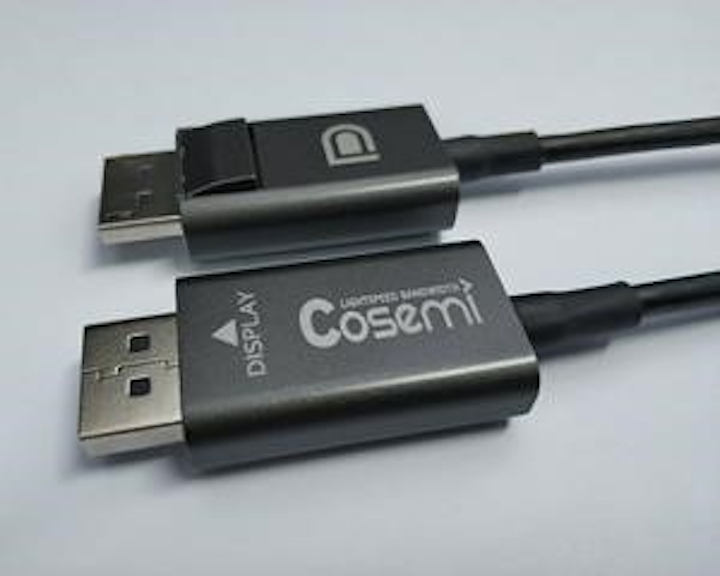 Cosemi Technologies Inc. has unveiled the LS Series hardened active optical cables (AOCs). The AOCs offer a proprietary, shielded cable and a metal shell-enclosed opto-electronics engine. The LS Series is designed to offer greater resistance to EMI and RFI than standard AOCs.
The company has targeted the line for medical, industrial automation, and machine vision applications. First out of the gate is a DisplayPort 1.4 cable, with HDMI 2.0/2.1 and USB 3.1 cables to follow.
The extra EMI and RFI protection will play particularly well in medical facilities, laboratories, and other locations where high-voltage or high-current equipment is used, says Cosemi. The plug-and-play LS Series AOCs eliminates the need for separate power cables and reduces the number of potential failure points, says the company. They also therefore lower overall system cost, as they obviate the need for additional boxes, switches, extenders, and cables.
"Our LS Series offers a patented, opto electronic platform alongside a thin and flexible shielded hybrid cable. The metal shell enclosure makes them an ideal choice for medical applications requiring EMI/RFI resistance in 4K/8K high resolution imaging," says Adrian Collins, director of product marketing for Cosemi. "The LS Series offers the convenience of being a true 'plug-and-play,' 4K/8K video interconnect solution that does not require external power."
For related articles, visit the Optical Technologies Topic Center.
For more information on fiber cables and suppliers, visit the Lightwave Buyer's Guide.