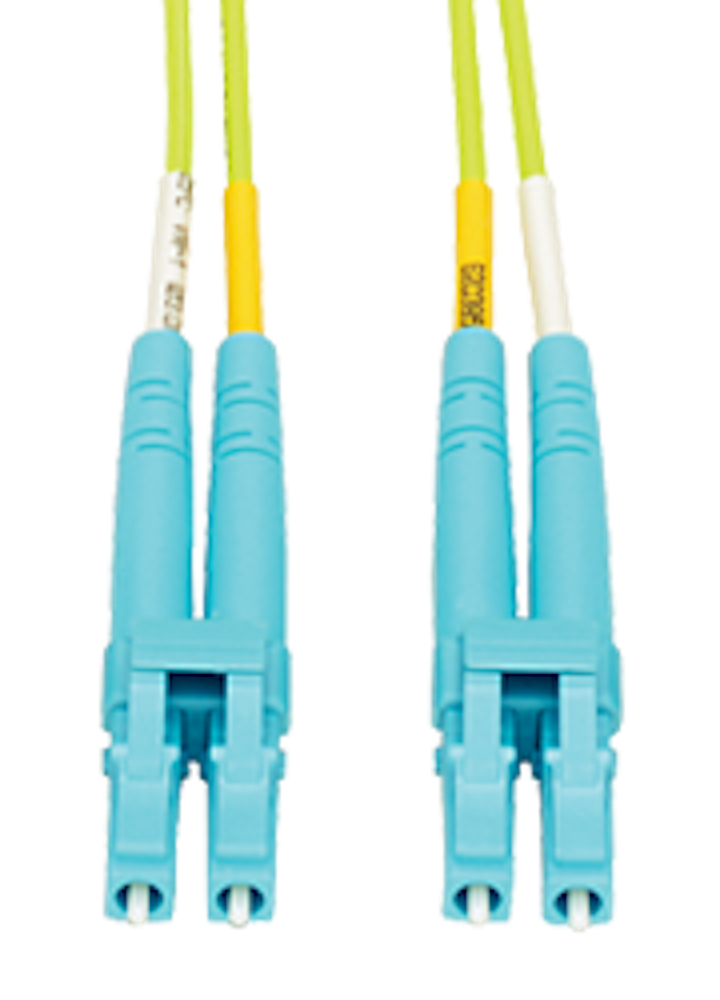 Tripp Lite has introduced an OM5 multimode fiber patch cable to support 40 Gigabit Ethernet and 100 Gigabit Ethernet applications. The OM5 Duplex Multimode 50/125 Fiber Patch Cable uses wideband multimode fiber (WBMMF) to support at least four wavelengths in the 850- to 950-nm range. The LC to LC cable will support reaches up to 300 m at 850 nm.
The OM5-rated multimode fiber-optic cable is designed for use with vertical-cavity surface-emitting lasers (VCSELs) as well as shortwave wavelength division multiplexing (SWDM) technology to provide transmission over longer distances. The low-smoke, zero-halogen (LSZH) jacket limits the amount of toxic smoke emitted in case of fire. The cable is available in lengths from 1 to 25 m and comes with a one-year warranty. The fiber patch cable also meets IEEE 802.3ae and TIA LOMMF standards.
"For fast, clear signal transmission through a local area network or storage area network, this new high-speed cabling provides a solution that's ideal for high-speed parallel interconnections for head ends, central offices, and data centers," said David Posner, Tripp Lite's Director of Product Marketing. "It's also backward compatible with existing OM3- and OM4-rated fiber, for seamless functionality in current installations, while future-proofing for tomorrow's growth."
For related articles, visit the Optical Technologies Topic Center.
For more information on fiber cabling and suppliers, visit the Lightwave Buyer's Guide.