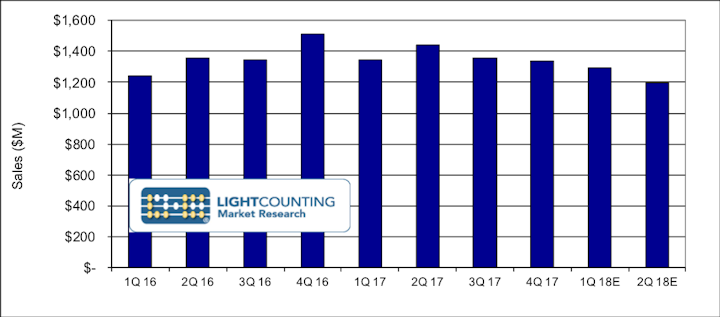 While the quarter isn't over yet, LightCounting expects sales of optical transceivers during the three-month period to reach a three-year low. And the ban on U.S. technology sales to ZTE that has shut the company down has a lot to do with it, according to the market research firm's June 2018 "LightCounting Quarterly Market Update."
LightCounting predicts that sales of optical transceivers in the quarter could be as low as $1.2 billion, smallest for a quarter since 2015. Sales of DWDM, FTTx, and wireless fronthaul optical modules will be particularly hard hit, dropping 20% to 30% sequentially during the quarter. Overall, LightCounting analysts expect the transceiver market will have shrunk 8% sequentially by the time the quarter ends.
The fact that ZTE, which may be the largest consumer of optical transceivers in the world (as Huawei makes "a lot" of its modules itself, says LightCounting), has had to stay on the sidelines for pretty much the entire quarter hasn't helped. The Department of Commerce and the Chinese communications systems company have reached a deal that would lift the technology access ban; if ZTE can reopen its doors in the next few weeks, LightCounting says that the market could see at least some recovery by the third quarter of this year. However, the U.S. Senate has passed a defense spending bill that contains language that would force the ban back into place, signaling that ZTE's problems may not be over (see "ZTE must disclose Chinese government stake as part of new agreement").
The combination of a continued shutdown of ZTE, suspicion in some quarters about Chinese systems suppliers, and looming trade wars will make life difficult for everyone in the optical communications ecosystem, LightCounting says. Huawei may take over some ZTE business but will face challenges in the West and elsewhere due to security concerns (see, for example, "Huawei calls Australian security fears 'ill-informed and not based on facts'"). Reciprocal anti-U.S. sentiment will hurt suppliers there and perhaps in other parts of the world, the market research firm adds. All this will mean network operators will have to re-evaluate their supplier base, delaying projects and increasing costs.
The "LightCounting Quarterly Market Update" provides data and commentary on the Q1 2018 financial results of communications services providers, internet content providers, hardware, optical components, and semiconductor chip makers. It also offers estimates for more than 100 optical transceiver products sold in Q1 and Q2 2018, based on interviews with suppliers and quarterly data for 2016-2017, obtained via LightCounting's proprietary vendor shipment survey.
For related articles, visit the Business Topic Center.
For more information on optical transceivers and suppliers, visit the Lightwave Buyer's Guide.