With optical module vendors showing off 200 Gigabit Ethernet and 400 Gigabit Ethernet (GbE) optical modules at ECOC 2018, it's only reasonable to wonder when data center operators might start using them. According to LightCounting, the fact that major data center operators have different plans – and a variety of options at their disposal – may lead to fragmented technology rollouts, particularly for 400GbE.
In its most recent "High-Speed Ethernet Optics Report," LightCounting cites historical lag times between the introduction of new data center switch chips and jumps in optical interface transmission rates (see figure below, which correlates chip introduction and shipments of 2-km optical transceivers). It shows the company's forecast for three of the most likely options for post-100GbE – 200GbE, 2x200GbE, and 400GbE. LightCounting expects the deployment timing of <100GbE modules to mirror that of 100GbE. So, with the 32x400G Tomahawk3 ASIC sampling in December 2017, that means such deployments won't start in volume until the end of next year, with the most impact in 2020/2021.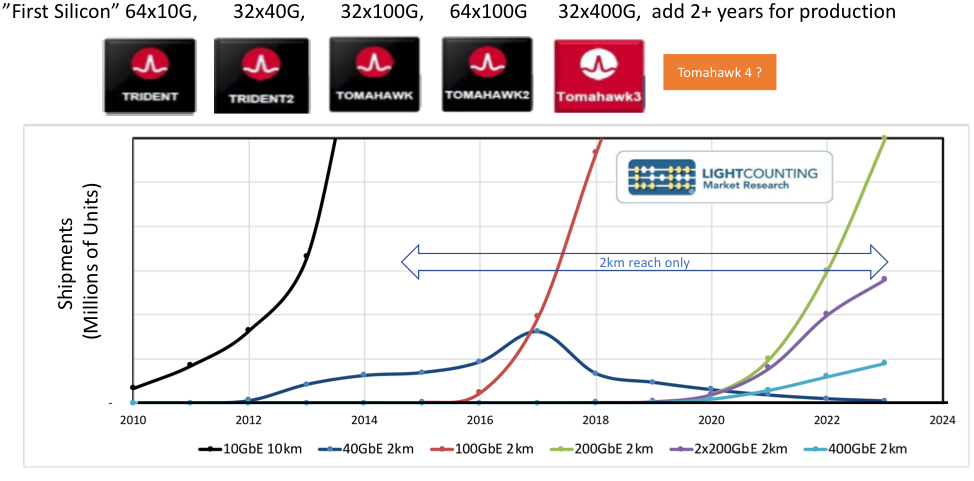 Correlation between "First Switch Silicon" and shipments of optics. (Source: LightCounting)
Most of these first deployments will use 200GbE and 2x200GbE, LightCounting expects, due to a combination of different deployment plans among such major data center network operators as Amazon, Facebook, Google, and Microsoft as well as overall concerns about the maturity of 400GbE technology. For example, LightCounting reports that it is an "open secret" that Facebook will deploy 200GbE before 400GbE, while Google already has begun 2x200GbE module roll outs.
Concerns about new PAM4-enabled 400GbE technology were not without merit, the market research firms asserts, although progress toward solutions has been demonstrated. For example, LightCounting quoted Mark Nowell of Cisco as saying (likely in reference to the 400GbE interoperability demo at the Ethernet Alliance booth at ECOC 2018), "Being all new modules, the host interface is usually where we'd expect problems, and we saw teething issues. Most were fixed for the public demo at ECOC. We had full packets flowing through Arista and Cisco switches and lots of modules."
When 400GbE optical transceivers are first deployed, they most likely will be 400GBASE-DR4 transceivers used to support 4x100GbE breakouts, LightCounting predicts. This notion complements LightCounting's prediction that demand for 100GbE won't dissipate any time soon. Shipments of such modules should exceed 5 million this year (and not "billion," as we had originally), nearly twice the 2.9 million units shipped in 2017.
The "High-Speed Ethernet Optics Report" offers analysis of how growing data traffic and architecture changes within data centers effect the market for Ethernet optical transceivers, particularly high-speed modules. The report forecasts demand for more than 50 product categories, including 10GbE, 25GbE, 40GbE, 50GbE, 100GbE, 200GbE, 2x200GbE, and 400GbE transceivers. It also summarizes the technical challenges faced by high-speed transceiver suppliers.
For related articles, visit the Business Topic Center.
For more information on optical modules and suppliers, visit the Lightwave Buyer's Guide.