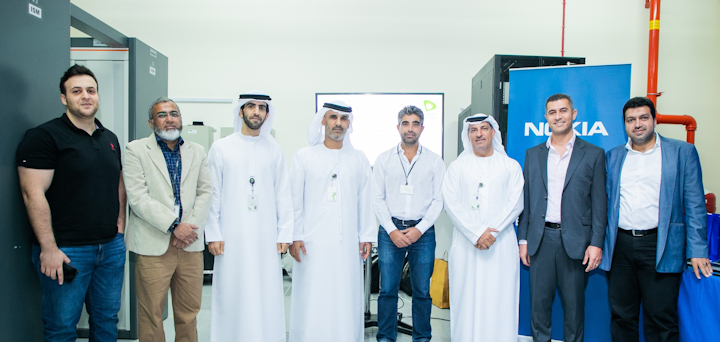 Nokia
Nokia and Etisalat say they have conducted the first field trial of single-carrier terabit optical transmission. The collaborators conducted the 1-Tbps transmission on a deployed fiber-network in the United Arab Emirates (UAE).
As part of the trial, Nokia and Etisalat transmitted a total of 50.8 Tbps via multiple wavelengths, each with a net information rate of 1.3 Tbps, over a 93-km fiber route. The optical transmissions were based on a single optical carrier operating at 100 Gbaud and Nokia Bell Labs-pioneered probabilistic constellation shaping (PCS). PCS is a foundational technology for Nokia's Photonic Service Engine 3, which is currently shipping to customers as part of Nokia's 1830 portfolio.
The companies say the field trial comes as Etisalat looks to upgrade its core network to support such high-bandwidth applications as 5G mobile broadband, fiber to the home (FTTH), and data center interconnect (DCI) cloud services.
"We are pleased to have partnered with Nokia Bell Labs to demonstrate that our optical network is capable of transporting a terabit per second over a single wavelength, and a total per-fiber capacity of over 50 Tbps," said Esmaeel Alhammadi, senior vice president, network development at Etisalat. "Increasing network capacity helps us to provide bandwidth-hungry services such as 5G extreme mobile broadband, fiber-to-the-home, and DCI for enterprises."
Nokia and Etisalat reported details of the demonstration at last week's ECOC 2019 in Dublin, Ireland, via a post-deadline paper.
For related articles, visit the Network Design Topic Center.
For more information on high-speed transmission systems and suppliers, visit the Lightwave Buyer's Guide.
To stay abreast of fiber-optic network technology, subscribe to Lightwave's Service Providers Newsletter.