A two-year wait for OC-768?
Sep 1st, 2001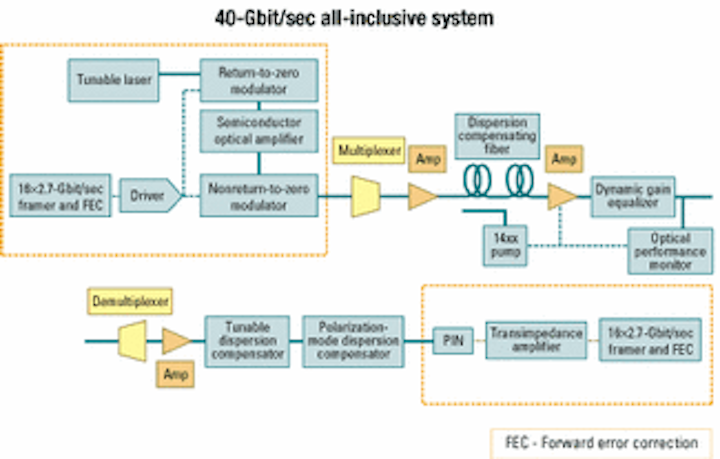 TRENDS
By STEPHEN HARDY
Whether because they believe there's a near-term demand for it or because they don't want to get left in the dust at OC-768 the way others were by Nortel Networks at OC-192, several transport equipment developers have embarked on design of 40-Gbit/sec systems. Naturally, component companies are happy to support their systems customers in any direction they choose to take, so 40-Gbit/sec component development also is on the front burner at many firms. Systems companies and their component suppliers met at the recent National Fiber Optic Engineers Conference (NFOEC) in Baltimore and indicated in a variety of forums that OC-768 deployment, if not exactly imminent, could be only two years away.
The first glimpse of where the industry stands came at the 40-Gbit/sec Forum presented by WDM Solutions magazine and co-sponsored by Lightwave (among other PennWell Corp. affiliates). Presenters from the component, subsystem, system, and market-research arenas agreed that OC-768 represents a new frontier for optical technology, in that physics limitations that had little effect at lower speeds suddenly become problematic at 40 Gbits/sec. Polarization-mode dispersion (PMD) heads the list-although "standard" chromatic dispersion will also require new techniques, according to Alan Willner, founder and chief technical officer at Phaethon Communications (Fremont, CA). Willner asserts that tunable compensators for chromatic and slope dispersion, as well as compensators for PMD, will be necessary to meet the needs of dynamic 40-Gbit/sec networks.
A wide variety of components and subsystems must be enhanced-or developed from scratch-before a full-fledged 40-Gbit/sec system can be developed and deployed. (Source: JDS Uniphase)
Compensators will not be the only com ponent or subsystem hurdle facing equipment developers. Stan Lumish, vice president, network product applications at JDS Uniphase (San Jose, CA, and Nepean, Ontario), admitted that 40-Gbit/sec components in general-and modulator drivers in particular-are in short supply at the moment. One reason for that, according to several sources, was a diversity of opinion on which materials will best support the required functionality at such high speeds. Candidates include various incarnations of indium phosphide, silicon germanium, and gallium arsenide. (For an overview on this debate, see Lightwave, August 2001, page 1.) Also, a consensus emerged among the presenters that return-to-zero transmission will eventually be come common at 40 Gbits/sec, particularly for ultra-long-haul applications.
The time required to solve the technological riddles, combined with the current financial environment, will make 2003 the magic year for 40-Gbit/sec de ployment, according to most observers at the event. Naturally, some opinions diverged from this point, with Dr. Katherine Hall, co-founder, chief technical officer, and director of PhotonEx (Bedford, MA) suggesting de ployments may begin earlier (PhotonEx plans to introduce its 40-Gbit/sec system by the end of this year), and others opining that the wave may not hit until 2004. Along this latter path, Michael Frankel, lightwave technology director at Ciena Corp. (Linthicum, MD), and John Midgley, president and CEO of Lightwave Microsystems (San Jose), suggest that carriers will opt first for increased channel counts at 10 Gbits/sec before switching to 40-Gbit/sec transmission.
However, some assert that the appeal of 40 Gbits/sec goes beyond "the need for speed" as the inevitable next step to increase capacity. In the final full presentation of the conference, Nortel Networks' Michel Belanger, who is responsible for the company's Optera Long Haul 5000 optical transport platform, stated that 40 Gbits/sec plays to carrier concerns regarding lower cost and easier network management and maintenance. The possibility that a move to higher line rates will reduce the number of channels required in a network has the same sort of appeal stepping from 10 Gbits/sec to 40 Gbits/sec as that provided by the earlier evolution from OC-48 to OC-192, he claims. In fact, Belanger stated that if a 40-Gbit/sec system were available now, carriers would buy it-and may not need PMD compensation, if the routes were planned with sufficient care.
While Belanger's description of current carrier demand for 40 Gbits/sec is certainly not shared by all observers, most of the companies polled at the forum and during NFOEC itself indicated that the adoption of this speed in carrier networks is but a matter of time. As the accompanying sidebar (on page 50) illustrates, component technology continues to creep toward volume availability. Yet, with companies no longer able to afford to build product lines on faith alone, the 2003 deployment estimation had best prove accurate, or some equipment companies will face dark times well beyond that date.
---
While some analysts question whether the race toward 40 Gbits/sec represents an inability on the part of the optical industry to step off the capacity expansion conveyor belt, the fact remains that OC-768 products remain a goal for many systems houses. And as developments at NFOEC indicated, component suppliers are willing to follow whatever direction their systems customers want to take.
For example, GTRAN (Westlake Village, CA) announced that it is shipping 40-Gbit/sec transimpedance amplifiers and limiting amplifiers. While the indium phosphide-based devices are being shipped as discrete units, GTRAN expects to use these devices and other in-house developments to create a 40-Gbit/sec integrated transponder. GTRAN promises comparatively low power dissipation and small module size as benefits of its upcoming devices.
Vitesse Semiconductor (Camarillo, CA), another company working primarily in indium phosphide, demonstrated a voltage-controlled oscillator for 40 Gbits/sec at the show. The company expects to use the device as a building block for the phase-locked-loops in clock multiplexers and clock recovery units within a future 40-Gbit/sec multiplexer/demultiplexer chipset.
While the company remains strongly within the indium phosphide camp, Vitesse officials stressed that they don't expect the material to be the exclusive foundation for all the chips in a 40-Gbit/sec transmission chain. For example, the company expects to produce forward-error-correction devices, a 4:16 multiplexer, and switch fabrics in CMOS for use in 40-Gbit/sec systems.
Meanwhile, Discovery Semiconductor Inc. (Princeton Junction, NJ) highlighted the DSC-R404, a 40-Gbit/sec optical receiver the company has been shipping for just under a year. The device offers conversion gain of 35 V/W, a typical electrical return loss of 10 dB, and a typical optical polarization-dependent loss of 0.06 dB. Speaking at his booth, company president Abhay Joshi predicted that avalanche photodiodes will have a tough time meeting the requirements of 40-Gbit/sec transmission, opening the door for other technologies such as the indium gallium arsenide PIN diodes currently in his company's repertoire.