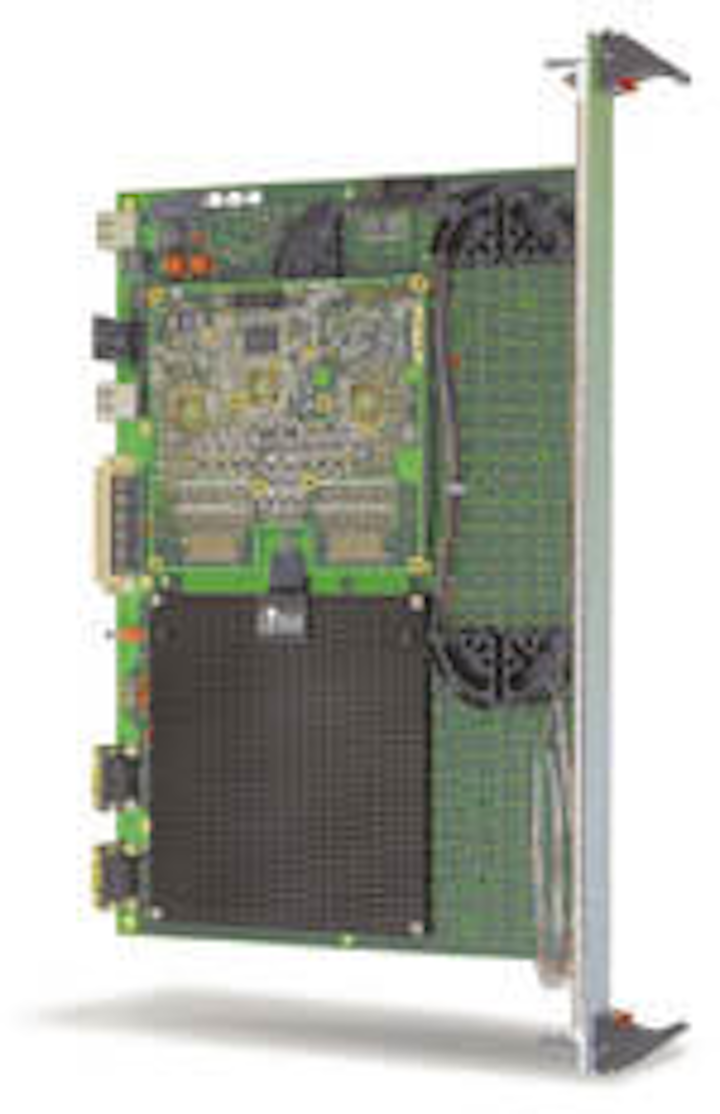 SYSTEMS
BY MEGHAN FULLER
Historically, planar lightguide circuit (PLC) technology, commonly deployed in the form of arrayed waveguide gratings (AWGs), variable optical attenuators (VOAs), and 1xN and 2x2 optical switches, has been considered unsuitable for larger-port-count switches, given its limitations in terms of scalability, power consumption, and crosstalk. Lynx Photonic Networks (Calabasas Hills, CA) claims it has overcome these limitations, however, and recently unveiled its PLC-based 8x8 switch-with a 16x16 version waiting in the wings-to prove it.
The Photon.8x8 PCSS is available as a standalone device or as a packaged optical module with electronic control plane pictured here. The switch is 10 mm high (5.5 inches square) with separate electronics.
The photon photonic communications subsystem (PCSS) family of hybrid switches is designed to switch and manage aggregated OC-48, OC-192, and OC-768 optical bandwidth in the metro core-where the company expects to see the strongest growth over the next two years-and in regional and long-haul networks. Its target applications include optical crossconnects, reconfigurable optical add/drop multiplexers, network protection switching, and dynamic multicasting.

According to Lynx president Michael Leigh, the best switching solution is a hybrid one, utilizing both optical and optical-electrical-optical (OEO) switching to perform distinct but equally necessary functions. On any given node in the metro network, typically only 20-40% of the traffic must be processed locally, says Leigh. Nevertheless, the remaining 60-80% is also unbundled, converted from optical to electrical form, and then converted back to optical form, a process that is both costly and inefficient, he adds. Lynx's hybrid switch design applies OEO only where necessary.

The PCSS family of silica-on-silicon switches employs the same two-dimensional optical waveguide-based connectivity as Agilent's bubble technology, using electro-optics as its switching mechanism. As a light stream passes through the doped waveguide, the waveguide is heated slightly through the application of electricity, in amounts Lynx describes as "microvoltages." The slight temperature change is enough to change the refractive index of the waveguide, which, in turn, switches the path of light-in less than 2 msec, claims the company.
With any optical-switching technology, there are tradeoffs, contends Elizabeth Bruce, director of optical technologies at Boston-based strategic consulting firm Optical Strategies Inc. Historically, PLC-based devices suffer from high power consumption, limited scalability in terms of port count, relatively high insertion loss, and poor crosstalk. Using proprietary technology, the folks at Lynx claim to have reduced power consumption to 12 W for the 8x8 switch with less than 5-dB insertion loss. Lynx has also overcome the crosstalk hurdle with a patented architecture that creates excellent isolation, says Leigh.
"The advantages of PLC are really in terms of integration," contends Bruce. "With MEMS, you might have the switching function, but you would have to add another element to get the attenuation, for example."
Lynx choose PLC technology in part because it is semiconductor-like in nature and is the best platform for integrating multiple functionalities, explains Leigh. The Photon.8x8 features built-in variable optical attenuation that reduces the need for external VOAs, which in turn lowers overall system costs, power consumption, and system failures. Also inherent in its switch fabric are dynamic power balancing and equalization management features. The company plans to integrate AWGs in the future.
Also built in to the Photon.8x8 are optical multicasting, weighted multicasting, and broadcasting capabilities. Borrowed from the Ethernet world, broadcasting capabilities allow the end user to send traffic from any node to multiple nodes simultaneously. It is most often used for "drop and continue" applications, says Leigh.
Optical weighted multicasting enables carriers to control optical power to the nearest 1% granularity. "Without intelligence, if you were sending information from one port to four ports, it would just divide the power into four. However, because these optical networks are analog in nature, you tend not to have nodes at equal distances from your transmission point," explains Leigh. "So the idea of weighted multicasting is that you would use your largest amount of light power for the longest distances and the smallest amount of light power for the smallest distance."
Weighted multicasting also enables carriers to maximize their optical budgets and reduces the need for extra peripheral network elements, like erbium-doped fiber amplifiers.
The Photon.8x8 is an eight-input, eight-output, strictly transparent, non-blocking switch. Each port can carry one or dozens of wavelengths, contends Leigh, while still retaining channel integrity. The switch has no moving parts and does not require any material state changes. It occupies less than a single card-width in most chassis and can be integrated into a higher-level subsystem. Today, the Photon.8x8 is tunable for power and port distribution; wavelength selection will be available in the future, claims the company.
The Photon.8x8 began shipping in the fourth quarter of 2001. Though the company has working prototypes of the 16x16 version and recently demonstrated the device at ECOC last October, it is not slated for released until late 2002, just in time to meet the expected market demand, claims Leigh.
"Today, the initial installations are literally a few fibers and very little DWDM or CWDM in the metro arena. Generally speaking, we are looking at less than an 8x8 requirement today but moving very rapidly next year to a 16x16 requirement and in two years' time, 32x32," contends Leigh.