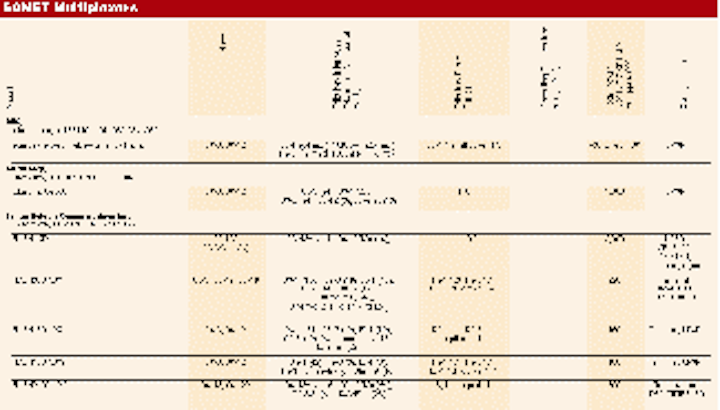 By MEGHAN FULLER
Manufacturers and vendors of SONET/SDH equipment, eschewing earlier prognostications that SONET/ SDH multiplexers would face extinction because they cannot handle data traffic efficiently, remain optimistic about the current and future multiplexer market. And why shouldn't they? Sales of SONET/SDH equipment have soared. According to market-research firm RHK Inc. (San Francisco), the worldwide market for SONET/SDH equipment will exceed $5 billion by 2005. Manufacturers cite increased functionality and reliability, an insistence on interoperability, and rapidly falling prices as recent trends that have generated renewed interest in the latest generation of devices. And they claim the market is alive and well...but is it?
A SONET/SDH multiplexer is a piece of carrier equipment that collects lower-speed optical or electrical signals from voice and data networks and transmits them over a single transmission channel as one efficient, higher-bit-rate signal stream containing all the digital information from the combined original streams. At the receiving end, the digital information is retrieved from the transmission channel and returned to its original number of streams. A multiplexer is required when combining multiple data, voice, fax, and LAN traffic to a public or private carrier. They scale from 355 Mbits/sec up to OC-192/STM-64 (10 Gbits/sec) and will eventually support OC-768/STM-256 (40-Gbit/sec) speeds).
SONET/SDH-based systems feature fast detection and recovery from facilities failures and promote enhanced operations, administration, provisioning, and interoperability. They also feature low latency, crucial for carriers whose customers require fast and reliable voice transmission.
Nevertheless, rumors of the death of SONET/SDH began circling several years ago when people began talking about Internet Protocol (IP), a technology many believe will be the key enabler of the all-optical network of the future. Manufacturers and vendors of IP-based equipment argue that SONET/SDH technology will face extinction because SONET technology is too inflexible to accommodate the dynamic bandwidth provisioning necessary for burgeoning Internet and data traffic.
SONET is optimized for voice telephony or time-sensitive traffic; it is inefficient for data transportation because it force fits data traffic into the fixed time slots required by voice traffic, thereby wasting large amounts of unused capacity. That has prompted many carriers to wonder how they can optimize existing SONET infrastructures for both voice and data traffic.
There seems to be no shortage of answers among SONET manufacturers and vendors that have developed next-generation multiplexers-many of which function as multiservice platforms capable of handling voice, data, and video traffic. Mayan Networks (San Jose), for example, has developed its Unifier SMX, a metro access and transport platform that promises "smarter SONET." It aggregates, grooms, routes, and switches time-division multiplexing (TDM), frame relay, IP, and ATM traffic from DS-0 through OC-48 across Layers 1 through 4. The SMX is interoperable with existing SONET add/drop multiplexers (ADMs) at the physical, control, and signaling levels and integrates the functionality of a digital-crossconnect switch.
Fujitsu (Richardson, TX) has a converged network platform called the FLASH150 ADX, designed to transport traditional voice traffic, data traffic, or any combination over SONET-based fiber-optic networks from a single network element. In ATM applications, the same device can be used as an ATM service access multiplexer with integrated ATM edge-switching capabilities. According to the company, the FLASH150 ADX can operate as a hybrid SONET and ATM multiplexer, allowing the user to decide the amount of bandwidth to allocate for either service type.
Asserts Stanton Zeff, P.E., product marketing manager at Fujitsu, "There is a clear trend toward multiservice provisioning platforms with 'universal' slot capability. This allows aggregation of varying data types-for example, SONET and ATM on the same node-and provides for in-service line-rate and tributary-rate upgrades,such as OC-3 to OC-12 to OC-48 to OC-192."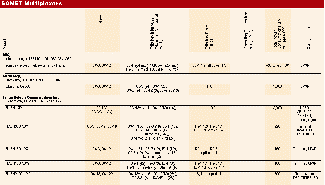 Zeff argues that the most important changes in the functionality of multiplexers have been increased density and crossconnect capability, which reduces overall network element costs while increasing port efficiencies. "An additional benefit is the increase in large digital-crossconnect-system port utilization, which in turn reduces port requirements and overall costs," he adds.
Marconi Communications (Coventry, UK) has developed the OSR SONET-based multiservice access platform, which utilizes single-stage multiplexing and can be upgraded from OC-3 to OC-12 by simply changing the fiber interface cards. It features integrated time-slot management and STS-3 visibility at every slot, which increases the ability to add services and manage bandwidth. The OSR is interoperable with other vendors' SONET equipment and includes OSR View, a SONET management and provisioning tool.
Claude Champagne, Marconi's vice president of optical networks, North America, asserts that the biggest difference between the "vanilla-flavored" multiplexers of a few years ago and the next-generation devices being developed today is the ability to transport data-based services directly over SONET multiplexers. "It is increasingly being done as functionality on top of the SONET infrastructure," he explains. "I think that's the key difference we're seeing right now-a convergence of the data services on top of the traditional TDM services, all in the same multiplexers."
Tom Mock, product director of long-haul transport systems at Ciena Corp. (Linthicum, MD), agrees that SONET/SDH multiplexers have made great strides in recent months. "They have changed the rules of the game," he says, "particularly in the access area." Ciena is primarily in the DWDM market but has worked to ease interfacing with SONET multiplexers as the two systems continue to coexist. The company's DWDM equipment, for example, contains a simple SONET multiplexer with a 4:1 TDM capability, or four ports into one OC-48 or one OC-192.
Fujitsu's Zeff believes that SONET/ SDH multiplexers will remain an essential part of the telecommunications network equation due, in part, to the integration of SONET and DWDM technology. "The addition of narrowband optics will let these network elements function as feeders to DWDM networks, as a step in the evolution toward the all-optical network," he says.
Critical to the continued success of next-generation multiplexers will be the degree to which they are interoperable with existing SONET/SDH equipment. Explains Mayan Networks' Williams, "Most of our customers have been burnt by the early interoperability problems of the original SONET vendors and are now insisting on transmission interoperability be tween boxes on the network." He maintains that vendors of non-interoperable equipment are very likely to be driven out of the market. When Mayan Networks began developing its product line, its strongest competitor was ATM virtual-path (VP) vendors, whose weakest point was their lack of interoperability with existing SONET equipment. "Today," asserts Williams, "most ATM VP vendors are dead, and our customers point to the lack of interoperability as the reason."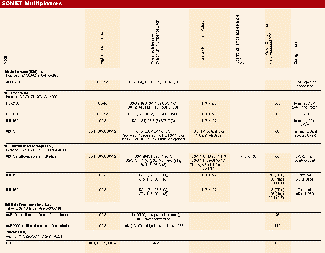 Shin Umeda, optical-network research analyst at Dell'Oro Group Inc. (Portola Valley, CA), sees the market becoming more competitive, with new entrants offering devices with lower price points and greater functionality. Incumbent carriers trust SONET technology, which has been widely deployed since the late 1980s. IP-centered networks, while adequate for data traffic, have yet to achieve the reliability and quality of service of SONET networks in terms of voice telephony and, as a result, have yet to find favor among carriers whose customers still demand reliable voice transmission. In addition, much of their network infrastructures are SONET-based, and replacing that with IP networks just isn't feasible, given the current unreliability of IP. Carriers do recognize the need to optimize for data traffic, however.
Champagne asserts that many of his company's customers are looking for ways to cost-effectively deploy data services-whether they be Ethernet or Internet-access services or transparent LAN services-over their existing network infrastructures. "They are looking for ways of doing that over their existing network infrastructure so they don't have to necessarily build overlay networks, which significantly reduces their costs without sacrificing the quality of the services they were already deploying over those networks," he says. "There's a lot of interest there in terms of if [next-generation SONET equipment] can effectively transport new data services over the infrastructure they've got. It has a lot of advantages-a lot of advantages in terms of interoperability in the overall network," he adds.
Lawrence Gasman, president of Communications Industry Research ers (Charlottesville, VA), does not believe the SONET/SDH market will continue to flourish. "The Cerent era is over," he maintains, referring to Cerent Corp.'s development of the Cerent 454, a SONET/SDH transport system for aggregating voice, data, and video services over SONET at speeds up to 10 Gbits/sec-and its subsequent acquisition by Cisco Systems for $7 billion. However, he is quick to note that "data-aware SONET is part of the story of many of the optical-networking startups."
Gasman agrees with Umeda on one point: To be competitive in the market, manufacturers must increase the performance (i.e., data awareness plus network-management capability) to price ratio.
Mayan Networks' Williams is not worried about the stability of the SONET/SDH market. "One of the nice things about SONET is that it creates its own demand," he asserts. "When a customer puts in a SONET crossconnect that will interconnect hundreds of OC-12 ports, that means that some vendor will get the order for thousands of OC-12 ADMs to feed it. When a customer puts in an OC-48 SONET multiplexer, dozens of OC-12s get bought to feed it. Each of those OC-12s encourages deployment of OC-3 multiplexers. In the reverse direction, the ever-growing DS-1 and DS-3 market encourages the use of OC-3 and OC-12 multiplexers that in turn drives the need to have crossconnect systems."
Even Gasman admits that the SONET market still has a pulse. "Even if SONET gets pushed out of the core," he maintains, "it will grow in the access space at the expense of T1/T3."
For more information on these and other products, see the 2000 Lightwave Worldwide Directory of Fiber-optic Communications Products and Services.