By Robert Pease
The optical amplifier is touted as the enabling technology behind bandwidth-expanding wavelength-division multiplexing (WDM), according to a recent photonics report from CIBC World Markets Inc. (New York City). In fact, CIBC says "absent the advent of the optical amplifier, the Internet would have collapsed under its own weight long ago." Whether or not you believe that, the market for optical amplifiers, coupled with WDM, is enabling telecommunications network capacities to keep pace with the doubling of Internet traffic every six to 12 months, obviously creating a very healthy market for optical-amplifier manufacturers and suppliers.
The total global consumption of optical-fiber amplifiers last year was $2.4 million, according to ElectroniCast Corp., a telecommunications market-forecast firm based in San Mateo, CA. By 2004, that figure will rise to $3.8 billion, with nearly half of that consumption attributed to the North American region.
The principles of the optical-fiber amplifier have been understood since the early 1980s, but commercial deployment of these amplifiers didn't emerge until the early 1990s, says Stephen Montgomery, president of ElectroniCast. The early adoption of fiber amplifiers and pump laser diodes was delayed by high cost, reliability concerns, and reluctance to use a new technical concept. The impediments began to dissolve, however, as a result of the accelerating deployment of very expensive submarine fiber-optic systems, along with the continuing development of pump laser diodes.
Optical-fiber amplifiers were soon viewed as a means to replace most of the early electronic regenerators in transoceanic submarine cables and all of the regenerators in shorter links. It was realized that, although the initial optical-fiber amplifiers were very expensive, they nevertheless supported a substantial cost reduction in the overall submarine cable system.
"The initial impetus of optical fiber-amplifier deployment originated from a joint program between KDD of Japan and AT&T Submarine Systems of the United States," says Montgomery. "They designed, assembled, and performed accelerated life tests on several hundred optical-fiber amplifiers-an initial investment that would stagger most telecommunications carriers. The results of this evaluation were positive, leading to deployment of optical-fiber amplifiers in a transpacific KDD-AT&T submarine cable.
"The demonstration of high reliability and adequate performance characteristics, along with the dropping costs related to continuing a higher-volume production, encouraged optical fiber-amplifier use in subsequent submarine fiber-optic-cable systems, then progressing to use in terrestrial long-haul trunks. In less than a decade, optical-fiber-amplifier prices have dropped by more than half while performance has improved. This product is becoming a commodity product, widely available at competitive prices," adds Montgomery.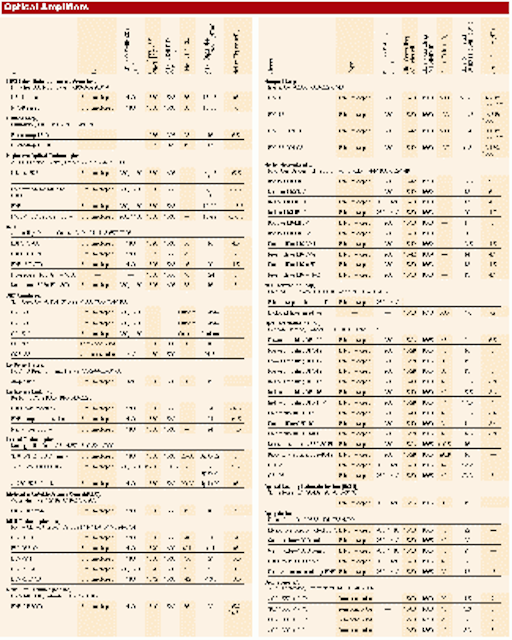 Today, successful markets usually generate fierce competition, and the optical-amplifier market is no different. Although a handful of major vendors get recognition as the market leaders, there are still opportunities for both established suppliers and startup companies. But because a few companies have huge product portfolios, an established customer base, and well-financed research and development capabilities, startups planning to jump in successfully had better have a new and beneficial technology to bring to the table.
"Unless the company is coming in with a different paradigm or rule-changing technology, such as Raman amps, coherent amps, or something like SOAs [semiconductor optical amplifiers], the market is going to be tough to enter," says Don Sipes, vice president of advanced technology at Illinois-based Scientific-Atlanta Inc. "Technology doesn't stand still. It's clear that the optical-amplifier market, too, is evolving, driven by an expanding market space looking for greater efficiency and exploitation of wavelengths and bandwidth. Some innovations may fall by the wayside, but those that provide economic and immediate problem-solving incentive are likely to come out on top."
Bryan Rothermel, manager of product marketing for Lucent Technologies Microelectronics Group, agrees that the window of opportunity for startup companies is narrowing as the technology for optical-fiber amplifiers becomes more advanced.
"It's becoming far less likely [for niche markets to develop] as the technology matures and successful suppliers are relying less on 'stuffing purchased components into a box,'" says Rothermel. "A few years ago, the barriers to entry were lower, as almost anyone could assemble and test amplifiers successfully and profitably. The market is becoming very price competitive, and amplifier suppliers need control over all piece parts."
At JDS Uniphase, Jennifer Aspell, vice president of the optical amplifiers division, agrees that to succeed in this market, new companies will require some competitive advantage against the existing suppliers. One new innovation, Raman amplification, has become a major technical frontier in amplification for transmission systems. Aspell and others believe it will have a major impact on the optical-amplifier market and technologies.
"Integration of Raman gain into transmission systems will impact the optical-amplifier market by changing system architectures and, hence, optical-amplifier specifications," says Aspell.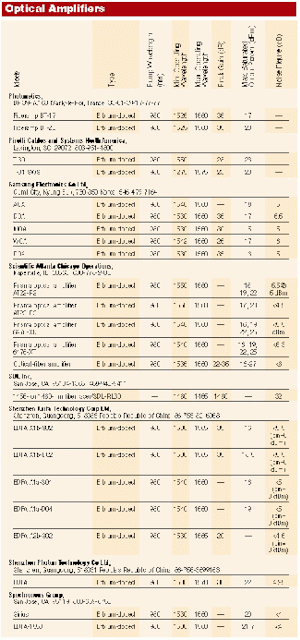 Although the history of Raman scattering effects in optics dates from as far back as 1928, distributed Raman amplification is expected to play an increasing role in high-speed optical networks above the current OC-192 (10 Gbits/sec) to OC-768 (40 Gbits/sec), according to CIBC's report. Distributed Raman amplification increases the distance between optical amplifiers.
According to the report, current versions of optical amplifiers are enhanced by Raman amplification, in which high-power laser light is sent in the direction opposite that traveled by the source signal. The entire length of the fiber itself is acting as an amplifier. The effect is an almost simultaneous pushing and pulling of the optical signal.
Raman amplification is gentler. The signal is strongest at the end-receiver portion of the network and weakens as it moves toward the source of the signal, resulting in a zero-to-negative noise factor (vs. the 4 to 5 dB of noise typically added by traditional 980-nm/1,480-nm pumping.). A typical problem of WDM amplification, crosstalk, is minimized. CIBC sees Raman amplification as a complement, not a replacement, for traditional 980-nm/1,480-nm erbium-doped fiber amplifier (EDFA) amplification.
"One of the benefits of utilizing Raman amplification with EDFAs is that it reduces the gain required of the EDFA," says George Wilderman, product-line manager for optical amplifiers at Corning Inc. (Corning, NY). "The EDFA and the Raman amplifier modules will collaborate together at the same repeater site to provided optimized long-reach DWDM [dense WDM] performance. This provides dramatic improvement in the system noise figure. This improvement extends system length and reduces the high cost of electronic regeneration.
"Another benefit of Raman amplifiers is the potential reduction of system nonlinear effects, accomplished by lowering the signal launch power launched into the fiber," adds Wilderman. "The benefits here are more channels and higher-capacity systems."
There are other technological breakthroughs fueling optical amplifiers in today's lightwave communications. Advancements in the semiconductor materials are enabling the creation of higher power pump sources. Filter technologies are lowering noise. Scientific-Atlanta's Sipes believes that improvements in cladding pump technology will provide the largest near-term market impact for optical amplifiers.
"The cost-versus-benefit story is just too significant to be ignored," says Sipes. "Because of its ability to drastically cut the dollar-per-milliwatt cost of the pump source, cladding pump technology allows for more features at a similar cost, and this has direct bearing on the other market trends."
For most telecommunications vendors, the customer is the primary driver for trends in the marketplace. The name of the game will always be "give the customer what he asks for at a reasonable price or he'll simply go to someone else that will." The optical-amplifier vendor must also know where to find the customers, and with an optical market shift toward the metropolitan and enterprise arenas, a whole new market segment is beginning to emerge. There are other trends as well.
"As deployment of optical metro and enterprise networks increases over the next couple of years, we foresee low-end, low-cost amplifiers moving in to this part of the network," says Didier Dutronc, vice president of marketing and sales for Alcatel Optronics in France. "The market right now is moving toward applications for L-band, Raman, and metro. Later on, you will see amplifiers in all-optical crossconnect applications.
"From a component supplier point of view, the lifecycle of our products is becoming shorter-about 18 months. But longer lifecycles are seen at the system level where increased modularity enables upgrades, for example, with higher output pumps," adds Dutronc.
Alcatel sees many customers requesting better use of the optical spectrum. Being limited to the C-band is not enough anymore to accommodate the growing demand for bandwidth; thus, the company sees a shift toward broadband amplifiers. Customers also want improvements in the noise figures to enable longer distances in the network and reduce the overall network costs. At the component level, customers want integration of the optical-amplifier components with electrical subsystems.
At Nortel Networks, more and more usable bandwidth and increased reach are also prevalent among customer demands, along with ease of installation and provisioning of the capacity and accommodation of branching devices within the amplifier.
"Other challenges facing operators include effective management of DWDM systems in the optical layer as a natural extension of the existing management structures and operations," says Larry Coathup, Nortel's director of high-capacity optical networks. "While the inherent transparency of DWDM all-optical networks is desirable from an applications point of view, it introduces additional requirements on management infrastructures. Enhanced network manageability provided by end-to-end optical connectivity management, wavelength provisioning, and integrated tools will be a key competitive advantage."
So as hot new products using cutting-edge technologies, including L-band, Raman, and higher-power amplifiers emerge into the marketplace to promote the acceptance of end-to-end optical networking, a bright future lies ahead for optical-fiber amplifiers.
"The telecommunications band will eventually expand to accommodate a 400-nm window," says ElectroniCast's Montgomery. "Furthermore, this 400-nm window will eventually accommodate up to approximately 3,000 wavelengths, utilizing DWDM technology.ellipseDense WDM-capable amplifiers will play a major role in future deployment. The local-exchange carrier serving the metropolitan and access areas, will increase in use from only a minor participant in 1999 to a moderate participant by the year 2004."