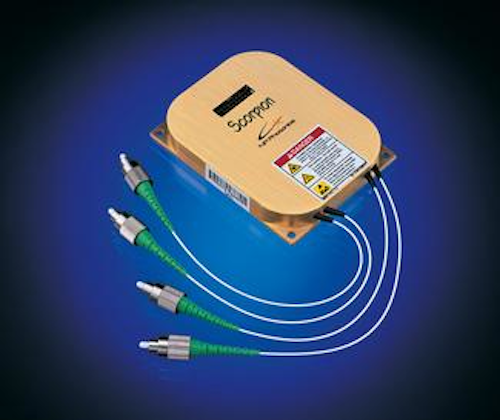 NP Photonics, manufacturer of miniaturized optical fiber-based components for long-haul, metro, and access networks, has expanded its product line with the introduction of the Scorpion Amplet MMP-HP7020, a low-cost, ultra-compact, high-power optical amplifier module.
Particularly useful for offsetting signal loss created by DWDM and optical conditioning devices, the high-gain, low-noise amplifier module features 16 dBm of total output power and provides up to 20 dB of gain across the C-Band while generating less than 5.5 dB of noise, claims the company. The Scorpion is completely controllable and comes with embedded monitoring electronics and a mid-stage access option. In addition, the new Scorpion features a small-form-factor, MSA-compliant footprint (90 x 70 x 12 mm), and complies with Telcordia GR-1312.
"Our new Scorpion amplifier offers a compelling combination of size, performance, and price," contends Chuck Chandler, NP Photonics' chief executive officer. "In essence, the new Scorpion provides system and subsystem designers with an easy-to-integrate device that lowers the cost and increases the density of DWDM equipment."
NP Photonics can also customize the new Scorpion into a dual-port device with the same small footprint. The dual ports provide systems designers with a hot spare option or can give them the ability to run two fibers with separate signals through the same device, further reducing the size of systems and subsystems.
The introduction of the Scorpion Amplet MMP-HP7020 follows closely on the heels of NP Photonics' introduction of what it claims were the world's first miniaturized optical fiber-based amplifier products for long haul, metro, and access markets. These products include pumped gain blocks and single-stage amplifiers. The company also has recently acquired the Compliant MEMS (CMEMS) technology of Solus Micro Technologies and now offers a family of tunable filters.
As with all of NP Photonics' amplifier products, the Scorpion Amplet MMP-HP7020 is based on the company's proprietary Erbium Micro Fiber (EMF) technology in which erbium-doped glass produces high optical gain over just a few centimeters of fiber, rather than over many meters, as with traditional erbium-doped fiber amplifiers (EDFAs). The result is a family of components similar in performance to conventional EDFAs, but smaller, easier to integrate and far more cost effective.
For more information about NP Photonics (Tucson, AZ), visit the company's Web site at www.npphotonics.com.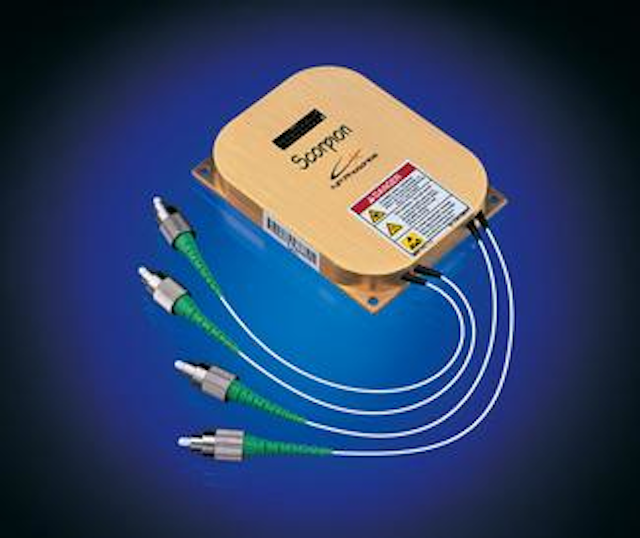 NP Photonics' Scorpion Amplet MMP-HP7020