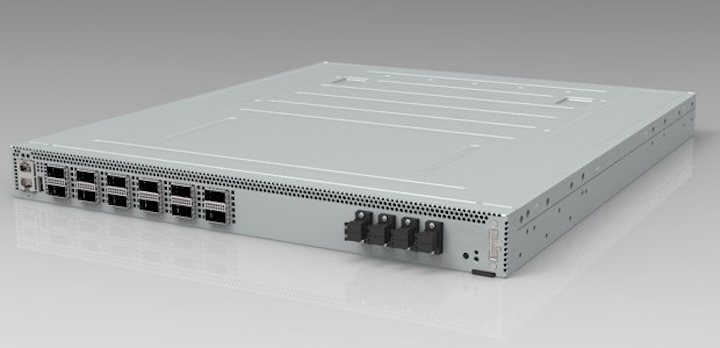 The Facebook-inspired Telecom Infra Project (TIP), which seeks to bring the open source concepts of the Open Compute Project to networks outside of the data center, has announced the Voyager Open Packet DWDM transponder platform. The group unveiled the white box optical transport platform yesterday at the TIP Summit at Facebook's headquarters in Menlo Park, CA.
According to a blog by Voyager team members Ilya Lyubomirsky, Brian Taylor, and Hans-Juergen Schmidtke posted concurrently with the system's debut, Voyager is part of the Facebook-led Open Packet DWDM effort, which seeks to combine packet and DWDM technology for optical transmission over metro and long-haul fiber-optic networks. It aims to create systems in which software and hardware are separated and that are based on open specifications.
"Voyager is a whole architecture. It includes management system, control system, line system, and transponders, switches, and routers," according to Schmidtke, who is director of engineering at Facebook.
The Voyager transponder combines packet switching and routing (including IP/MPLS capabilities) and optical transponder functions in a 1RU platform. The box is modeled on Facebook's recently announced Wedge 100 top-of-rack switch and uses the same Broadcom Tomahawk switch ASIC (see "Facebook details Wedge 100 ToR switch, optics"). Voyager accommodates twelve 100-Gbps QSFP28 client interfaces and four 200-Gbps coherent optical modules that support several modulation formats on the line side. As the disparity in total client-side and line-side capacity implies, the platform will support oversubscription.
In the software domain, the open line system will include Yang software data models of each system component and an open northbound software interface (e.g., NETCONF, Thrift, or similar) to the control plane software.
Facebook says it partnered with other TIP members on the design and initial implementation of the Voyager transponder. For example, the initial incarnation of Voyager features both a coherent DSP and the AC400 multi-rate optical module from Acacia Communications (see "Acacia Communications offers 400-Gbps coherent transceiver module"). The combination will support adaptable-strength forward error correction (FEC) and a variety of modulation formats (i.e., QPSK, 8QAM, and 16QAM) to enable optimization of capacity versus reach.
Lumentum (which leveraged its work in white box optical systems; see "Lumentum offers SDN optical white box line") helped develop a terminal amplifier specification for the companion open line system that enables multiple applications to run on top of the open software layer. The specification should promote development and use of future DWDM system control algorithms and network management systems, Facebook predicts.
The bloggers report Facebook also collaborated with Celestica on the supply chain and with Snaproute on the software architecture for the end-to-end solution. Facebook plans to open-source the Voyager software, similar to the FBOSS software used with the Wedge 100.
Tests have shown the Voyager system will support 200 Gbps via 16QAM up to 180 km on a point-to-point link. The Voyager passed field trials with Equinix in the U.S. and MTN in South Africa. The Equinix trials took place in the company's SV3 and SV8 IBX data centers in Silicon Valley. Additional long-reach trials with Telia Sonera are on tap as well.
Facebook isn't yet discussing its plans to deploy the system, Schmidtke said.
TIP members ADVA Optical Networking and Coriant immediately announced they would support use of the platform. In ADVA's case, that includes selling the system (see "TIP optical transport members vary in Voyager white box transponder support").
Going forward, Schmitdke and Facebook expect to see proposals to improve the performance of the Voyager transponder as well as widen the modules and software functions that it can support. "This is a box that is built right now on an Acacia Communications (DSP ASIC); it's built on Tomahawk," he said. "But we want to build an environment and a framework in which you can take the best chip and the best component as you wish. The ideal is, really, a clean separation between software and hardware so that we have innovation speeds that are fairly independent of each other."
For related articles, visit the Optical Technologies Topic Center.
For more information on high-speed transmission systems and suppliers, visit the Lightwave Buyer's Guide.