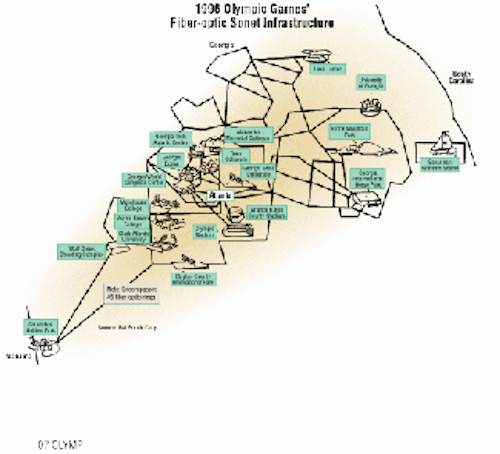 Centennial Games showcase an Olympic feat in communications
A century after the first modern Olympic Games, which were relatively unseen and unrecorded, the 1996 Olympic Games in Atlanta are being simultaneously monitored, described and measured for a worldwide audience via an historic, fiber-optic, digital, Sonet infrastructure
marc hayes, Bellsouth corp.
Mike Baumgartner, Lucent Technologies
Since 1992, BellSouth Corp. and Lucent Technologies have been planning to incorporate more digital, fiber-optics-based communications technology for the 1996 Centennial Olympic Games than has been used in any previous Olympic Games. In conjunction with the Games` technology sponsors, the companies have installed the largest Synchronous Optical Network (Sonet) telecommunications network ever developed and built for a single event (see figure).
The Sonet network connects 26 competition venues and other sites--including all sporting venues, housing facilities for the athletes (Olympic Village), support areas, warehouses, press boxes, staging areas and key hotels. In addition, between May and November 1995, BellSouth also installed a special 5-digit telecommunications dialing plan solely to connect all Olympic sites from Atlanta to Athens, GA.
This network ensures that approximately two million spectators, 15,000 accredited media representatives, 15,000 athletes and officials, and 75,000 volunteers and staff members at the Games can communicate by wired or wireless phone, computer, pager, e-mail and fax-on-demand, without delay. For perspective, in the 9.92 seconds it took Carl Lewis to run 100 meters to capture the Olympic gold medal (Seoul Olympic Games, 1988), BellSouth`s network can complete more than 10,000 calls. Moreover, if the Olympic Sonet network were used for voice alone, it could handle 1.5 million simultaneous conversations.
In handling data, this same network can simultaneously move more than 100 Gbits of information to and from the International Broadcast Center in Atlanta every second, enabling an estimated 3.5 billion television viewers tuned into the Centennial Olympic Games--approximately 75% of the world population--to see the Games in their homes, and in their own language.
To accommodate video, the Sonet network can also simultaneously transmit as many as 60 channels of video over an advanced closed-circuit cable-TV network known as the Scarlet (Synchronous Communications Accessing Live Event Television) Network. The result of a joint project of the Atlanta Committee for the Olympic Games (ACOG), Panasonic, BellSouth and Scientific-Atlanta, the network is connected to all official Olympic venues and hotels to let reporters, officials and others track events as they take place. Another role for the Sonet network is to digitally communicate accurate timing and scoring of all Games` events.
The 1996 Centennial Olympic Games is also the largest application for cellular capacity for one major event. BellSouth`s Olympic Games effort, supported by Lucent Technologies, has increased its cellular capacity by 800% within the Olympic Ring (primary competition venue area) and by 100% in northern Georgia.
Sonet transmission
The Olympic Games` Sonet network was designed and engineered by BellSouth. The backbone network consists of 200 Lucent FT-2000 OC-48 add/drop multiplexers operating at 2.5 Gbits/sec; 55 DDM-2000 multiplexers running at 155 to 622 Mbits/sec; and 155 SLC 2000 next-generation digital-loop carrier terminals.
BellSouth`s Sonet network is configured as 45 OC-48 high-bandwidth, self-healing fiber-optic rings to transport voice, video and data to and from the venues. At this data rate, a 33-volume encyclopedia can be transmitted via Sonet in less than 1.2 seconds; the same transmission over traditional telecommunications technology would take 13 hours.
The FT-2000 hardware- and software-based architecture enables each of the 45 rings to handle the equivalent of 32,256 simultaneous voice conversations. The OC-48 rings can also carry approximately 650 broadcast video circuits and provide compact-disk-quality audio and video.
When the Games are underway and a worldwide audience is watching, the reliability and survivability of the Sonet network becomes as important as its transmission speed and capacity. The fiber-optic Sonet-ring architecture provides survivability and self-healing properties, with no noticeable lapses in service by users.
The FT-2000 equipment provides fast restoration from fiber cuts and node failures by using real-time diversity routing. It uses bidirectional line-switched rings, which can simultaneously switch all circuits on a service line to the protection line if a failure is detected between any two nodes. This ring architecture shares diversity routed protection among all the nodes on the path. Consequently, a ring can recover from a complete fiber cut by switching to the protection fiber routed the long way (or looped back) around the ring. This loopback switching can also heal a node failure within approximately 1/20th of a second after the fault is detected.
Before, during and after the Games, BellSouth will be using Lucent Technologies` SubNetwork Controller SNC 2000 to administer, manage and maintain the entire Sonet network. Working from a remote location, the SNC 2000 can display on a PC monitor the working status of every piece of equipment that is part of the 45-ring configuration.
The fiber-cable backbone
By the start of the Games, BellSouth will have installed more than 450,000 fiber-optic cable-miles for use in Georgia alone. That is enough fiber-optic cable to circle the globe 18 times. In fact, one of the reasons Atlanta won the Olympic Games was that BellSouth had started the construction of a fiber-optic telecommunications network more than a decade ago to handle the rapid economic growth occurring in Atlanta and the rest of the Southeast.
In addition to working with BellSouth to provide products and services in building out the core network, Lucent Technologies is overseeing the wiring of 40,000 terminations (or drops) at the 26 venues. These terminations enable the installation by other official Olympic sponsors of 11,000 phone sets, 10,000 workstations, 2000 charge phones, 11,000 fax machines, hand-free intercommunication devices, public address systems, and event timing and scoring systems.
At various venues, communications lines for voice or data usage are being handled by 1500 miles of Lucent Technologies` Systimax structured cabling system. This fiber- and unshielded-copper-based cabling infrastructure supports voice, high-speed data and video communications, and serves as a seamless infrastructure for linking multiple facilities and technologies. Data can be transmitted over copper wires at 155 Mbits/sec.
Installation hurdles
Certain venues posed interesting wiring challenges, whether due to geography, topography, nature or human intervention. For instance, the rowing and canoeing venue at Lake Lanier required that the cable for the scoring and timing equipment be laid underwater along the 2000-meter course. Using boats, contractors laid the cable 35 feet underwater, with loops appearing at the surface every 500 meters via floats. Cable for voice and data communications at Lake Lanier has also been laid underwater to connect the two ends of the venue.
Another installation challenge arose offshore at Savannah, GA, the site of the yachting competition. Not only was cable placed underwater in the Atlantic Ocean, but a man-made island was built to serve as a platform on which to install associated equipment. Last fall, during a sailing competition, sea turtles swam onto the island, built their nests and laid their eggs near the equipment. When the island was rebuilt for the Games--environmental laws require that the island and equipment be removed immediately after each competition--it was protected with a barrier made of environmentally approved rubber tires.
The human element comes into play with the wiring of the main press center. This site, which serves as the print and photographic media headquarters, required the installation of 7500 feet of fiber-optic cable to support 2500 drops for voice and data communications. Installation technicians faced the challenge of limited time and access before press arrival because the center is located in the Atlanta Apparel Mart and the adjoining Inforum buildings. These locations were booked solid with trade shows until just 72 hours before the center`s opening.
Lasting benefits
Most of the Olympic Games communications network will remain intact after the Games as part of BellSouth`s telecommunications network. However, some of the equipment used at specific venues will be redeployed to other BellSouth installations.
In addition, parts of the fiber and copper cable installed at various sports venues for ACOG will be left in place following the Games. One such location is the campus of Georgia Institute of Technology (Georgia Tech), site of the Olympic Village, which will house approximately 15,000 athletes and officials during the Games.
Linking 36 buldings on the Georgia Tech campus, Lucent Technologies provided approximately 320 miles of fiber-optic cable to connect all the Village-related buildings. BellSouth installed the cable, which can support 1023 telephones, 600 television sets and 270 data systems.
After the Games are completed, fiber and cable installations at 36 other venues will also remain in place as part of the physical legacy ACOG is providing to the greater Atlanta community. For example, Morris Brown College, Clark Atlanta University and Morehouse College are permanently receiving parts of this communications infrastructure--which is part of Lucent Technologies` value-in-kind contribution.
When the athletes, officials and spectators leave Atlanta, the second part of the network project will begin. At many venues, such as the Georgia World Congress Center, site of the International Broadcast Center, previously booked conventions and other needs require BellSouth and Lucent Technologies to remove--in only three days--all the equipment, fiber and cable that is not remaining as part of the legacy installation. This cable and equipment, which took months to plan, engineer and install, will be dismantled, removed and redeployed in BellSouth`s public network throughout its nine-state region to meet the company`s communications growth requirements. q
Marc Hayes is director of Olympic network operations for BellSouth Corp., and Mike Baumgartner is sales vice president at Lucent Technologies in Atlanta.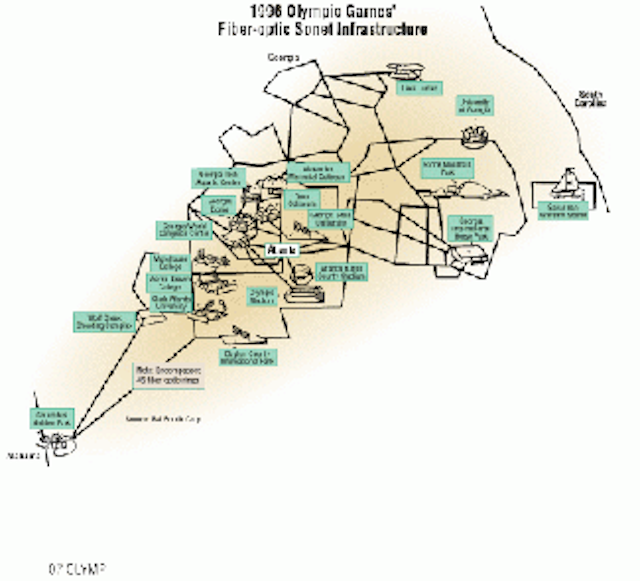 For the first time in 100 years of Olympic Games, all wireline video, data and voice communications for this summer`s Olympic Games in Atlanta are being transmitted digitally over the largest temporary and private telecommunications network ever built for a single event. Constructed by BellSouth Corp. and Lucent Technologies, the Olympic network connects 26 competition venues in nine cities.
1996 Olympic Communications Records
The 26 Olympic Games competition venues in nine cities are linked by a 2.5-Gbit/sec, Sonet-based, fiber-optic cable network to the International Broadcast Center in Atlanta.
More than 100 Gbits of information--equal to four times the contents of the Encyclopedia Britannica--are expected to flow into and out of the International Broadcast Center every second.
Broadcast television signals from Atlanta will be sent via long-distance fiber-optic networks to New York City for use by the National Broadcasting Company and other worldwide television networks.
Network capacity is equivalent to 1.5 million simultaneous telephone calls.
The video network links more than 200 cameras and 40 remote television units for use by 170 broadcasters.
The 650 video circuits in use are the equivalent of more than 950,000 voice telephone lines.
The Sonet network comprises 45 2.5-Gbit/sec OC-48 self-healing fiber-optic rings to handle 271 Olympic Games events. The self-healing network can reroute signals in less than 1/20th of a second in case of a cable cut, circuit failure or other system interruption.
BellSouth has installed more than 450,000 fiber-optic cable-miles in Georgia--enough optical cable to circle the globe 18 times.
Lucent Technologies has installed approximately 1500 miles of fiber-optic cable within the Olympic venues.
The campus of Georgia Institute of Technology (Georgia Tech), the site of the Olympic Village, contains 320 miles of fiber-optic cable.
The Olympic Stadium is using 150 miles of fiber-optic cable.
In the Equestrian Venue, a "fiber-to-the-barn" network encompasses 32 miles of fiber-optic cable.
The Centennial Games is the largest application for cellular capacity for one major event and uses four digital Lucent Technologies 5ESS wireless switches, 5 macrocells and 92 microcells. BellSouth Mobility is expecting approximately one million extra calls daily.