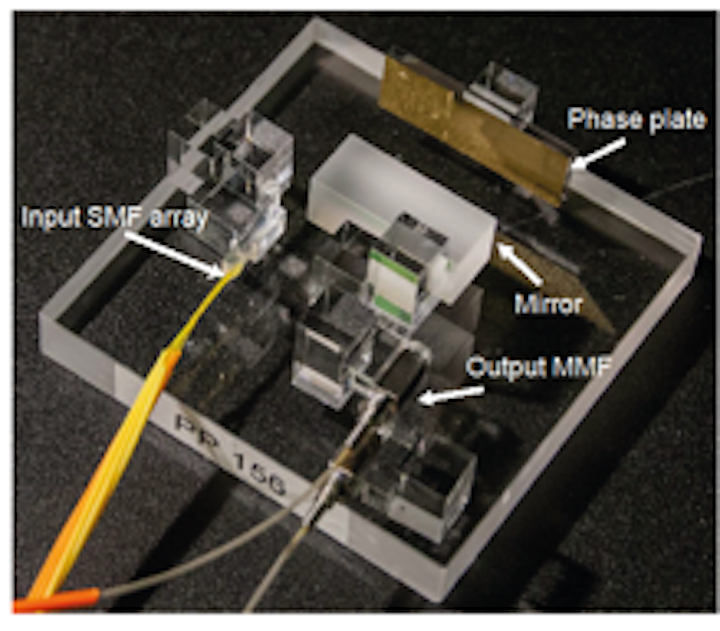 Aroona enables transmission of tens of gigabits per second over several kilometers of existing multimode fiber infrastructures, whatever the topology. Aroona thus reduces costs and risks compared to new fiber roll-outs. Aroona is passive, transparent to communication protocol, and compatible with all multimode fibers and standard transceivers. Aroona is future proof and compatible with next-generation transceivers (PAM4 modulation, 100GBASE-LR4, etc.).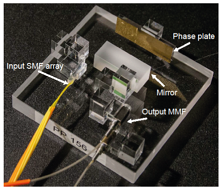 CAILabs' Multi-Plane Light Conversion (MPLC) unique technology, implemented in the Aroona line, enables flexible and complete light reshaping with very limited losses. MPLC is based on a succession of transverse phase profiles, similar to very complex lenses, separated by a specific propagation distance. MPLC is a passive process, with low losses, that enables combination and reshaping of multiple light beams. Thanks to this MPLC technology, Aroona overcomes the limitation of multimode fibers by addressing selectively the fiber modes, and enables the high-performance transmissions without new fiber deployment.
Judge's comment: "This is a very innovative solution to address the lack of a standards based upgrade path for legacy installations of multimode fiber."
Click here to return to the 2017 Lightwave Innovation Reviews page.