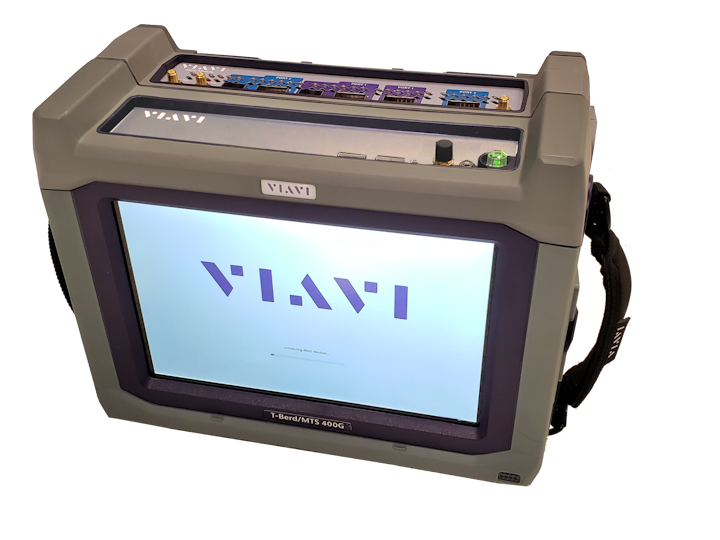 Viavi Solutions Inc. (NASDAQ: VIAV) says it will use ECOC 2019 in Dublin, Ireland, September 23-25 as a platform to introduce three new test instruments. Together, the test systems cover lab, production, manufacturing, and field applications.
The new instruments on display at Stand 66 will include:
The

T-BERD/MTS 400G Network Tester, which is designed to aid

field technicians in metro/core, data center interconnect, and business services deployment applications. Thanks to support of such interfaces as QSFP-DD and SFP-DD, the T-BERD/MTS 400G offers rate integration spanning from 400 Gigabit Ethernet to T1/E1 in addition to fiber-optic testing using OTDRs and WDM channel checkers. The T-BERD/MTS 400G enables optics self-test for QSFPx and SFPx pluggable modules, high-speed cable testing for data centers, RFC 2544/Y.1564, and OTN check. It also features what VIAVI describes as "a new intuitive design" as well as test process automation and cloud-based management.
The

MAP-300

photonic metrology and test automation platform, which is a third-generation MAP instrument, offers the precision required for laboratory testing as well as the configurability required within manufacturing environments, the company says. It features remote automation functionality and a multi-user architecture that VIAVI asserts helps increase capital utilization and decrease testing costs.
New members of the ONMS (Optical Network Management Solutions) family, including the modular

OTU-8000

Optical Test Unit with a tunable DWDM OTDR and the

OTU-5000

rack-mounted OTDR for rapid, automatic identification of such fiber events as bends, crushes, breaks, and malicious tapping. The system is designed to enable a single optical test head to test hundreds of fiber links and auto report the GPS location of a fault within minutes. The scalable platform accommodates a range of wavelengths and dynamic ranges to optimize fiber monitoring.
"Fiber is the backbone of all networks in use today, regardless of whether the access technology is FTTH, cable, 5G, or Ethernet," said Craig Black, senior director, Converged Instruments and Virtual Test, VIAVI. "VIAVI is the only vendor simultaneously working with standards bodies, chip developers, and module vendors to pioneer 800G, validating production of virtually all of the ROADMs in operation today, and helping service providers construct, maintain, and assure networks up to 400G."
For related articles, visit the Test and Measurement Topic Center.
For more information on test instruments and suppliers, visit the Lightwave Buyer's Guide.
To stay abreast of optical test advances, subscribe to Lightwave's Enabling Technologies Newsletter.