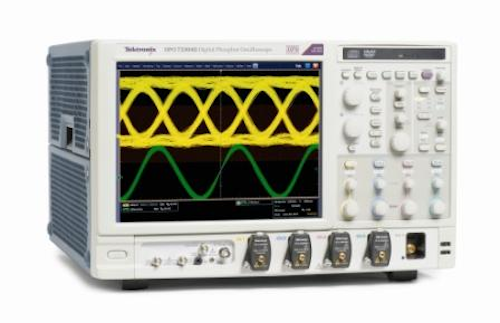 Fresh off of acquiring optical modulation analyzer provider Optametra (see "Tektronix buys Optametra for optical modulation analyzer technology"), Tektronix Inc. has unveiled a new real-time oscilloscope series that dovetails nicely with Optametra's technology. The company has unveiled four new DPO/DSA70000D Series oscilloscopes designed to provide real-time sampling rates up to 100 GS/s on two channels and – for those looking to measure coherent receivers for DP-QPSK and similar modulation formats using the Optametra hardware – 33-GHz analog bandwidth on four channels.

Tektronix says the series models for 25- and 33-GHz bandwidths provide the industry's highest level of measurement accuracy. Leveraging IBM's 8HP silicon germanium (SiGe) chipset, Tektronix engineers have integrated high-speed bipolar transistors directly on the same die as standard CMOS to enable what the company asserts is the fastest rise time on multiple channels of any real-time oscilloscope on the market. The capability enables accurate characterization of sub 20-ps rise-time signals.

Features of the new oscilloscope series include::
Real-time sample rate performance of 100 GS/s on two channels and 50 GS/s on four channels, both at 33 GHz bandwidth.
Input sensitivity at 62.5-mV full scale (6.25-mV/div) for better visibility of low amplitude signaling common in LVDS-based standards.
Fast time to answer with quicker access to data, measurement analysis including 8b/10b serial decode, fast waveform data transfer within the instrument, and new custom region-based qualification using Visual Trigger capability.
Updates to Tektronix's DPOJET Jitter & Timing Analysis toolset to support jitter separation of Bounded Uncorrelated Jitter (BUJ). Separation of BUJ from other random jitter sources can be accomplished in DPOJET for more complete analysis.
DataStore, a new data processing pathway, enables easier use of third-party tools like MATLAB or Microsoft .NET languages.
For signal access, Tektronix provides up to 33-GHz bandpass support through its TekConnect channel interface, enabling the use of Tektronix 2.92-mm adaptors and probes that feature small probe heads.
For optical modulation analysis in coherent receiver designs, the series provides 33-GHz bandwidth on four channels with 10 terasamples equivalent time sampling. This level of bandwidth on four channels provides more accurate assessment of the four phases used in DP-QPSK via the Optametra Coherent Lightwave Signal Analyzer and opens the door for measurement of even more complex modulation formats such as 16QAM.

"The new Tektronix 33 GHz oscilloscopes will give designers the ability to understand the effects of advanced modulation techniques on bit error rates, even as speeds continue to increase," said Rob Marsland, former president of Optametra and now a senior manager in the Oscilloscope product line at Tektronix. "Using these scopes, bit rates exceeding 240 Gbps can now be analyzed for the first time with a high degree of confidence."

Worldwide shipments of the DPO/DSA70000D models will begin in Q4 2011. The four available models include DPO73304D and DSA73304D at 33 GHz bandwidth and DPO72504D and DSA72504D at 25 GHz bandwidth. Pricing starts at $202,000 U.S. MSRP.
For more information on lab and manufacturing test instruments and suppliers, visit the Lightwave Buyers Guide.