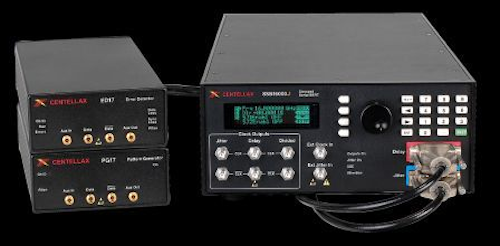 Centellax says it has released the model #SSB17 3- to 17-Gbps stressed serial BERT for testing to 16x Fibre Channel (16GFC) and 14G InfiniBand FDR standards. The SSB17 offers the highest performance for compliance verification at rates between 3 and 17 Gbps, Centallax asserts.

The SSB17 system comprises a serial BERT controller (SSB16000 or SSB16000J) and full-rate pattern generator (PG17) and error detector (ED17) remote mountable heads. Users can place the pattern generation and error detection directly next to the device under test (DUT), which obviates the need for long cabling and their associated loss.

Centellax says it has built all of the standard patterns used for Fibre Channel and InfiniBand into the system. Programmable patterns up to 8-Mb in length also can be created and downloaded into the remote heads using the complementary Signal Integrity Studio analysis program.

According to Steve Sekel, vice president of product management at Centellax, the system offers eye quality that features flat rails with very little ripple, as well as fast rise and fall times with minimal overshoot. "Along with the eye quality, we have a wide range of amplitude setting ability which allows directly testing receiver sensitivity without the need for switching in external attenuators," he said. "Plus, our affordable price point provides a solution to cost-sensitive users who, until now, were considering work arounds."

For more information lab and production test equipment and suppliers, visit the Lightwave Buyers Guide.