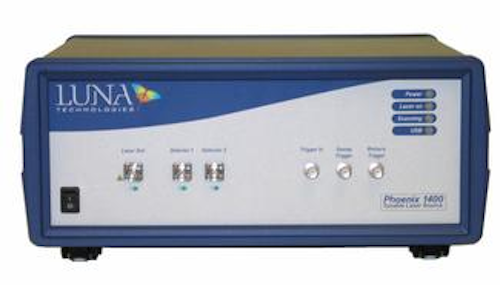 JANUARY 23, 2009 -- Luna Technologies (search for Luna Technologies), a division of Luna Innovations Inc., has introduced the PHOENIX 1400 benchtop tunable laser. Â 
Based on proprietary MEMs technology, the PHEONIX 1400 product offers what the company claims is best-in-class wavelength precision and tuning linearity, making it ideal for telecommunications test and measurement as well as a variety of other applications, including optical frequency domain reflectometry (OFDR) systems, FIBER-BRAGG sensing, metrology, near-infrared spectroscopy and tomography, heterodyne measurements, and fiber component characterization DWDM.
"This laser is a major step forward for tunable lasers in terms of fidelity," asserts Brian Soller, president of the Luna Technologies Division. "The compact external cavity MEMs design, combined with our proprietary drive circuitry, gives the Phoenix 1400 highly precise tuning characteristics, which are becoming increasingly important in modern applications of swept-tunable lasers. This laser will better enable our customers to build the highest quality optical systems, which is always our ultimate goal," he adds.
The PHOENIX 1400 laser comes standard with integrated dual-channel power meters, sweep and retrace triggers, and a user-friendly graphical interface. The integrated wavemeter further enables industry-leading wavelength accuracies, say Luna representatives. The PHOENIX 1400 device also includes software development tools that allow for easy integration into custom applications in both development and manufacturing environments.
Luna's laser line is based on the former Iolon 'Apollo' class of tunable lasers. The company acquired the intellectual property rights and manufacturing equipment in December 2006.
The PHOENIX 1400 tunable laser product is available immediately, with four to six weeks typical for delivery.
Luna will be demonstrating its new laser, Optical Backscatter Reflectometer, and Optical Vector Analyzer product platforms in Booth #6171 at Photonics West, which begins January 24 in San Jose, CA.

Visit Luna Technologies
Learn more about the test and measurement industry at Lightwave's Test & Measurement Resource Center.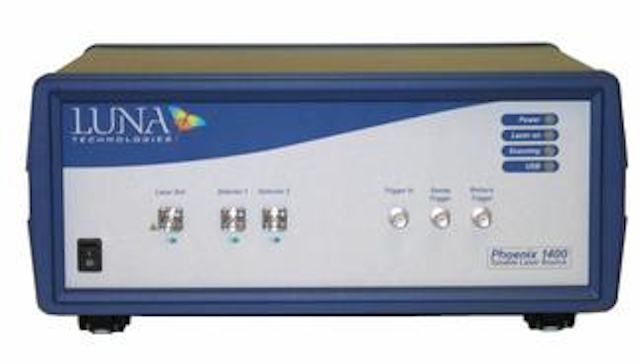 Luna's laser line is based on the former Iolon 'Apollo' class of tunable lasers.