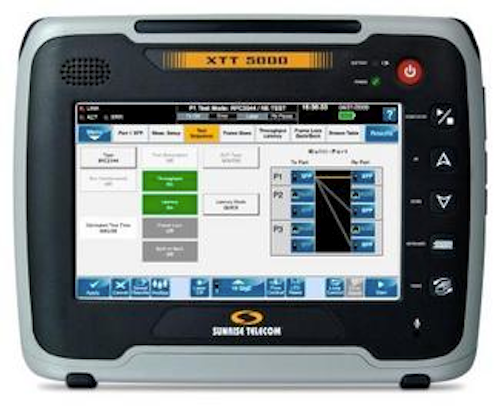 JUNE 9, 2009 -- Sunrise Telecom Inc. (search Lightwave for Sunrise Telecom) has introduced the XTT 5000 10-Gigabit Ethernet (10GbE) multi-function test system. The new, lightweight field test system is designed to speed successful installation and maintenance of carrier-grade Ethernet and IP services. For the first time, Sunrise Telecom asserts, field technicians can use a single, all-inclusive test system for installation and maintenance of both GbE and 10GbE networks.
"The delivery of video services to residential users and enterprises, along with the increasing number of residential and mobile wireless services subscribers, is accelerating the demand for Ethernet bandwidth and quality of service," said Prathima Bommakanti, senior research analyst, test and measurement, Frost & Sullivan. "This trend is likely to be a strong driving force behind the future success of the Ethernet test equipment market. The XTT 5000 is well positioned to meet both service providers' and carriers' need for a one-stop-shop solution as it combines 1GbE and 10GbE Carrier Ethernet testing."
The XTT 5000 can perform simultaneous and independent tests at full line rates over its three test ports for 10/100 Mbps, GbE and 10GbE. Additionally, advanced traffic generation up to Layer 4, including stacked VLAN (Q-in-Q) and MPLS, enables thorough testing of wholesale as well as retail Ethernet deployments, according to the manufacturer. A built-in test time feature provides the user with an estimate of the length of time a test will take at the configuration stage to optimize test execution and technician productivity. The quick latency feature can reduce RFC2544 test time by up to 50%, Sunrise Telecom says.
A new application-based user interface has been designed to optimize testing time while minimizing configuration and training. Technicians can save profiles for repetitive tests, speeding subsequent installations and troubleshooting by reducing set-up time. The XTT 5000 weighs 6 pounds and measures 9.3x7 inches.
The XTT 5000 is immediately available.
Visit Sunrise Telecom
For more fiber optic testing news and resources, visit the Test & Measurement Resource Center